Syracuse vs. UNC-Asheville: Game Time, TV Schedule, Spread Info and More
March 13, 2012

Jim McIsaac/Getty Images
I always feel bad for the No. 16 seeds. They go from the joy of winning the conference and qualifying for the NCAA Tournament to the cold and bleak reality that they will not only be one-and-done, but that they will likely be blown out by one of the country's elite programs.
Sadly, such will be the fate for UNC-Asheville when they face Syracuse.
The Bulldogs had a very good season, finishing 24-7 overall and winning both the Big South regular-season title and tournament championship.
So congratulations on your excellent season, UNC-Asheville. Now go out and have some fun playing the Big East regular-season champs and a team that finished 31-2 this year, the Syracuse Orange.
Poor UNC-Asheville.
Update: Tuesday, March 13 at 8:15 p.m. ET
Syracuse's chances of going deep in the tournament took a hit on Tuesday.
Pat Forde reported:
Fab Melo out for the NCAA tournament, another self-inflicted blow to Syracuse's chances.

— Pat Forde (@YahooForde) March 13, 2012
Melo was the anchor of the Orange's 2-3 defense this season and a pivotal player for a team that didn't have much of a presence inside beyond him. His absence will make the Orange extremely vulnerable, as we saw when Notre Dame beat Syracuse on Jan. 21 when Melo was out due to an academic issue.
Where: CONSOL Energy Center, Pittsburgh, Pa.
When: Thursday, March 15, 3:10 p.m. EDT
Watch: truTV
Betting Line: Syracuse (-17) according to BetOnline.com

Streaming: NCAA.com
What They Are Saying
Give the Bulldogs this—they believe they can hang with Syracuse. At least that's what Eddie Biedenbach told John Day of the Boston Herald: 
"Our kids certainly believe they can play with anybody," said Biedenbach, now in his 16th year at the Big South Conference school. "That's why we played teams like North Carolina, North Carolina State, Connecticut and Tennessee this season. I know we didn't win any of those games, but we were competitive and that gave our guys a lot of confidence heading into our league."
Syracuse Keys to Victory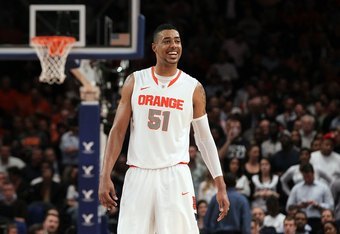 Jim McIsaac/Getty Images
Top seeds never lose to 16 seeds, so for Syracuse this game will come down to one simple thing: keeping its focus.
If the Orange don't overlook UNC-Asheville or come out ice cold, they are going to win this game. It's that simple.
UNC-Asheville Keys to Victory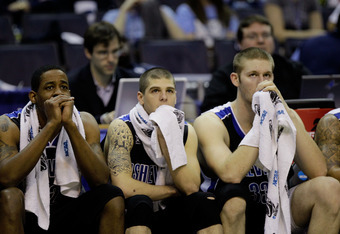 Rob Carr/Getty Images
The Bulldogs might want to start with a prayer. Or hope that Syracuse comes out flat. Or maybe that they Orange will get lost on the way to the arena and have to forfeit. Honestly, there isn't much UNC-Asheville is going to be able to do if Syracuse plays well. 
Obviously, this team can score (81.2 PPG, fifth in the nation), but they'll be stymied by Syracuse's 2-3 zone if they don't shoot well from beyond the arc.
If they come out swinging and hit a lot of 3s early, they may have a puncher's chance. But praying can't hurt, either.
Most Important Players to Watch: Matt Dickey and J.P. Primm, UNC-Asheville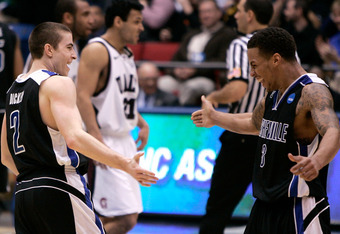 Mike Lawrie/Getty Images
The two seniors are the Bulldogs' leading scorers (16.5 PPG for Dickey, 15.3 for Primm) and two of the team's best 3-point shooters (38.1 percent for Dickey, 36.0 for Primm).
Both are capable of big nights, though to beat Syracuse, they'll each need a huge performance.
Key Matchup: UNC Asheville's Shooters Against Syracuse's Zone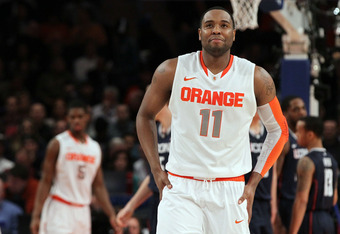 Jim McIsaac/Getty Images
If it seems like I'm beating a dead horse here, well, I am. But that dead horse is the only chance the Bulldogs have—they need to shoot lights-out from the field, namely from beyond the arc.
Listen, Syracuse is bigger, more athletic and accustomed to playing a high level of competition. They have a ton of depth and can come at UNC-Asheville with waves of fresh players. They only glimmer of a chance the Bulldogs have is to rain down upon the Orange with a barrage of 3s.
And even that might not be enough.
Prediction
UNC-Asheville won't lay down for the Orange, and they'll make things interesting early. But Syracuse has far too much talent to lose this game. They'll win, 85-67.
Hit me up on Twitter—all of my tweets are Cinderella stories.