Baylor vs. South Dakota State: Game Time, TV Schedule, Spread and Predictions
March 13, 2012

Ronald Martinez/Getty Images
Baylor opens its NCAA Tournament run with a tricky opening round matchup against South Dakota State. The Bears lost in the Big 12 championship game, while the Jackrabbits took home the Summit League crown to earn an automatic berth.
After starting the season 17-0, the Bears hit a couple rough patches in the season's second half. A victory over Kansas in the conference tournament illustrated just how dangerous they can be, though. They are one of the most athletic teams in the nation.
The Jackrabbits didn't play a ranked team all season. They did lose road games against Georgia, Minnesota and Nebraska from power conferences. How they will perform against an elite team on a neutral court is the biggest unknown heading into the game.
Where: The Pit in Albuquerque, New Mexico
When: Thursday, March 15 at 7:27 p.m. ET
Watch: TruTV and March Madness Live
Listen: KRZI 1660 AM (Baylor) or WNAX 570 AM (South Dakota State)
Betting Line: Baylor -7.5
Key Injuries (via USA Today)
No injuries to report for either team.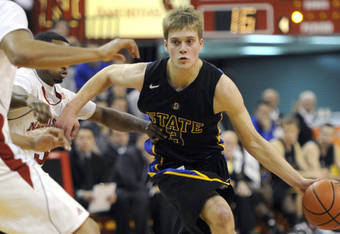 What's At Stake?
The winner will continue their Final Four quest and the loser's season is over. That's what it all comes down to at his point in the season.
Baylor was one of last season's biggest tournament disappointments and will be looking for a better showing this time around. The program doesn't want to develop a reputation as an underachiever on the sport's biggest stage.
The Jackrabbits can enter the game with a lot less pressure. They have nothing to lose. Most people probably didn't even know South Dakota State had a Division-I basketball team, let alone one good enough to go dancing.
What They're Saying
Baylor forward Quincy Acy has high hopes heading into his final NCAA Tournament, according to the Associated Press:
"I want to go out with a championship, that's my mindset," said senior forward Quincy Acy, one of four current Bears who also played on the 2010 team. "We have a lot of guys that have made the tournament before. I think we have a lot more experience than that year because the guys know what to expect."
Jackrabbits star Nate Wolters understands how good the Bears are but doesn't think his team will back down from the challenge, based on a report from Padraic Duffy of the Rapid City Journal:
"They've got a really athletic front line, with a couple of NBA guys, so it should be a real challenge for us," South Dakota State point guard Nate Wolters of St. Cloud, Minn., said. "We watched (Baylor) play against Kansas on TV the other day, so we know that they're really good, but if we play well we should be able to play with anyone in the country."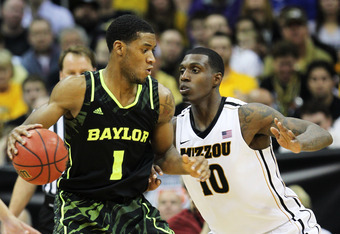 Jamie Squire/Getty Images
Most Important Player to Watch: Perry Jones III (Baylor)
The Bears rely on a balanced offensive attack led by Jones. He's averaging 14 points and eight rebounds while shooting 50 percent from the floor. He should give Baylor a major advantage on the interior over their smaller mid-major opponent.
His biggest task will be on defense, though. The sophomore needs to ensure South Dakota State doesn't get many easy buckets, which will force them to take a lot more jump shots. Once those stop falling, and they almost always do, the Bears can start to pull away.
Jones needs to set the tone early then everything else will fall into place for Baylor. If he struggles, it will be time to start talking about an upset alert.
Key Matchup: Pierre Jackson vs. Nate Wolters
Jackson runs the point for Baylor and is also the team's main second-leading scorer. His biggest problem has been turnovers. He's giving up the ball nearly four times per game. That number will need to decrease significantly if the Bears are going to make a deep run.
South Dakota State has one of the country's most underrated players at point guard in Wolters. He's an all-around threat who averages 21 points, six assists and five rebounds in 36 minutes. He'll need to be rare form if the Jackrabbits plan on pulling off the upset.
As long as Jackson doesn't allow Wolters to dominate, the Bears should be in great shape. They have the talent edge and have more big-game experience.
Prediction
Baylor 74, South Dakota State 65