Why Mike D'Antoni Deserves to be Fired for Epic Fail With New York Knicks
March 13, 2012

Jonathan Daniel/Getty Images
Mike D'Antoni appears to be mentally exhausted from his tenure as head coach of the New York Knicks.
There has been a lot of talk about Carmelo Anthony, Amar'e Stoudemire and Jeremy Lin working together in D'Antoni's offense.
For all the shortcomings the Knicks have had this season, D'Antoni's seat on the bench is growing increasingly warmer by the day. There are a lot of things one can say about D'Antoni's performance as head coach, but there is an element of the obvious going on—he's failing to adjust to the players on his team.
Coaches can excel when displaying an ability to utilize a style that fits the personnel on the roster. Right now, that is just not happening in New York.
The rotation is all over the map, the minutes for the reserve crew have been sporadic and there is no clear-cut plan in place on a nightly basis when the team takes the floor.
At just 18-24 and playing well under expectations, D'Antoni doesn't seem to have an answer as to how to right the ship.
The Knicks have lost six straight games, and fans are restless.
There have been chants for the head coach to be fired by the Madison Square Garden crowd, and the team is playing with a definitive lack of energy.
With his team's loaded roster, there were a lot of expectations on D'Antoni's shoulders to deliver.
Whether it's fair or not, coaching is a hire for fire business and D'Antoni is experiencing exactly that.
One of his stars, Carmelo Anthony, is not happy. He shared his disappointment after the most recent loss to the Chicago Bulls.
"It [stinks] right now,'' Anthony said. "It's hard to stay upbeat the way we're losing. Right now times are tough. I'm not going to get through it myself. It's late in the season. Our backs are against the wall.''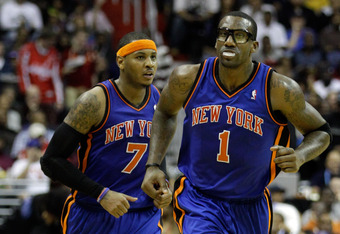 Rob Carr/Getty Images
His other star, Amar'e Stoudemire, seems unsatisfied with the preparation his team is taking.
"We got to be in early, got to get ourselves mentally prepared, in the weight room, getting our bodies ready, watching film,'' Stoudemire said. "Joking around has to stop at some point, especially at a time when we're the eighth seed and not playing well."
Is D'Antoni the only problem? Absolutely not.
This team has its issues, but it's the coach's job to corral them, get everyone on the same page and make sure his players are putting forth 110 percent every single night.
His team is spiraling out of control and D'Antoni's message doesn't seem to be getting across.
Communication is key in any relationship and there isn't much of that happening in New York with the Knicks.