NCAA Bracket 2012 Predictions: 12 Players That Will Drive You Crazy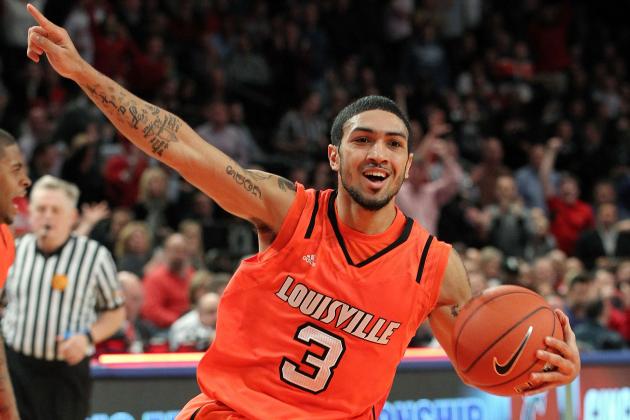 Michael Heiman/Getty Images

One of the great pleasures of March Madness is watching a star—like Kemba Walker last year—at the top of his game, when everything he touches turns to gold. Of course, one of the great frustrations of the tournament is watching a player put on that kind of show one night, only to disappear the next and destroy his team's hopes of advancing.
Big East champion Louisville knows something about highs and lows, having fallen all the way out of the Top 25 before charging to the conference tournament title. If Cardinal point guard Peyton Siva stays sharp, he could be this year's Kemba, but if Siva's fickle shooting touch deserts him, Louisville will be hard-pressed to stave off an upset bid.
Read on for a closer look at Siva and the other most maddeningly inconsistent players in this year's tournament field.
Begin Slideshow

»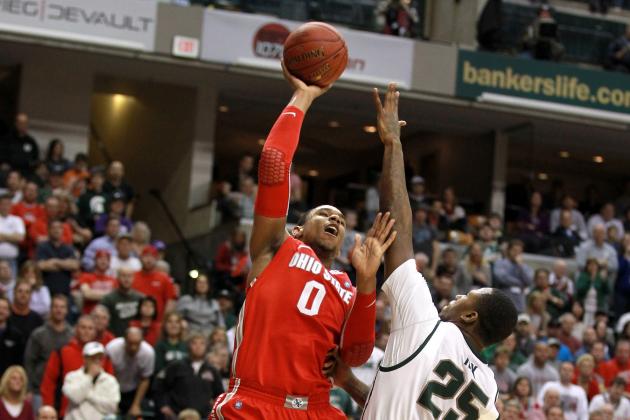 Andy Lyons/Getty Images

Without a doubt, Jared Sullinger has earned his All-America laurels. The Buckeye power forward averaged 17.6 points and 9.3 rebounds a game this season, but he's also had his fair share of difficulties.
Sullinger has wrestled with recurring foul trouble in Big Ten play, and the unfamiliar officials he'll be dealing with in March Madness could exacerbate the issue.
His only definitive slump of the year—a three-game stretch in February in which he fouled out against Illinois and averaged a pedestrian 10.3 points a game—also marked the low point of a 3-3 skid that cost second-seeded Ohio State the outright Big Ten title in the regular season.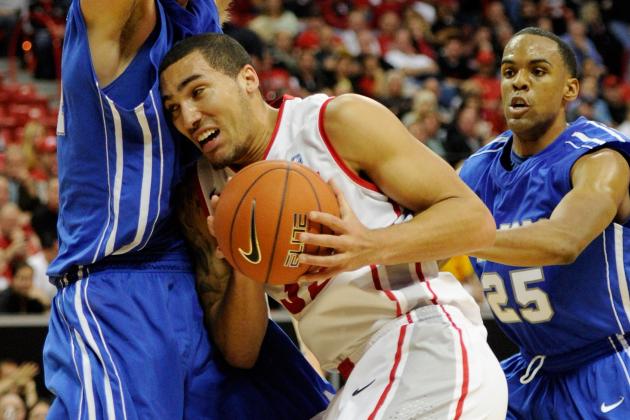 Ethan Miller/Getty Images

A five-game winning streak and a Mountain West title earned New Mexico a No. 5 seed (and a matchup with a very dangerous Long Beach State squad).
Whether the Lobos survive their opening game will have a lot to do with the performance of star power forward Drew Gordon.
The senior leads New Mexico in scoring (13.4 points a game) and rebounding (10.9 boards), but the Lobos' worst defeats have been Gordon's worst outings.
He managed only seven points in a blowout loss at TCU, and scored just two points in 21 foul-plagued minutes in a home loss to New Mexico State.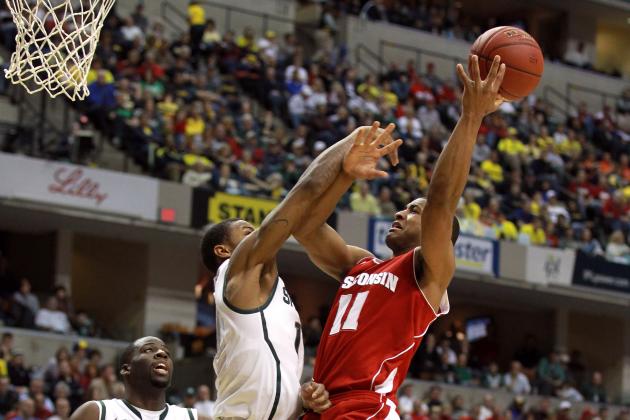 Andy Lyons/Getty Images

As Wisconsin's only functional offensive weapon, Jordan Taylor faces immense pressure to keep the Badgers running.
He has done that job well enough to carry his team to a No. 4 seed, averaging 14.7 points and four assists a night (even if he can't quite match last year's otherworldly 3.9-1 assist-to-turnover ratio).
When Taylor comes up short, though, Wisconsin is doomed, as it was in a 59-41 loss to Michigan that saw Taylor dish out just one assist while shooting 5-for-15 from the field.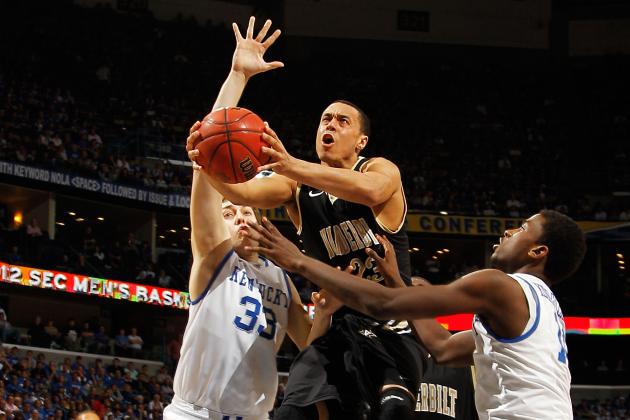 Chris Graythen/Getty Images

No team finished the season on a higher note than Vanderbilt, winners of the SEC tournament over top-ranked Kentucky. For the No. 5-seeded Commodores to keep that run going, though, they have to hope that John Jenkins is on his game.
Jenkins led the SEC in scoring with 19.9 points a game while hitting a blistering .478 from the field, but the win over Kentucky was one of the few times the Commodores survived a sub-par shooting night from their junior star.
In Vandy's last three losses (two vs. Kentucky and one to Tennessee), Jenkins has missed a combined 31 shots, and those lost possessions have been enough to sink his team in spite of his solid point production.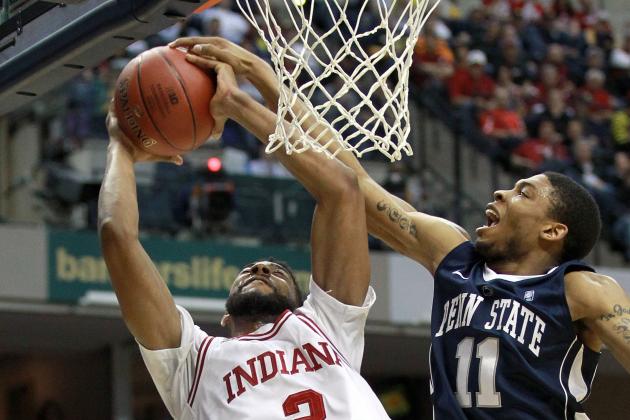 Andy Lyons/Getty Images

Following an outstanding 2010-11 campaign (16 points, 5.1 rebounds per game), Christian Watford looked ready to lead Indiana back to respectability. Then Cody Zeller arrived, and Watford took a back seat to the star freshman.
For the Hoosiers to thrive in the tournament, though, they need Watford to continue an outstanding recent run that's seen him average 15 points and 10 rebounds over his last four games.
If he reverts to the ineffectual sidekick who posted one point and four rebounds in a February loss to Iowa, fourth-seeded Indiana will be in for a quick exit.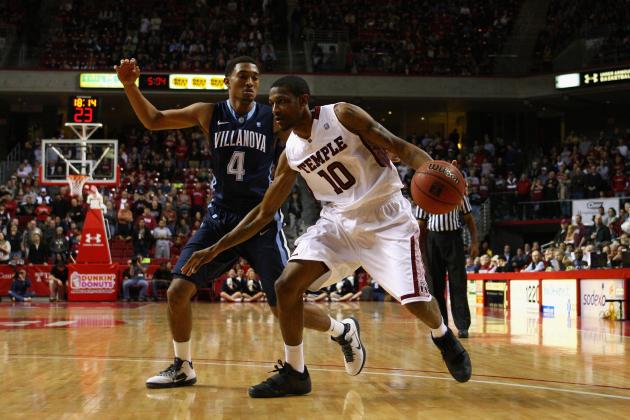 Chris Chambers/Getty Images

If Temple had been able to maintain the level of play it showed during an 11-game January-February winning streak, they'd be seeded a lot higher than No. 5.
One of the biggest differences between that version of the Owls and the one that dropped two of its last four games (to St. Joseph's and UMass) has been the play of Ramone Moore.
The senior star has improved his scoring to 17.7 points a night after flirting with the NBA draft last spring, but his ballhandling could still use some serious work.
Moore, who shares floor-leader duties with Juan Fernandez, is turning the ball over 2.6 times a game, and when his performance goes south, so do the Owls.
Jamie Squire/Getty Images

When Tim Abromaitis was lost for the season with a knee injury, junior power forward Jack Cooley stepped up to lead Notre Dame, averaging 12.4 points and nine rebounds a night.
That's been mostly good news for the seventh-seeded Irish, but it also means that when Cooley struggles, the team is in serious trouble.
The worst stretch of the year for the Irish came in mid-November, when they lost three out of four to Georgia, Missouri and Gonzaga with Cooley posting eight total points in the three defeats.
He hasn't entirely put those struggles behind him either, as evidenced by a two-point, zero-rebound debacle against Georgetown at the end of February.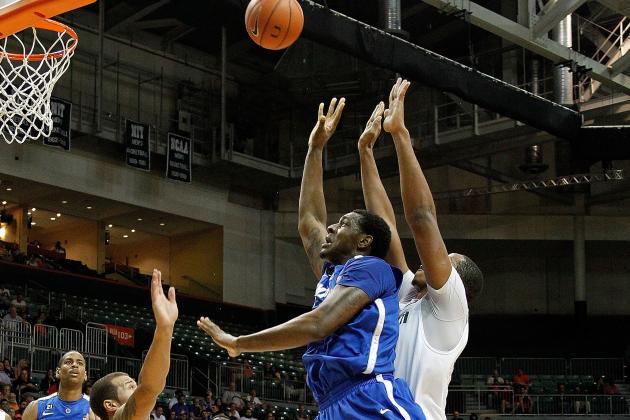 Mike Ehrmann/Getty Images

Despite returning a horde of talented sophomores from last year's C-USA champs, Memphis has turned in a virtual carbon copy of its roller-coaster 2010-11 campaign in earning a No. 8 seed.
The player at the center of this season's unreliable performance has been 6'1" guard Joe Jackson, a former starter who's actually been most effective coming off the bench.
Jackson's an impressive passer, second on the team with 3.8 assists a night, but he's undermining his own performance by turning the ball over 2.5 times a game.
The sophomore is also scoring 11.1 points a contest, but it's been a feast-or-famine average with five 20-point games and just as many with six points or fewer (including an 0-for-7, two-point night in a loss to Georgetown).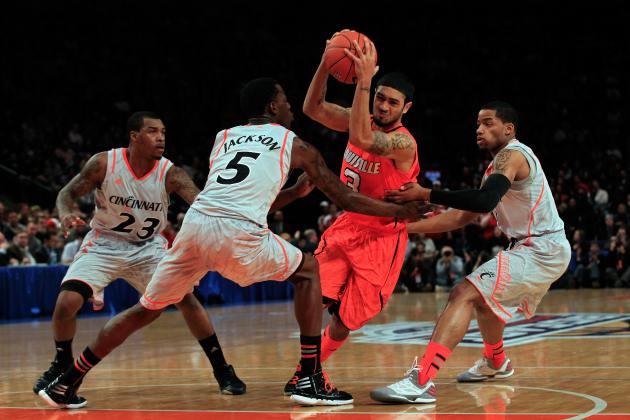 Chris Trotman/Getty Images

With all the injuries that have shredded Louisville's roster, the Cardinal's No. 4 seed is a tribute to the performance of junior point guard Peyton Siva.
Siva's career-best 5.5 assists a game have been the glue holding together an offense-by-committee that features six players scoring between nine and 13 points a night.
Unfortunately for the Cardinals, although Siva is among those half-dozen scoring options, he's not nearly as dangerous shooting the ball as he is passing it.
When Siva can't get his own shooting rhythm going—four points on 1-for-2 shooting against Syracuse, two points on 1-for-5 against Providence—the Louisville offense crashes and burns, in spite of his contributions as a distributor.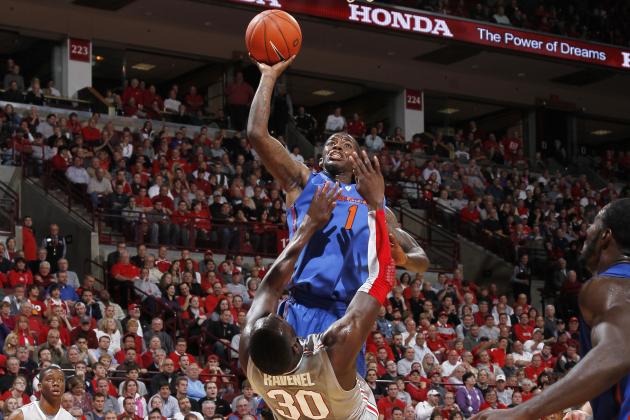 Joe Robbins/Getty Images

Florida's late-season collapse dropped the Gators further than they really deserved, all the way to a No. 7 seed.
As well as Kenny Boynton played in making Florida an SEC contender—leading the squad with 16.3 points a night—he struggled just as badly during the team's 1-4 skid.
The one blemish on Florida's near-upset of Kentucky in the SEC tournament was Boynton's worst game of the season: two points on 1-for-9 shooting.
If he doesn't get back into form quickly, Boynton won't get more than one shot to recover as his team has a first-round date with gritty defense of 10th-seeded Virginia.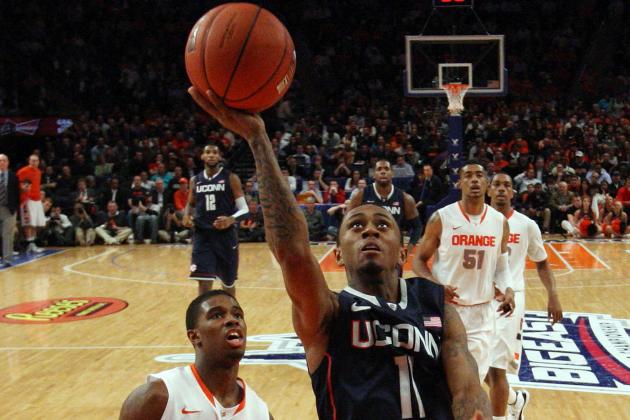 Jim McIsaac/Getty Images

UConn has been the nation's most unpredictable team, looking like the defending national champs one game and flopping the next (and the next and the next) on the way to an underwhelming No.9 seed.
No player has symbolized the Huskies' mercurial season better than Ryan Boatright, the explosive freshman who's already served two different suspensions arising from eligibility investigations.
At his best, Boatright is the most dangerous bench player in the country (19 points, five rebounds, seven assists against DePaul in the Big East tournament).
On the other hand, UConn could get the version of Boatright that barely showed up against Georgetown in February: scoreless on 0-for-4 shooting and four assists in 19 invisible minutes.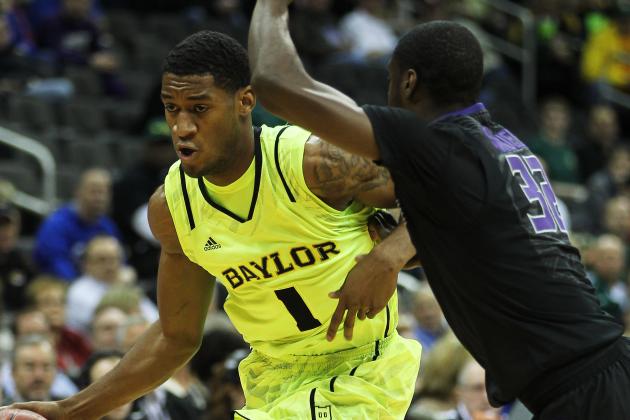 Jamie Squire/Getty Images

For a team that started the season with a 17-game winning streak, Baylor sure hasn't looked much like a national title contender during the Big 12 season.
The biggest culprit in the Bears' fall from grace (even if only to a No. 3 seed) has been star forward Perry Jones.
As much ability as Jones has, he only occasionally fulfills his immense potential.
When Jones plays well—31 points and 11 boards in a win over Kansas State—Baylor is all but unstoppable, but when he disappears (four points and four rebounds against the same Wildcats team three weeks earlier) the Bears are usually out of luck.
For your printable bracket for the 2012 NCAA tournament, click here