NBA Trade Deadline: 3 Last-Minute Deals That Playoff Teams Must Make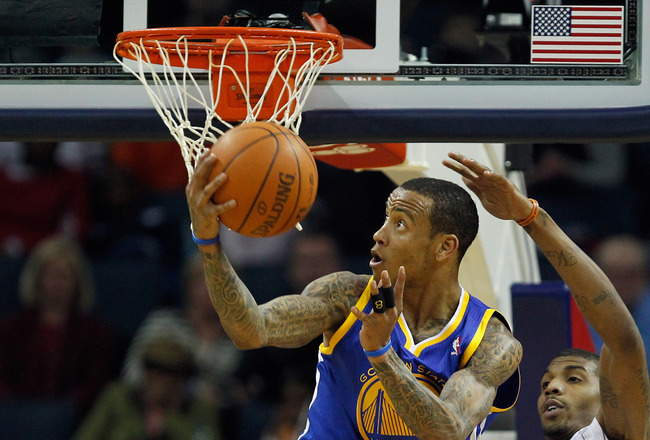 Monta Ellis could play a major role in the Dwight Howard saga.
Streeter Lecka/Getty Images
With Thursday's trade deadline less than 60 hours away, the teams facing the most pressure to make deals are those in serious playoff competition.
Some teams are competing for a playoff birth while others who are already assured of a spot in the postseason are looking to find the final piece of what they hope will be a team that can compete for an NBA Title.
The deals that these teams must make are the ones that will probably be leading headlines and rumors over the next few days.
What are the details surrounding the most likely and most necessary trades?
Jamal Crawford or Ray Allen to the Los Angeles Clippers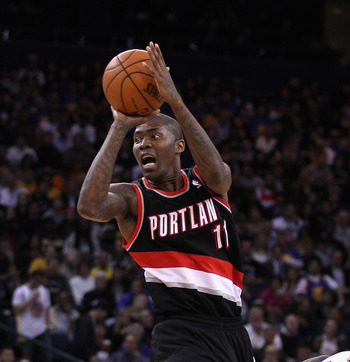 The Clippers may be hesitant to deal for Crawford but that doesn't mean it wouldn't be a good deal.
Ezra Shaw/Getty Images
In the days leading up to the start of the season, the Los Angeles Clippers, already boosted by the acquisition of Chris Paul, made another key move.
They grabbed Chauncey Billups after the Knicks had released him using their amnesty clause.
Adding Billups was a smart move. The Clippers could not only use his valuable veteran experience, but the team as comprised was also lacking a reliable half-court offensive presence. Putting Billups on the floor also adds a great free throw shooter to handle the ball down the stretch in close games.
The plan looked to be working like a charm until Billups went down for the season with a torn achilles tendon.
Watching the Clippers play basketball now, the evidence of Billups absence is blatant. The team struggles in the half court and lacks a reliable spot-up shooter.
If the Clippers are serious about making a deep playoff run then they're going to need to replace Billups, and that means acquiring a shooting guard who can score without having to be a part of "lob-city".
The Clippers are rumored to be hesitant to part with backup point guard Eric Bledsoe, whose name most often comes up in trade talks, but if the result of a deal is bringing in a player like Jamal Crawford or Ray Allen, then it might be worth it.
Los Angeles' concerns are valid. Both Crawford and Allen are likely "rentals" in that they're both free agents following this season. Bledsoe meanwhile is a very promising 20-year-old point guard signed at a reasonable price for an extended period of time.
The team is also concerned that Chris Paul will walk as a free agent and leave the team high and dry without a point guard. One way to insure that Paul will walk as a free agent would be to show a lack of commitment to winning.
A deal for a needed shooting guard is a necessary sacrifice with the Western Conference there for the taking this season.
Monta Ellis to the Orlando Magic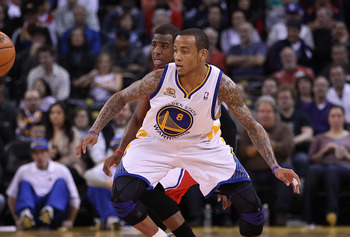 Trading for Monta Ellis might convince Dwight Howard to stay in Orlando.
Ezra Shaw/Getty Images
Over the past few days, the very murky Dwight Howard situation has started to take on a degree of clarity.
It's beginning to look like the Orlando Magic are really determined to make an effort to retain Dwight Howard if not for the long term, then for the remainder of this season and hopefully through next season as well.
Howard can accept a lucrative one-year option in his current contract that would push back his free agency to the summer of 2013.
Even with the Warriors possibly getting cold feet on three team deal that would eventually land Monta Ellis in Orlando, the Magic must continue to make an effort to land the talented shooting guard.
Howard has not publicly declared he will absolutely leave the Magic, and the feeling is that if he can be convinced that the team has a commitment to improving and making moves to not just compete for a trip to the finals but to actually win a NBA Championship, then Howard may stay put.
The Magic might not be able to convince the Warriors to part with Ellis without giving up Howard in the process, but if holding onto Dwight Howard is the goal, then the Magic must exhaust every option before giving up.
Raymond Felton to the Lakers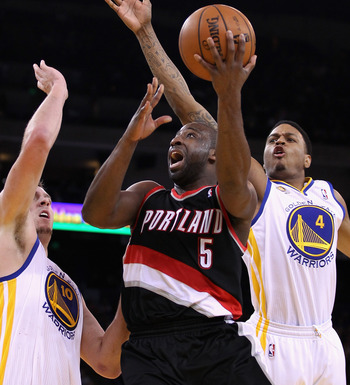 Inserting Raymond Felton at point guard could be a minor move with major implications.
Ezra Shaw/Getty Images
It's no secret that the Lakers need a point guard.
The Lakers are in a tricky situation since they have two major assets that many teams covet in Pau Gasol and Andrew Bynum. They're also in a situation where if the Lakers can shore up some of the team's weaknesses without parting with their most talented players, then they could be in position to win another NBA Title.
If the rumors are to be believed then the Lakers might be able to acquire Raymond Felton from the Portland Trailblazers in exchange for Steve Blake and another player, that would be an ideal circumstance for the Lakers.
The team would love to get a top point guard. They tipped their hand in that intention when they tried, and failed to acquire Chris Paul before this season got underway.
They don't need to get a top point guard though. They really just need an upgrade to a point guard that is a little younger, a little quicker and a little more durable than current point guard Derek Fisher.
Felton fulfills all those qualities, and if the Lakers can nab him and retain both Pau Gasol and Andrew Bynum, then they'll have a formidable starting five in position to compete for the franchises' 17th NBA Title.
Keep Reading