NCAA Bracket 2012 Predictions: Louisville and Underrated Final Four Candidates
March 13, 2012

Michael Heiman/Getty Images
Because all four No. 1 seeds almost never make the Final Four, it's important to know which underrated schools are capable of making a run to the national semifinal each season.
These schools either have great coaching, play great defense, have a dominant scorer or possess a combination of the three that makes them dangerous.
Let's look at three underrated teams who could make a Final Four appearance this season.
Louisville, West Region
Louisville is one of those teams that may surprise some people in the tournament and make a deep run. As champions of the Big East, the most competitive conference in basketball, the Cardinals have been tested ahead of their NCAA tournament run.
With head coach Rick Pitino leading the way, you know Louisville will be well-coached and ready for every game. He's one of the best coaches in the history of college basketball and has prior national championship-winning experience.
Louisville has played top teams such as Syracuse and Kentucky this season, and will be confident in every game no matter the opponent.
The West is the easiest region in the tournament to make the Final Four, so Louisville has a great shot to win the region if it plays to its abilities.
Florida State, East Region
The Seminoles won the ACC tournament by knocking off two of the best teams in the country—North Carolina and Duke. On the season, Florida State had two wins each against the Tar Heels and Blue Devils.
The Seminoles are a good rebounding team, averaging about 37 per game, partly due to their great size and depth in the frontcourt.
After playing some very difficult teams and having success in the regular season, Florida State won't have any issues continuing its strong play of the last two weeks during March Madness.
Florida, West Region
The Gators have returned several players from last year's run to the Elite Eight, and after another deep run in the SEC tournament, Florida will once again be a challenging team for many of the elite programs in the NCAA tournament.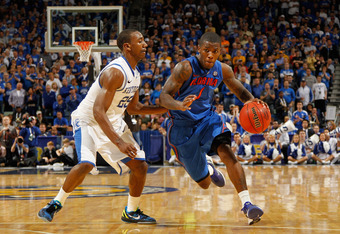 Chris Graythen/Getty Images
With a very beatable team in Virginia for its first opponent, Florida's biggest hurdle in the region could come in the third round against No. 2 seed Missouri.
If the Gators can defeat Missouri with their high-scoring, fundamentally sound offense, then their path to the Final Four isn't as dangerous as most teams'.
With Billy Donovan at the helm, Florida is very well-coached and ready to make another surprise run.