NCAA Bracket 2012: Top Contenders to Win Midwest Region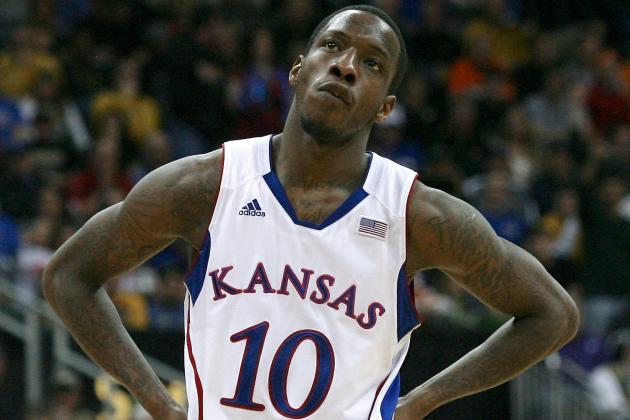 Ed Zurga/Getty Images

The Midwest region looks to be the easiest path to the final four for the top seeds. North Carolina and Kansas are head and shoulders above the rest of the teams in this region. Georgetown and Michigan are the weakest of the three and four seeds which makes this look easy for the top two seeds.
However, the great thing about March Madness is that anyone can pull off an upset and this is a region teeming with possible upsets among the 3 through 8 seeds. As we have seen the past couple of seasons, once a lower seed gets on a run they can make it to the Final Four.
Who are the top contenders to win the Midwest Region?
Begin Slideshow

»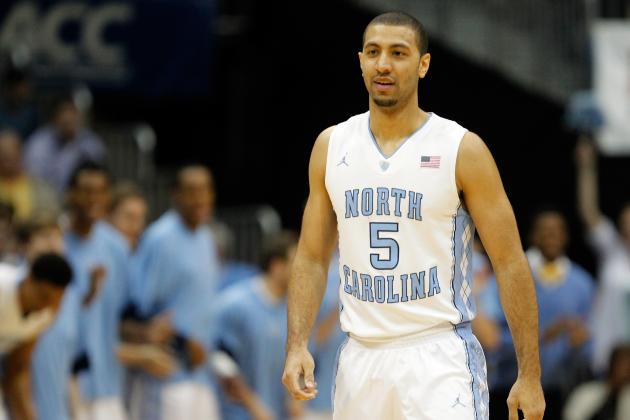 Streeter Lecka/Getty Images

While using the term lock is always dangerous in sports and could come back to bite me, North Carolina is a lock to make it to the Elite 8. They get to play their first two games in their backyard, which makes things more challenging for their opponents.
Their biggest challenge to the Regional Final will be a possible game with Creighton in the Round of 32. However Creighton plays Alabama in the second round which poses some matchup problems that could prevent them from even getting to North Carolina.
A Sweet 16 matchup against would likely be against Michigan or Temple. Neither team would pose a threat and would get blown out. If neither makes it to the Sweet 16 game then the Cinderella team that replaces them would not provide a challenge to the Tar Heels.
Jamie Squire/Getty Images

The toughest foe Kansas may have on the way to the Regional final might come in the first round against Detroit.
Detroit was a surprise winner of the Horizon league tournament. While some may look at this as an easy win, Detroit finished on a strong 13-2 run. Their 22-13 record is good but would have been even better as they were without 6'10 center Eli Holman for 13 games. Holliman along with Ray McCallum Jr, Chase Simon and Nick Minnerath pose a formidable team.
Assuming Kansas does get by Detroit they would face the St Mary's/Purdue winner. While both have some promise neither is anywhere close to the Jayhawks.
The Columbus part of this region is ripe with upset potential. Belmont looks to upset the very up and down Georgetown while NC State is peaking at the right time and looks to end San Diego State's dance very early. Regardless of who comes out of that end bracket none of them are a match for Kansas.
Streeter Lecka/Getty Images

The Wolfpack are heating up at the right time. They made it to the ACC final before losing a very close game to North Carolina. A 4-1 finish down the stretch helped them earn an at large bid.
Their late season surge can be attributed to development of Sophomore CJ Leslie. He was already having a good season but over the past 10 games he has averaged 17.9 points and 10.2 rebounds. He has help as five players average double figures in scoring as well.
If the Wolfpack can keep up their recent play they can pose a threat to several teams. The problem is they have struggled most of the season against quality opponents. First year Coach Mark Gottfried has helped this team greatly improve as the season has progressed. Can he get a few more games out of his team? After the way their last game ended against North Carolina, with a couple of interesting non calls, they Wolfpack would motivated to have a rematch.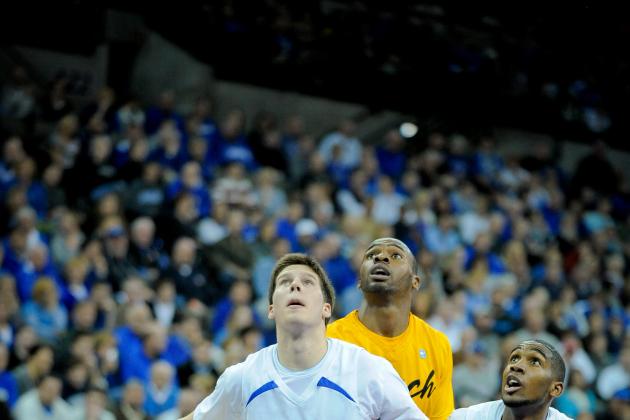 Eric Francis/Getty Images

As mentioned before, the biggest test for North Carolina and Kansas will be Detroit and Creighton. Both are high-scoring teams with talented guards. Detroit has several players who can step up and score while Creighton boast Wooden Award Finalist Doug McDermott.
If either of them were able to pull off the upset then they would have a very good chance to reach the Regional Final where they would likely have to pull off another huge upset. Detroit is from the Horizon league which has had luck recently pulling off upsets.
The other possible Cinderella from this region is Belmont. Belmont is fourth in offense and has four players averaging double digits in points. Three of their players shoot better than 40 percent from the three point line. Earlier this season they lost by one point to Duke. They will not be intimidated by Georgetown in their first game.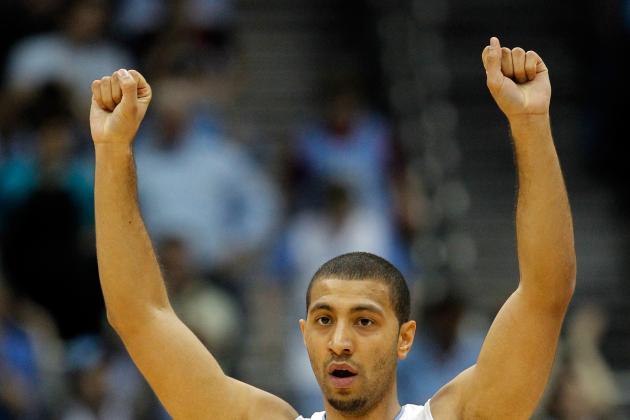 Streeter Lecka/Getty Images

In the end the Regional Final will come down to North Carolina and Kansas. North Carolina was without F John Henson for their last two ACC Tournament games. He is a rebounding and shot blocking force. He will not be needed for their first game so they can rest him and his injured wrist longer if they would like.
Kansas enters the tournament with a chip on their shoulders as they felt that they should have been a No. 1 seed. That should help propel them through some tough potential games with Detroit and NC State.
The lack of depth behind Thomas Robinson and Tyshawn Taylor will prove to be the undoing of the Kansas when they face North Carolina.
PJ Sapienza is a featured columnist for the Detroit Red Wings and a writer of many other sports. You can also follow him on Twitter.
To read his most recent articles see:
NCAA Bracket-Which lower seeds have the best odds
Teams to Avoid in your bracket