Los Angeles Galaxy vs. Toronto FC Live Blog: Play-by-Play Analysis, Reaction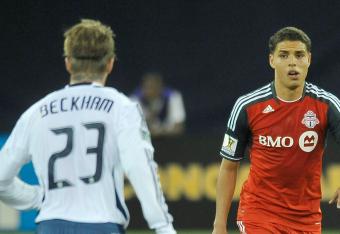 Brad White/Getty Images
Bruce Arena's Los Angeles Galaxy are left searching for answers on Wednesday night at the Home Depot Center in Carson, Calif. as they take on Toronto FC in the second leg of the 2011-12 CONCACAF Champions League quarterfinals.
Los Angeles holds all the cards in this leg, up two goals on the away-goals rule and knowing that a 1-1 draw or a win will be enough. As for Toronto, a victory or a draw of at least 2-2 will suffice.
Kickoff is scheduled for 7 p.m. PT/10 p.m. ET and will be televised by Fox Soccer Channel. The live blog will begin at approximately 5:15 p.m. PT/8:15 p.m. ET.
Stick with Bleacher Report for continuing coverage of the 2011-12 CONCACAF Champions League and all things world football.
Stay tuned for a recap of this match on Bleacher Report and the View from Victoria Street.
Yellow card 22 Torsten Frings
Toronto FC
90' + 3' - The dream continues for Toronto FC. The nightmare continues for LA.
FINAL
Los Angeles Galaxy 1
Own goal, Terry Dunfield 55'
Toronto FC 2
Ryan Johnson 34'
Nik Soolsma 67'
90' + 1' - And another foul in the box. Goal kick, Toronto.
90' - Juninho's shot is the epitome of what has been a sorry night for LA. Three minutes of stoppage time.
89' - That is a laughable attempt at a sequence. Nik Soolsma is a few minutes away from being the hero here.
88' - Set piece, just outside the box. Cleared. And a throw.
87' - Well, you can expect some low ratings from yours truly, David Beckham notwithstanding.
86' - The fans are getting restless here at Victoria Street. Another bad cross.
85' - Milos Kocic is down. He gets up, though.
84' - There is no one in a white shirt to receive the crosses. Nobody.
Substitution Los Angeles Galaxy
IN 9 Chad Barrett
OUT 21 Tommy Meyer
83' - Landon Donovan is not himself today. But then again, the team are in disarray tonight. And somehow I was expecting the worst heading into Victoria Street...
82' - Another bad pass. You know, I think Toronto need to ice this contest, because I cannot see the Galaxy coming back here.
81' - Another miss. And another one. Boy, what is up with the state of state of LA Galaxy Soccer this year. By now, these players have realized it isn't 2011 anymore.
80' - It's ironic how the MLS Western Conference is solid in league play but not so much the case in CCL play.
79' - Cleared. So what else it new? These Galaxy players are living through a nightmare to start the year.
78' - What a bad ball from Beckham. A foul is called.
77' - Good clearance from Toronto. Doing just enough to maintain their advantage.
76' - Well, it's desperation time now for LA. They need to get an equalizer to force extra time or their CCL run ends tonight.
75' - Dan Keat with a nice clearance, but it will be a throw for Toronto.
74' - Kocic redistributes. Oh my God, that was a speculative shot from Robbie Keane. And a poor cross. You cannot explain such ineptitude as this. You just can't.
73' - Substitution Los Angeles Galaxy
IN 30 Paolo Cardozo
OUT 18 Mike Magee
I think Bruce Arena has flown the white flag with these subs.
72' - Oh, that is a speculative effort. Franklin with the miss. And he is subbed.
Substitution Los Angeles Galaxy
IN 15 Dan Keat
OUT 5 Sean Franklin
71' - Corner for David Beckham.
70' - Seventy minutes have gone, and Los Angeles are twenty minutes away from exiting the CONCACAF Champions League.
69' - Subsitution Toronto FC
IN A. Maund
OUT 14 Danny Koevermans
This article is
What is the duplicate article?
Why is this article offensive?
Where is this article plagiarized from?
Why is this article poorly edited?