Randy Moss Signs with the 49ers: Just What the Doctor Ordered?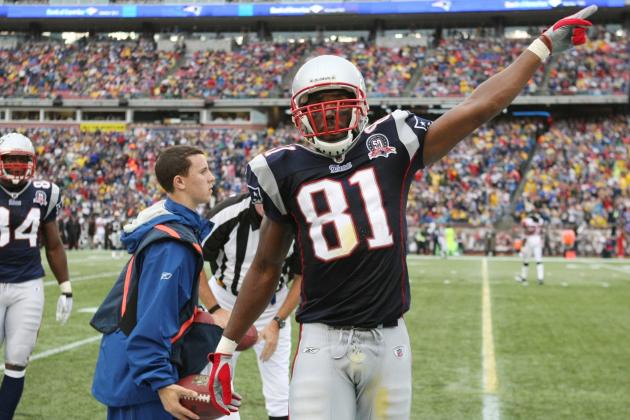 Elsa/Getty Images
How many times will Randy Moss signal a first down for San Francisco in 2012?
After a workout with the San Francisco 49ers, Randy Moss has agreed to a one-year deal with the team. In a move surrounded by controversy and greatly varying opinions, I think most questions about the move can be summarized by the question: "Which Randy Moss are they going to get?"
Moss has been accused of being an ego or character problem, and "quitting" by fans of several teams. However, he has also been accused of being one of the best talents to ever line up at the WR position, being impossible to cover and leading the league in receiving touchdowns.
His arrival in San Francisco at this juncture was rather unexpected and is still puzzling in many aspects. Here I will break down the potential ramifications of the good and bad of Randy Moss, and what they may mean for the 49ers in 2012.
Begin Slideshow

»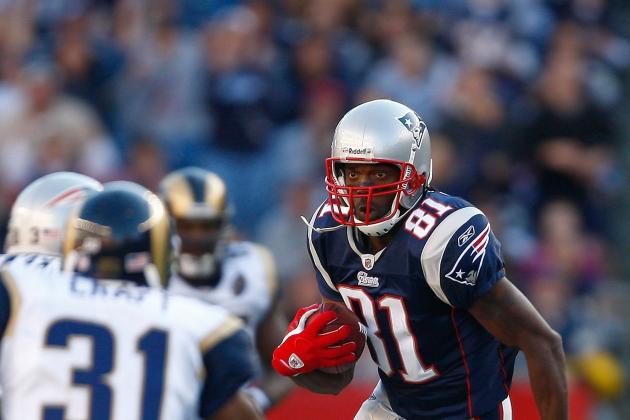 Jim Rogash/Getty Images

Randy Moss has always been a deep threat. After running a 40-yard dash in 4.39 seconds at a workout for the New Orleans Saints days prior, he still appears to possess many of the elements that the title requires. But how equipped are the 49ers to utilize a deep threat?
Prior to the 2010 season, I wrote this article on the supporting casts and coaching staffs that 49ers Quarterback Alex Smith has been dealt.
I will be the first to admit that Smith is certainly not known for his deep passes, but who was he ever to target? Since he was drafted, the 49ers have not had a WR who had the tools necessary to wear the moniker "deep threat."
Randy Moss changes that fact today, because when he shows up motivated to play football he is capable of embarrassing Hall of Fame caliber defenders.
His addition should prove an asset to the rest of the offense, because if the 49ers send Moss and Vernon Davis deep, they will command an extra defender or two. This translates to less defenders in the box to focus on the rest of the offense.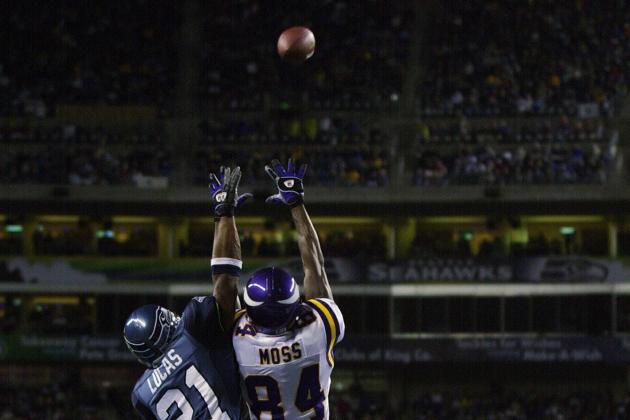 Otto Greule Jr/Getty Images
The Size of Moss enables a QB to put a ball easily into a place where it's his or no one's
One of the most important aspects that will dictate Moss's level of play is the reason for his return, which hasn't been publicly addressed. Randy Moss already has a career that should land him in Canton, but has never won a Super Bowl. Harbaugh has his team sold hook, line, and sinker on the "Why not us?!" mentality, and rightfully so. In observing Moss's past, it is safe to say that he feeds off the energy, enthusiasm and dedication of his teammates whether that be positively or negatively.
One aspect of this unexpected turn of events that I think speaks loudly, yet silently, is that Jim Harbaugh himself threw the passes for the workout. After leading a team to within a special-teams mistake (or two) shy of a Super Bowl appearance in his first season, it's safe to say that Harbaugh i in touch with the pulse, abilities and needs of his team.
Just last season, Harbaugh bounced Braylon Edwards out of town just as fast as he brought him in, and it probably would have been quicker if not for his injuries "hampering his production." He also took backups from the team he inherited and turned them into key contributors.
In fact, we've seen through actions and heard through words that Harbaugh would be perfectly content with Moss sitting on the bench if another WR is playing better. Moss will know that before the season starts, and that was probably explained to him today. If he is cut by Week 4, the team will be the same contenders that they were before Moss, and Harbaugh will have no issues convincing his team of this concept. Even with Moss's decorated career, I doubt that the team will refrain from drafting a receiver and forcing Moss to earn a starting role.
Since Harbaugh took over the team, the 49ers have seen many players take full advantage of the opportunity to prove themselves to be an asset or to be expendable. Moss's NFL return campaign is in his hands, and one must believe that Harbaugh saw both ability and drive to make this move.
Moss has shown the tendency to rise and fall with the fire and drive of his teammates, and he has also been known to take challenges personally on the field. One could assume that an aspect of this is self preservation: "If my teammates aren't going to sell out to win a Super Bowl, why am I going to risk breaking a leg?"
The majority of what Moss has done in his career hasn't gotten him too beat up. Be it a positive, negative or both in your mind, it's something you have to consider.
Darrelle Revis, widely regarded as the best active shutdown cornerback in the NFL, can personally attest to Moss's motivation regarding personal challenges. As well, the 1998 Dallas Cowboys, who passed on Moss twice in the NFL draft, were made to feel his wrath in prime time, as he caught 3 passes for 163 yards and 3 TD's in a Vikings victory on Thanksgiving day.
Chris Carter, a teammate and mentor to Randy Moss during their time together as Minnesota Vikings, stated that, although Randy Moss is the best athlete he's ever encountered, that he is mentally weak. When things got bad, it affected him and Carter cites this as the reason he still believes Jerry Rice to be the greatest receiver of all time.
Using Carter's analysis of Moss, it is easy to formulate an opinion of why he retired based on how the 2010 season went for him. Moreover, it may also put an interesting twist on the reason he chose to sign with the 49ers, a team who is positive as a whole and believes it can win it all.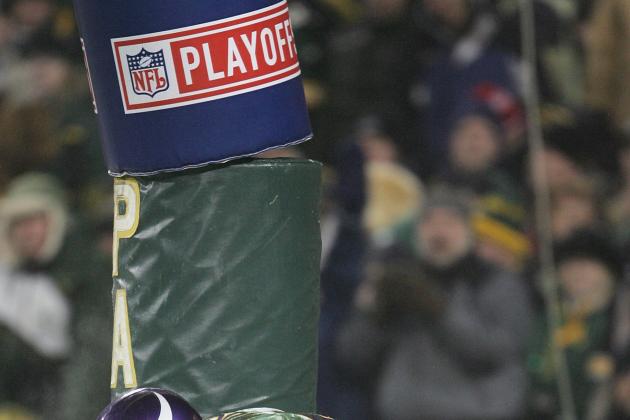 Jonathan Daniel/Getty Images
Randy Moss moons the home team at Lambeau Field
San Francisco 49ers fans have to be all too familiar with talk of a wide receiver's character damaging his bid for one day being enshrined in the Pro Football Hall of Fame. Terrell Owens did such character damage that even though his last year in the NFL he produced nearly 1,000 yards and 10 TD's, nobody wanted to enlist his services for the 2011 season. It was the same character that emerged in San Francisco and led to his departure.
Barring some sort of miracle, Terrell Owens will forever be revered for his statistical contributions to the 49ers, and disliked for most everything else. If Moss departs San Francisco in a positive light, he will undoubtedly set himself apart from and above Terrell Owens in the eyes of most 49ers fans.
The 49ers have a late-bloomer developing at quarterback, and no real veteran presence for a young group of receivers to admire. This spells a great opportunity for Moss to re-write the legacy he goes out with as a mentor and a coach on the field. Michael Crabtree has an extremely raw talent to be a clutch possession receiver, but still hasn't lived up to his potential. Moss's presence on the team could benefit guys like Crabtree and speedy slot receiver Kyle Williams, if he will take the time to share what he's learned.
I think the 49ers have made a safe bet with this acquisition. If Moss screws this up, he can likely kiss a future in the NFL goodbye. How much that would bother him remains to be seen.
That being said, I think the key to all of this is the level of trust and control that Jim Harbaugh has with his team and organization. He has taken a personal interest in taking Alex Smith from mediocre to elite and must feel that this is a good way to accomplish the next step.
Knowing Moss's strengths and weaknesses, the pieces are in place for him to step in and make a difference. Using Carter's assessment, Moss should be able to feed off the fire of this team and give it his best of whatever he has left.
As well, I do encourage fans of other teams to continue criticizing this move, because I believe it will have the Darrelle Revis/'98 Cowboys effect on him. If Randy wants to make a believer out of you, he'll do it.
My personal opinion is that Randy Moss retired out of frustration, trying to find motivated players and a system that wanted him and who was sold out to win a Super Bowl. I'm excited for what could happen, but there's no way to know what will.