Derrick Rose: Is His Critique of the Referees Justified?
March 13, 2012

Jonathan Daniel/Getty Images
After the Bulls' victory over the New York Knicks on Monday night, Derrick Rose did something that he doesn't do very often: He complained.
The reigning MVP called out the refs after the 104-99 victory, and it was announced Tuesday that Rose would be fined $25,000 for his remarks.
Rose was on the receiving end of several hard hits throughout the night yet only shot nine free throws. He had this to say after the game: "I've gotta be the only superstar in the league that's going through what I'm going through right now, but I can't say too much about it."
When asked if he was worried about being fined for his comments, he had a very simple answer: "I could care less right now."
So is Rose's complaint justified?
In my opinion, absolutely.
This season, Rose is averaging 6.2 free-throw attempts per game. That's the 13th-highest average in the league, but it's down from his average last season of 6.9.
Just a few of the surprises on the list that get to the line more than Rose are Corey Maggette, John Wall and Rodney Stuckey.
His average would actually be much lower if not for this month, where he's averaging seven free-throw attempts per game.
Now his free-throw average might not seem that bad, but when combined with the fact he takes 17.7 shots a game, which is eighth most in the league, it is. Out of those 17.7, only four come from three-point land.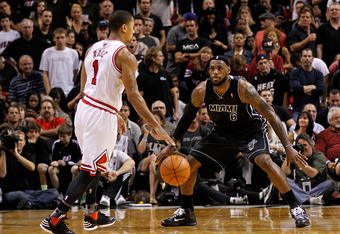 Mike Ehrmann/Getty Images
That means Rose is taking close to 14 shots inside the arc. For a point guard who drives to the basket as much as Rose, those 6.2 free throws aren't a whole lot. That basically means he's only getting fouled three times a game when shooting.
In my opinion, it is more likely that he's getting fouled three times a quarter rather then three times a game.
Carlos Boozer had this to say about Rose's lack of calls:
Yeah, because he's so strong ... he finishes so many plays where he does get contact. Sometimes they let it go, but you can't let it go all the time. You've got to make the call. You saw in the third quarter, you're just trying to force the issue. He got to the line a bunch in the third quarter. But he could have got to the line maybe 10 times in the first half.
That might explain why sometimes Rose goes from having 14 attempts in a game like he did against Milwaukee to just three or four the next night against Orlando.
In my opinion, it was nice to hear Rose make these comments because he's usually so laid back. This reminds me of the games Phil Jackson used to play with the referees if he thought Michael Jordan wasn't receiving enough calls.
It will be interesting to see if the refs take notice of this and start giving Rose a few more calls a game. It'll also be interesting to see how many calls LeBron James and Dwyane Wade get Wednesday night when the Bulls and Heat square off. Wade is averaging 6.5 free-throw attempts a game while James averages 8.6 per games.
James ranks third behind Dwight Howard and Kevin Love, while Wade is 10th in the free-throw attempts.
Till then, we will just have to wait and see how much David Stern decides to fine Rose for his comments.
Make sure to follow me on Twitter @dachicagofan, and check out my weekly Bullspodcast every Wednesday on my site, The MG Experience.