WWE Opinion: Why Chris Jericho and CM Punk Are Two of a Kind
March 13, 2012

The "Best in the World" feud between WWE Champion CM Punk and No. 1 contender Chris Jericho is very popular amongst the Internet Wrestling Community. Why? Because these two men, more than any two individuals on the roster, represent what it means to be an all-around wrestler. They are two of a kind.
When fans look at a guy like John Cena they will acknowledge, that he's a good talker, but in the ring, sometimes he's below average. In big matches he usually delivers. Not all the time, though.
When fans look at Randy Orton, most would agree that he's a very good in-ring performer who has shown a lot of improvement since becoming a babyface especially. What about his promos? They're just okay. His personality doesn't shine when he speaks.
I can point out flaws of others such as The Miz portraying a heel even though he doesn't come off as a tough guy at all.  There's Jack Swagger's lisp that is a big reason why he has a manager.
John Morrison never got a shot because of his uninspiring promos and they barely let a guy like Kofi Kingston speak, even though he's great in the ring. There are plenty of other wrestlers that we can find faults in, but that's not what this column is about.
When it comes to CM Punk and Chris Jericho, what flaws do they have? They are both skilled enough on the microphone that you could say they are among the 10 best talkers in the history of the business.
In the ring, each guy has had a number of classic matches in their career while in WWE, but Jericho also had classics in Japan while Punk proved how good he was while in Ring of Honor.
What I really like about both guys is they have clearly defined characters that allow them to stick out from the rest of the pack.
Jericho's the smart veteran that walks with a level of confidence because he knows he's the best. He doesn't just say he's the best. He shows that he's the best with how he carries himself.
He gets the kind of heat that says: "That guy is really a jerk, but you have to respect how good he is." It's a reputation not given, but earned.
We know what CM Punk is too. He's a man of high moral values that is proud of the fact that he's straight edge - never having a drop of alcohol in his life or doing drugs. He's also a guy with a very deliberate way of talking while also having a good sense of humor that is allows him to outclass every opponent via the "pipe bomb" we've come to know as the microphone.
If you look back over the years, these two were the best performers in the company when they were given the chance to shine. In 2008, Jericho had a classic feud with Shawn Michaels that really proved Jericho was the best in the business.
In 2009, Punk turned heel, created the Straight Edge Society and had a memorable feud with Jeff Hardy. If Punk wasn't the best that year then the nod would go to Jericho.
In 2010, neither guy was pushed strongly and Jericho ended up leaving, but by that point it was obvious they were the best in the company. Obviously in 2011, it was the year of CM Punk as well.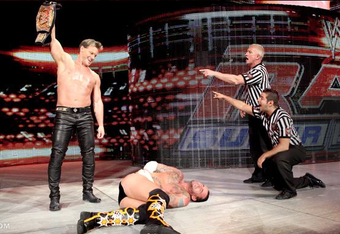 Now their paths have crossed on the road to WrestleMania.
On Monday's edition of Raw, the feud became personal. Jericho cut a promo from the backstage area that aired on the Titantron while Punk was alone in the ring.
It was the usual kind of trash talk with Jericho proclaiming himself to the best until he revealed a dark secret from Punk's past.
He said Punk was straight edge because his dad was an alcoholic and he didn't want to grow up like him. Jericho went on to say his goal was to beat Punk for the title, which would then cause Punk to drink alcohol.
Punk sold it great. No smartass comment. He had a serious tone, which was different for Punk.
Following the show, Punk continued to react to Jericho's remarks with the following tweets:
Monday 11:55pmET: I don't want any sympathy. Save it for Chris. S**t just got next level. I will hurt you.
The champ swore. Uh oh, he's really mad! 
Tuesday 12:41amET: Everybody has skeletons in the family closet. Keep my father out of it.
Now he's defensive, too. A strong champion showing weakness.
My opinion? This is great. A well done twist to a story that needed it. The idea that the feud has become personal now will only add to the match on April 1.
Some people will hate it. They will think it's "too real" and not needed. Guess what? It's fiction.
It adds a layer to the feud that was, with all due to respect to both performers, lacking a spark to make it as good as it could possibly be.
When the babyface is the champion as Punk currently is, he already has the advantage. When the heel has the title, the story is easier to tell with the babyface trying to get the prize.
In this case, they had to do something to make people really want to see Punk get his hands on Jericho. The "your daddy was an alcoholic" angle will make people think Punk really hates Jericho because of how Punk reacted to it.
If there's a fan out there that had an alcoholic ruin their life in some way, they will absolutely root for Punk. If they don't have any life experience, they will still root for Punk simply because Jericho is acting like a jerk. It's classic, old-school heel heat.
The key to the segment was not what Jericho said. It was how Punk reacted to it. He didn't smile. he had a look of sadness on his face. The WWE Champion that we know as a confident guy with a witty sense of humor was replaced by a guy with a heavy heart that looked defeated by the words spoken by another man.
Isn't that what wrestling is all about? The constant battle of good vs. evil is the easiest story to tell, yet it's often times a difficult one because of all the stories that have been told in the past.
CM Punk and Chris Jericho are the best wrestlers in the world.
At WrestleMania 28, they will prove it.
Why?
Because they are two of a kind.
John Canton is a regular contributor at the Bleacher Report that's excited about going to WrestleMania 28 in Miami. You can read more of his work at his website thejohnreport.net where he's currently reviewing every WrestleMania event prior to WrestleMania 28. Follow him on Twitter @johnreport where he tweets a lot about wrestling as well as other interesting topics.