Vanderbilt vs. Harvard: Game Time, TV Schedule, Spread Info and Predictions
March 13, 2012

Chris Graythen/Getty Images
This year's matchup between the No. 5 seed Vanderbilt Commodores (24-10) and the No. 12 seed Harvard Crimson (26-4) is jam packed with storylines. Harvard playing in their first tourney since 1946 is certainly one. Another recurring theme is "The Battle of the GPAs," as two schools face off who are more esteemed for their performance in the classroom than on the court.  
Although, perhaps the most evident storyline is Vanderbilt's recent struggles in the tournament's opening round, where the 'Dores haven't advanced to the second round since 2006-07. Their battle-tested senior squad has something to prove in this matchup despite knocking off No. 1 Kentucky on Sunday in the SEC tournament championship. 
Harvard is not your average Ivy League champion. Led by Tommy Amaker, they flirted with the Top 25 much of the year and climbed as high as No. 22.
The Commodores are led by junior star John Jenkins, who averages more than 20 points per game. Jenkins has taken and made more three-pointers than anyone in the country this year.  
Where: University Arena, Albuquerque, New Mexico
When: Thursday, March 15 at 4:25 p.m. ET 
Watch: TNT
Line: Vanderbilt -6.5 via VegasInsider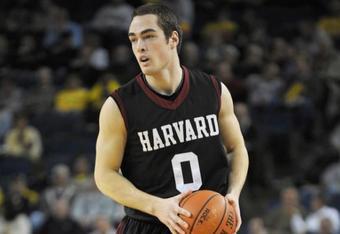 Vanderbilt's X-factor
Jeffrey Taylor. Viewed by many as a first-round pick in the upcoming NBA draft, Taylor has had his ups and downs as a Commodore. Now a senior, he will want more than ever to make his first run in the NCAA tournament.
If he becomes lethargic offensively and settles for jump shots, Vandy could be heading back to Music City in a hurry. If he attacks the paint and uses his athleticism, they could run Harvard out of the arena.
Harvard's X-factor
Laurent Rivard. Although it's not their style of play, the Crimson will be forced to play a quick-paced game with an emphasis on outside shooting at times. 
Rivard is Harvard's best three-point threat with a .390 percentage from deep. To cancel out Vandy's sharpshooter Jenkins, Rivard will need to be on his game and make more shots than he misses.
Perhaps more important than his shooting, Rivard will need to lock down Jenkins on the defensive side of the ball. Jenkins will run circles around the court for the whole 35-second shot clock, so it's easy to get worn down and give him a look at the basket. 
Key Matchup
Harvard's strength is undoubtedly down low, but the Commodores aren't exactly weak in the post. Vanderbilt's Festus Ezeli has a NBA body and skill set, as seen by his 17 points on Anthony Davis in their most recent win against Kentucky.
The Crimson have a formidable frontcourt duo in Keith Wright and Kyle Casey, who carry the load on the offensive end. They will need to keep the game down there in order to pull out a victory. If they prove to be incapable of guarding Vandy on the perimeter, however, it could be a long game.
Prediction
Harvard was expected to be a tournament sleeper this year, but the selection committee didn't do them any favors by matching them up against a trendy Final Four pick in Vanderbilt. No. 12 seeds have a recent history of pulling the upset, but the 'Dores are too experienced to suffer another first-round exit.  
Vanderbilt 74, Harvard 66