NCAA Bracket 2012: 10 Reasons Teams Should Fear Michigan State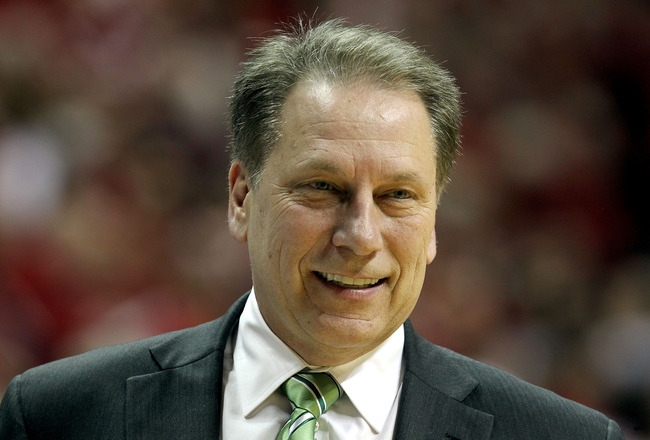 Andy Lyons/Getty Images
As far as No. 1 seeds go, Michigan State seems to be the most overlooked of the bunch.
That shouldn't be the case.
The Spartans are a force to be reckoned with, and no team should even think of overlooking the squad. Between their past success and present success, it's tough to think of reasons why you shouldn't pencil Sparty into your Final Four.
Michigan State provides one of the toughest matchups in the tournament, and teams would be lucky to avoid them for as long as possible.
Even though it seems like Michigan State has been slightly overlooked, I have a list of 10 reasons everyone should be scared of the Spartans in March.
1st Two Games Are Essentially Home Games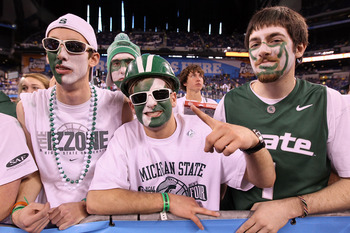 Andy Lyons/Getty Images
Michigan State starts off the tournament in Columbus, Ohio.
For them, they will essentially play two home games.
It is easy for a No. 1 seed to overlook an early opponent and start the tournament flat. Michigan State, however, shouldn't have any problem avoiding that issue.
The Spartans only have to travel to Columbus, and their fans should travel well. Most likely, Michigan State will be playing two home games right off the bat.
Obviously, the Spartans would like to play in Columbus later on in the tournament, but it could definitely give them some momentum. Michigan State only lost one home game all year, and it was to Ohio State. Additionally, all but one of their home wins came by double digits.
Since they are most likely going to blow out the first two opponents, it is reasonable to assume that Sparty will get some momentum heading into the Sweet 16.
Can Overcome Adversity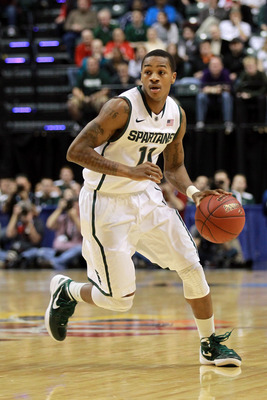 Andy Lyons/Getty Images
Michigan State lost its first two games of the year, and then won 15 straight games.
Clearly, those two early losses got the Spartans focused right away. Other than a mid-January slip-up (they lost three out of five games), State has only lost two games since those opening two losses.
They're a pretty young team, but the Spartans are definitely resilient. With such a calm coach, Tom Izzo, it's easy to see how the players remain so poised on the court.
Sparty isn't fazed by much. Even if they get down early in a game, Michigan State has the ability to make any comeback.
Beaten 7 Ranked Teams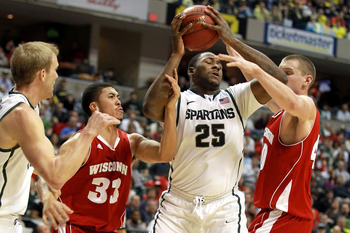 Andy Lyons/Getty Images
Michigan State has been tested.
They beat a ranked team seven times this year, with only two of those wins coming at home. The Spartans know how to beat anybody anywhere.
Given the tense nature of the NCAA tournament, proven winners usually do well. Michigan State proved that it can beat just about anyone, which bodes well in the tournament.
In the Big Ten, the Spartans were constantly playing ranked teams, and they were churning out win after win. The team knows how to beat some of the best teams in the country, and that will come in handy as the tournament field gets smaller and smaller.
Relatively Easy Bracket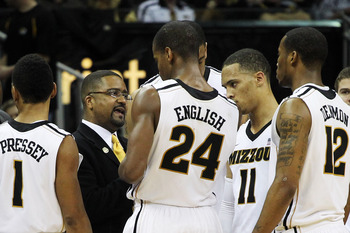 Jamie Squire/Getty Images
Michigan State probably has the easiest road to the Final Four out of any No. 1 seed.
The four-seed is Louisville, who didn't do anything in the regular season. With Rick Pitino and a four-game losing streak, it's easy to forget that the Cardinals lost to Providence by 31. Michigan State has no reason to be scared of Louisville.
The three-seed is Marquette. You know, the same team that lost its first Big East tournament game, while only beating three ranked teams all year. The same school that has made one Sweet 16 in the past six years and has only advanced further than that once in the last 35 years. And that was with Dwyane Wade.
Marquette shouldn't worry Michigan State.
Missouri, on the other hand, is probably the toughest No. 2 in the tournament. They should've been a No. 1 seed, but the committee gave them a short straw. Even still, Tom Izzo is loads better than Frank Haith (one career NCAA tournament victory). If the game comes down to coaching, Michigan State would have it in the bag.
No game is easy in the NCAA tournament. However, if you would rank roads to the Final Four, Michigan State has only one semi-obstacle, which means it's their region to lose.
Best Team from Best Conference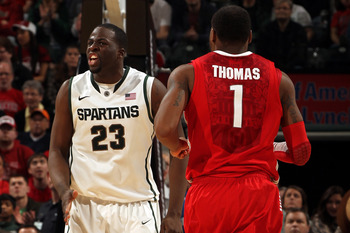 Jonathan Daniel/Getty Images
When it comes down to it, Michigan State was the best team in the best conference.
The Big Ten was the No. 1 ranked conference in terms of RPI. It was the best conference at the top, in the middle and the bottom. Michigan State had at least one very tough test each week.
Regardless, the Spartans won a share of the regular season crown, and they won the Big Ten Tournament. For both the regular season and the postseason, Sparty was the best team in the Big Ten.
That definitely means something.
They've faced the toughest competition, and they've beaten the toughest competition. Their tournament road will not be any harder than their road in the Big Ten tournament. The Spartans have already defeated some really good teams. Now they just have to do it again.
Very Deep, Talented Team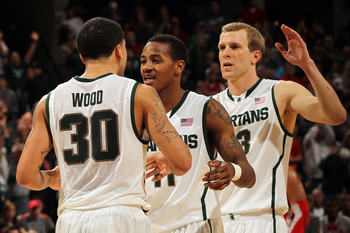 Jonathan Daniel/Getty Images
Michigan State has a deep team.
They're led by senior Draymond Green, Austin Thornton and Brandon Wood, but the rest of the key players are underclassmen. The mix of youth and experience balances out very well.
Green leads the team in scoring, but there are four other guys that score eight points per game or more. Branden Dawson was on the All-Freshman Team in the Big Ten, and Keith Appling was third team All-Big Ten. The Spartans have a good combination of stars and role players.
Furthermore, once a player is in the game, he is ready to contribute. The team meshes well, and they work into the flow of the game incredibly quickly. Foul trouble and/or fatigue should not create a big hurdle for the Spartans.
Peaking at the Right Time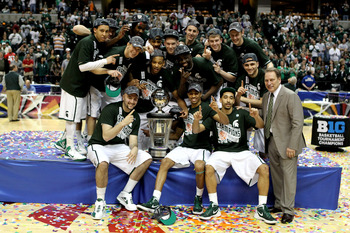 Andy Lyons/Getty Images
Michigan State is peaking at the right time.
After their first two losses, the Spartans had a great beginning of the season. Then they had a little five-game hiccup. After another good stretch, they lost two games in a row to lose the outright Big Ten title.
However, Sparty bounced back, winning three straight games in the conference tournament to earn the No. 1 seed. Michigan State is coming in hot, and if they can keep that momentum going, they will be a very tough team to stop.
Play with a Chip on Their Shoulder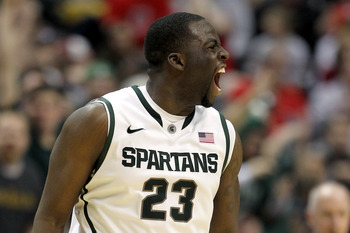 Andy Lyons/Getty Images
There is a very good chance Michigan State feels disrespected.
They were unranked to start the year, and no one seemed surprised after the Spartans lost two relatively close games in a row to North Carolina and Duke. Then, after a great season in the Big Ten, many people were still convinced that Ohio State was the best team in the conference. After beating the Buckeyes for a second time, Michigan State earned a No. 1 seed.
However, nine of the 14 "experts" on ESPN picked another team to win the West. For some reason, everyone is reluctant to get on Sparty's bandwagon.
That's just fine for them. Michigan State will play with a chip on its shoulder, and everyone better watch out.
Draymond Green Is a Great Leader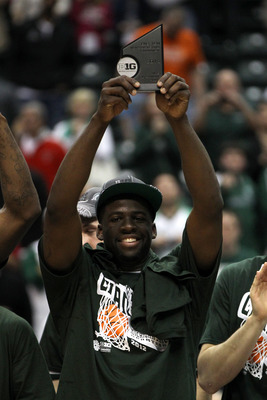 Jonathan Daniel/Getty Images
Draymond Green has seen it all.
As a freshman, he was on the team that got blown out in the National Championship game by North Carolina. As a sophomore, he lost a heartbreaking game to Cinderella story Butler. Last year, as a junior, he was bounced in the first game.
Now, as a senior, Green is ready to lead the Spartans back to the Final Four. He was the Big Ten Player of the Year. Additionally, he was First Team All-Big Ten, while being named to the Big Ten All-Defensive Team.
Essentially, Green does it all for the Spartans. He is a great leader on the floor, and his double-double averages solidify him as a beast.
Green will be determined to get back to the Final Four, and he will do everything in his power to make sure Michigan State brings home the National Championship.
Tom Izzo Is a Winner
Jonathan Daniel/Getty Images
Good coaches know how to win in the NCAA tournament.
Tom Izzo is a darn good coach.
Izzo has been to six Final Fours and two National Title games, winning one of them. He gets the most out of his teams in March, and he knows how to get the job done.
The 2012 Big Ten Coach of the Year won his 400th game this year, and it would be a great finish to the year if he adds his second National Championship.
In March, when the going gets tough, players need a great coach to keep them focused. Izzo is that great coach for Michigan State.
Keep Reading

Michigan State Basketball: Like this team?