Fantasy Hockey Impact: Hottest Waiver-Wire Pickups
March 13, 2012

Bruce Bennett/Getty Images
Each week we will look at the top five players to add to your fantasy hockey team.  Our list will feature mostly second and third-tier fantasy players based on their production over the last 14 days.  Timely trades or signing of these depth players may be the key to winning your hockey pool.
5. Dmitry Orlov, Washington Capitals
Orlov is loaded with offensive potential and is only 20 years old.  Over the last five games, Orlov has four points to go along with a plus-four rating.  He is on pace for 20 points in just 60 games this season as a rookie.
Dennis Wideman is an unrestricted free agent at the end of this season who is eating up almost 3.5 minutes of power-play time per game, while Orlov is getting less then a minute per game.  If Wideman signs with a different team this offseason, expect Orlov to see more power-play time. 
Orlov is going to be an outstanding offensive defenseman who will average 45-50 points a season, with a career high of 65 points.  Don't waste another minute reading this—get Orlov now.
4. Jamie McGinn, Colorado Avalanche
McGinn is enjoying the change of scenery as he is seeing more ice time and producing points.  Over his last four games, McGinn has scored four goals and six points; in fact as I was writing this column, McGinn scored his 17th goal of the season against the Anaheim Ducks.
McGinn is playing on the second line in Colorado with David Jones and Paul Stastny and sees time on the second power-play unit.  He has shown strong chemistry with his new team, so hopefully the Avalanche will re-sign him this offseason.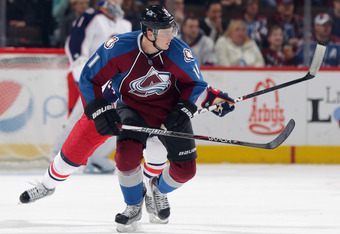 Doug Pensinger/Getty Images
McGinn is a depth winger who has already hit a career high this season with 30 points and is on pace for 34 points.  McGinn is a 45-point player can play both wings, which increases his value in a fantasy pool that has position requirements. 
3. Slava Voynov, Los Angeles Kings
Voynov is a similar type of player as Orlov, an offensive defenseman with great potential.  Last season Voynov scored 15 goals and 51 points with the Manchester Monarchs of the AHL.  This season in the NHL he is on pace for 19 points in 54 games and has four points in the last six games.
The biggest thing holding Voynov back was the Kings' depth of offensive defensemen, but the Jack Johnson trade changed all of that.  Voynov is averaging just over 18 minutes per game, and that will increase to over 21 minutes per game next season.  Voynov is averaging almost 2.5 minutes of power-play time per game, which will also increase next season.
Like Orlov, you need to sign Voynov now as he is going to be a strong offensive contributor.  Expect similar numbers as Orlov, averaging 45-50 points, and he could one day score 20 goals.
2. Valtteri Filppula, Detroit Red Wings
Filppula is turning out just like every other player the Red Wings produce.  Filppula is an offensive player who is also a solid two-way player.  Similar to Pavel Datsyuk and Henrik Zetterberg, Filppula's offensive numbers would be much higher on any other NHL team that doesn't focus so much on two-way hockey.
Filppula has stepped up big time in the absence of Datsyuk with five goals and 11 points in the last seven games.  He has smashed his career highs this year as he has scored 22 goals, 35 assists and 57 points.  With 13 games remaining, he should finish with at least 65 points.
Filppula is only 27 years old and just entering his prime; expect him to average 30 goals and 70-75 points over the next seven seasons.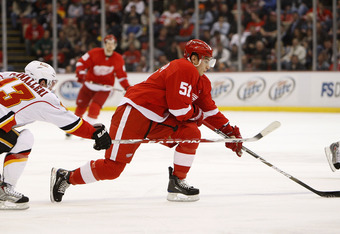 Gregory Shamus/Getty Images
1. Teddy Purcell, Tampa Bay Lightning
Purcell has not been able to have the same success in the NHL as he did in the AHL.  Purcell scored 41 goals and 121 points in 105 AHL—that's 1.15 points per game.  In the NHL, Purcell is averaging a point every two games.
This season Purcell is producing at a 0.82 point per game and has set career highs with 20 goals and 55 points.  Purcell has been on fire as of late, scoring 22 points in the last 12 games.  He had an 11-game point streak before going pointless against Carolina on March 10. 
Purcell is a great waiver pickup right now as he is playing on a line with Martin St. Louis and Steven Stamkos, who is leading the NHL in goals scored.  Purcell, like Filppula, is just entering his prime as well.  He is an inconsistent scorer who should average 25 goals and 70 points for the next several seasons.
Aaron Brouwer is the co-creator of www.fantasyhockeycoach.com.  FHC is a free fantasy hockey service that developed a ranking system combining post-lockout statistics, current factors and our own hockey knowledge.  Brouwer writes a weekly fantasy hockey column for The Fischler Report. You can contact Coach Brouwer at brouwer@fantasyhockeycoach.com.