Eric Scallan: "Something Big Is Going to Happen This Year for Me"
March 13, 2012
A life full of regrets and "what ifs" isn't always a bad thing.
Especially if your name is Eric Scallan.
"I've been a wrestler my entire life but I never really had the discipline that it takes to be great," Scallan told Bleacher Report. "I had that feeling of regret when you look back and realize you didn't try your hardest or give it your all."
Instead of dwelling on missed opportunities, Scallan decided to make up for lost time as he began training in the sport of mixed martial arts.
Scallan began training with current UFC rising star, Dustin Poirier.
"I started training with Dustin and we went to this karate place where it wasn't exactly your normal training sessions," said Scallan.
"They had us choking each other with belts, punching sand and they were hitting our shins with bamboo sticks. We were both amateurs at the time and just making our way into the sport," said Scallan. "It wasn't too much longer until Tim Credeur opened up a school and really showed us what it was all about."
Scallan's success wouldn't go unnoticed as he would win the first five fights of his career.
The Lafayette graduate has pushed his win total to 10, including seven victories by way of submission.
However, despite his early career dominance, Scallan credits the majority of his success to Poirier and Credeur.
"There's something special about Dustin. He's so hungry that we have to stop him from over-training sometimes. He's so strict with his diet. I remember after one of my fights in Oklahoma, we were trying to get something to eat and everywhere we went didn't have any healthy food. So, Dustin wouldn't eat. He's that dedicated" said Scallan. "He's without a doubt a future UFC champion."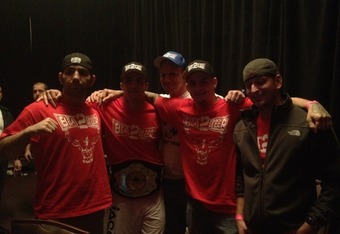 "And as great as a fighter Tim is, he's an even better teacher. The guy has so much talent and knows so much about the sport. Everywhere we go people are always coming up to him," said Scallan. "There's a reason for that."
Scallan will have yet another opportunity to put his hard work on display when he makes his Bellator debut on Friday, March 16th in Bossier City, Louisiana.
It's likely Scallan will be meeting his toughest opponent to date when he faces Derrick Krantz in a preliminary bout.
Those viewing and in attendance at Bellator 61 can expect business as usual from Scallan.
"The last place I want to be is on my back and be on the receiving end of some ground and pound. Once we get out of the first round he'll be done," said Scallan, "He'll blow his load."
"He'll try to knock me out or take me down but I'm pretty hard to take down. He's going to gas himself out trying to take me down. He definitely has that surprise factor so I'll be ready for anything," said Scallan.
While a win in his Bellator debut would be a push in the right direction, don't expect it to be a permanent stop for Scallan.
In fact, it's likely we could see him joining his good friend and trainer partner Poirier sooner rather than later.
"I'm taking one moment at a time. I'm asking myself what I can do at this very moment to make myself better. When you're climbing a mountain you don't want to trip over the rock in front of you," said Scallan. "But, the UFC is definitely my goal."
"Something big is going to happen this year for me."
Photo Courtesy of Brittany Ryle
For additional information, follow Garrett Derr on Twitter.