Hockey's 10 Worst Shootout Fails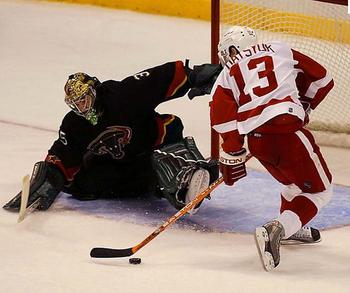 Shootout 101: Pay attention to Professor Pavel
The penalty shot is widely referred to as the most exciting play in hockey. Whether it happens during the course of a game, or will help decide the outcome in a shootout, the one on one scenario always brings the crowd to their feet.
NHL stars like Datsyuk, Malkin and Stamkos typically use these opportunities to make their stars shine a little brighter, with some silky deking or a top shelf wrister. Though the spotlight is on the skater, sometimes it's the guy between the pipes that steals the show.
The shootout also creates "specialists" like Lars Eller or Jussi Jokinen, who toil in mediocrity during the other 60 plus minutes, but become YouTube stars in the shootout format.
Then there's these guys.
There is some star power on this list for sure, but some of these clips have ruined some reputations too. The following are the Ten Biggest Shootout Fails.
Corey Perry: Columbus at Anaheim

Corey Perry with a sick drop pass

Corey Perry is the reigning league MVP. He's a high scoring winger with a chip on his shoulder. Perry can light the lamp on a consistent basis, but here he defers by leaving a sweet drop pass...to no one in particular.
While we don't think Katy Perry's namesake attempted this act of selflessness intentionally, it can never be argued that the Duck winger isn't thinking team first.
Anton Stralman: Calgary at Cloumbus

Bowling for Cujo?

This is why defenseman don't take shootouts. I'm not sure what Stralman is even trying to do here, but if his goal was to elicit giggles from pre-pubescent boys: mission accomplished!
Thanks Anton!
Ilya Kovalchuk: Buffalo at New Jersey

Koval-CHUNKS. Hey, at least he looked like he gave a crap.

Perhaps the most impressive thing about this shootout attempt is the utter lack of contempt Kovalchuk shows for the whole scene in the end. He seems like he absolutely has somewhere else to be and could care less that he was trying to keep his team alive in the shootout.
The announcer aludes to Kovy's potential for indifference by asking "I wonder how he feels about going fourth(in the shootout)". This would imply that Kovalchuk might put himself ahead of his team? No chance, you got the wrong guy.
Todd Marchant: Anaheim at Phoenix

SPIN-O-RAMA FANTASTICO!!!!!!!!

What a move! This shootout is labelled the "Best Shootout Move of All Time". Todd Marchant of the Ducks skates in on Ilya Bryzgalov, then of the Phoenix Coyotes, and executes the laziest/worst spin-o-rama I've ever seen.
One can only surmise that half way through his spin, Marchant may have developed vertigo. That can be the only reasonable explanation for the "shot" Marchant takes as he comes out of his high risk maneuver.
Another theory could be that Bryzgalov used his mind melting powers to send the speedy Duck center into an involuntary spin, but tests were still pending at press time.
Lee Stempniak: Columbus at Toronto

What a lazer!!!

This one is my personal favorite.
1. The game is on the line.
2. It's at home--in Toronto.
3. He misses the net by ten feet.
Let the magic of Lee Stempniak wash over you as you enjoy this clip!
Patrick Eaves: Detroit at Nashville

Eaves-dropping....Bahahahahahahahaha!!!!!

Poor Patrick Eaves. He wants to be considered a top six forward, so what better way to impress than to show some good stick handling and....... yeah. Let's just stick to killing penalties and being a spark plug on the checking line Patrick.
At least he has a sense of humor about it. Don't expect Babcock to call your number for the next one.
Steven Stamkos: Tampa Bay at Pittsburgh

Everybody fails sometimes

Being the NHL's leading goalscorer comes with high expectations when you get a chance to showcase your skills on a penalty shot. Stevie Stam has wowed us with his own spin-o-rama, and an array of sweet moves. But as you can tell by the scoreline, this wasn't Tampa's day, or Steve's either.
It's kind of like seeing Tiger Woods shank a tee shot. Makes us all feel a little bit better about ourselves. Any chance to see the super talented look, well, average, is a good thing.
Alexander Semin: Washignton at Dallas

The "Ultra Talented" Mr. Semin

Alexander Semin has some of the sickest moves in the NHL. What better way to put them on display than in a shootout. I love the color guy saying that even though Semin stumbles, "sometimes that can work for you". Really?! When does THAT work for you, Ace?
The best part of the video is after Semin falls and nearly decapitates his self with the goal, some punk yells, "Ha ha!", like Nelson, from the Simpsons. Timing is everything people.
Dennis Wideman: Chicago at St. Louis

Wide Man

Nothing gives you more confidence that you are about to see something awesome than when the announcer proclaims that "he has GREAT moves, I like the way he goes in". Well Dennis Wideman, you did not disappoint.
Nobody is really sure what Wideman was actually trying to do, but what ended up happening is Ice Capades gone wrong. Terribly wrong. He appears to initially be struck by sniper fire, or tripped by the goalie. One can only assume, Wideman may have been trying to replicate Bobby Orr in 1970.
This beauty is number one on everyone else's list, except mine.
Devon Setoguchi: Minnesota at Montreal

Uhhhhhhhhhh.....

Keep Reading