NCAA Bracket 2012: Ranking All First-Round Games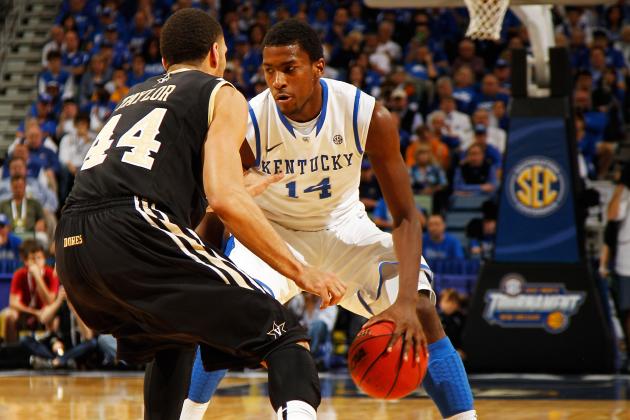 Chris Graythen/Getty Images
Michael Kidd-Gilchrist and the Kentucky Wildcats are the 2012 NCAA tournament's top seed, but will their first round game be a worthwhile game to watch?
The 2012 NCAA Tournament kicks off in earnest tonight and tomorrow night with the so-called "first round", or, as many refer to them, the play-in games.
While the interest level in those games certainly increased with the inclusion of the last four teams to earn at-large bids as part of the festivities, for most fans, the true start of the tournament comes on Thursday morning.
Between the opening tip on Thursday morning and the final buzzer on Friday night lies a marathon of hysteria, comprised of 32 basketball games, all dripping with drama and excitement.
The likelihood that you will have the time or energy to watch all 32 of those games is low. Life gets in the way. There are errands to be run, places to be, people to see. Having said that, there is nothing wrong with planning your day around the tournament schedule to make sure you catch all the exciting endings, amazing comebacks and stunning upsets.
Identifying which matchups will produce the best games will allow you to satisfy your inner March Madness fanatic while still maintaining some semblance of normal, everyday life. Here are all 32 matchups ranked from worst to first based on the potential quality of the game.
Because "quality basketball" is a completely subjective topic, for your reference, the rankings were rated based on the anticipated pace of the game (let's face it, two teams trading baskets is a lot more exciting to watch than two teams trading literal punches), projected difference in scoring between each team (a close game is obviously much more enjoyable than a blowout) and, the biggest factor, potential for an upset.
Begin Slideshow

»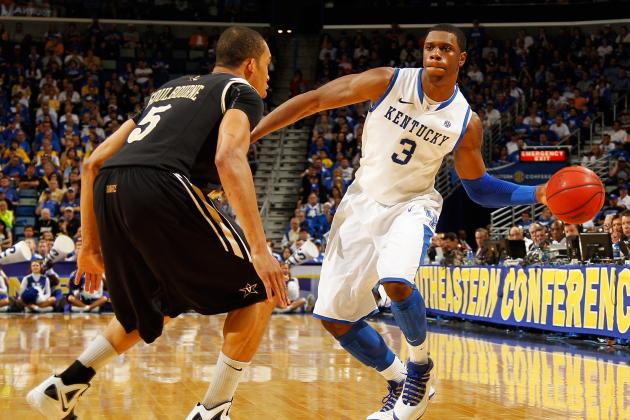 Chris Graythen/Getty Images
Terrence Jones leads the Wildcats into the tournament as the No. 1 overall seed. Their first round game should be a cake walk.
Kentucky has only lost two games all year, both more the result of the Wildcats playing with two left feet for a night than a disparity in talent or execution, and have rarely even been taken to the wire otherwise.
While there will come a time at some point during this tournament that the Wildcats will have to battle to keep their championship hopes alive, it will not come in the second round.
No matter who wins the first-round game between Mississippi Valley State and Western Kentucky, Kentucky will roll in their tournament opener, so unless you have a cousin on the end of the Wildcats' bench, don't expect much from this game in terms of entertainment value.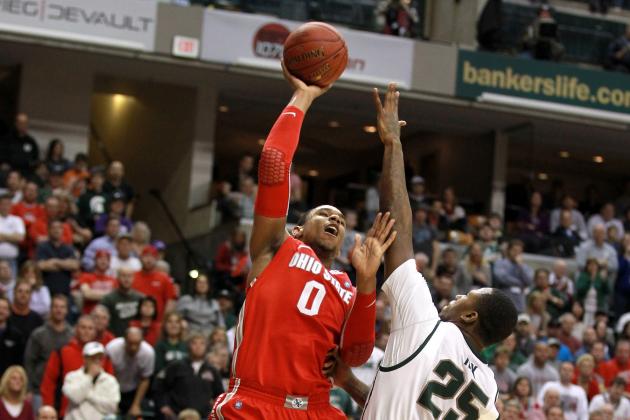 Andy Lyons/Getty Images
Jared Sullinger and the Ohio State Buckeyes should have an easy time with the Loyola (MD) Greyhounds.
Conventional wisdom would suggest that another No. 1 seed would find itself here in the second-least exciting matchup, but just because a team fell short of earning a top seed does not mean they are not a complete mismatch for their opponent.
Led by Jared Sullinger in the post, Alex Craft at the point and William Buford on the wing, the Buckeyes have all the talent they need to steamroll the Loyola Greyhounds.
Loyola may very well be a better team than the No. 16 teams, but they do not have the size, speed or depth to keep up with Ohio State for 40 minutes. They may have beaten Iona, but Iona does not play with nearly the same level of physicality as Ohio State and it will show in the box score.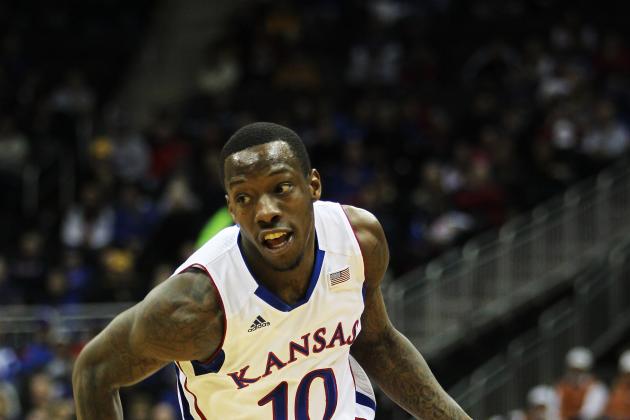 Jamie Squire/Getty Images
Tyshawn Taylor and his Kansas teammates take on Detroit in a first round matchup that poses little threat to the Jayhawks' championship aspirations.
Much like Ohio State and Loyola, Kansas and Detroit are a total mismatch.
The Titans, who pulled off an upset in the Horizon League tournament to reach the Big Dance, are a perimeter-oriented team in comparison to the Jayhawks. While guard Ray McCallum is certainly a top talent, Detroit does not have anyone who will even be able to slow Thomas Robinson.
Look for Kansas to win big and look for Robinson to put up some of the biggest numbers you will see in the second round.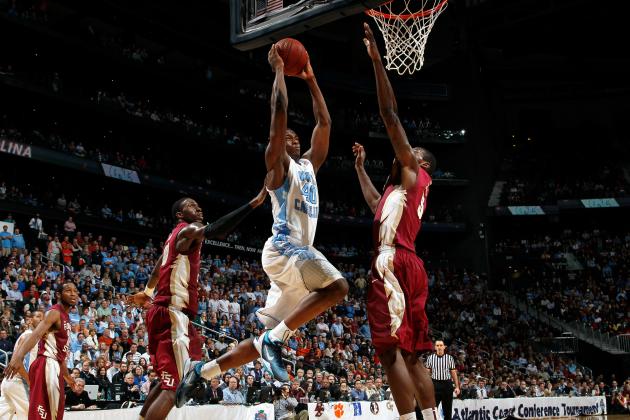 Kevin C. Cox/Getty Images
Harrison Barnes and the North Carolina Tar Heels take on the winner of the Lamar and Vermont play-in game in what will amount to a great time to take a dinner break.
This game would have been closer to the bottom (if that is really even possible) if John Henson were not nursing an injured wrist. Without him, the Tar Heels may take a whole half to build a 20-point lead instead of doing it within the first 10 minutes.
Lamar and Vermont both had stellar runs in their conference tournaments, scoring big upsets that sent quality teams straight into the NIT. Those happy memories are the ones that these two teams will carry with them through life rather than anything from this nightmare of a matchup.
The Tar Heels will win big in their tournament opener.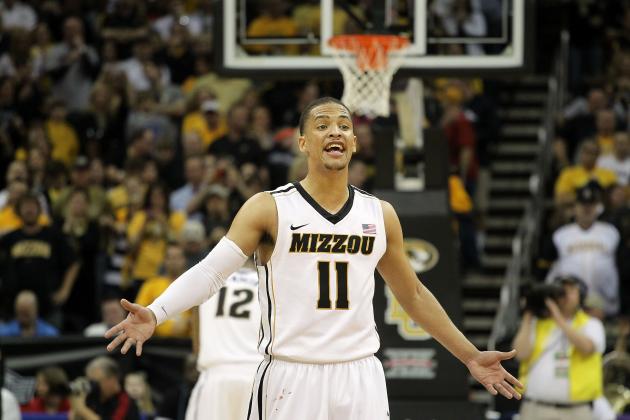 Jamie Squire/Getty Images
Michael Dixon and the Missouri Tigers will have an easy time with Norfolk State.
There may not be a hotter team in college basketball than the Missouri Tigers right now.
Led by a group of guards that any coach in the country would love to have even one of in his backcourt, let alone five, the Tigers outran Baylor on their way to the Big 12 tournament title.
If Perry Jones III and Co. couldn't slow the Tigers down, Norfolk State doesn't stand a chance. Kyle O'Quinn is a solid post player with legitimate pro potential, but it will take more than one guy to slow the Tigers attack.
Norfolk State played Marquette to the wire early in the year and beat Drexel, a loss that may have spelled the difference between NCAA and NIT for the Dragons in the grand scheme of things, so there is evidence that these guys can play, but Missouri is on such a roll that the Spartans will amount to nothing more than a bug on the windshield.
This game will not stay close for long after the tip.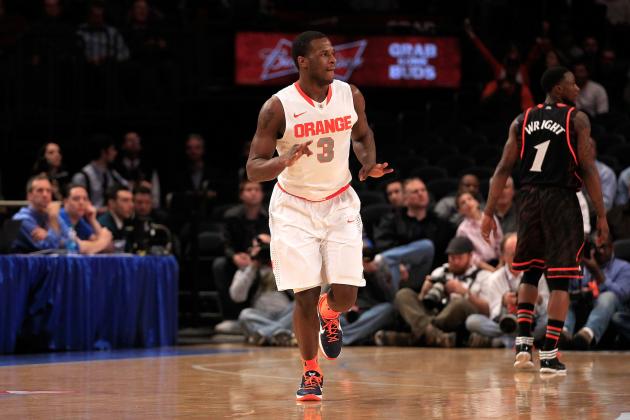 Chris Trotman/Getty Images
Dion Waiters and the rest of the deep, talented Syracuse Orange should coast through round one.
Syracuse is coming off of a disappointing performance in the Big East tournament where they barely squeaked by UConn before losing to Cincinnati in their semifinal matchup, so their performance in this game will likely be very deliberate and patient as they look to re-establish their fundamentals in preparation for the rest of the tournament.
As the Orange focus on their execution, if UNC-Asheville is able get some shots to fall, the scoreboard may be deceivingly close, lending to some level of excitement no matter how tempered it is by the fact that no No. 16 seed has ever come all that close to beating a No. 1 seed.
In the end the Orange will win by a comfortable margin and the game never really will be as close as it may seem, making this matchup a snooze.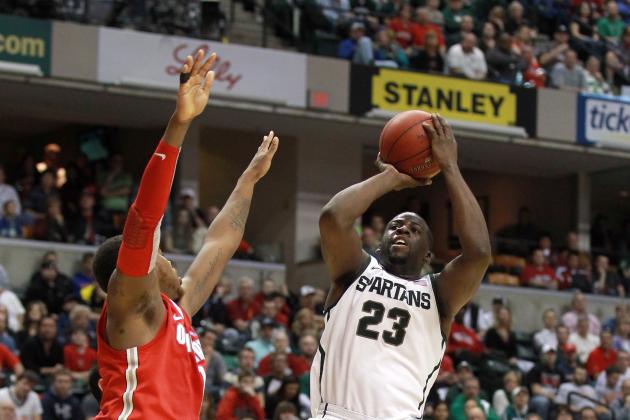 Andy Lyons/Getty Images
The Michigan State Spartans take on LIU-Brooklyn in what shapes up to be a likely blowout.
Because of their style of play—tough, physical and defensively-oriented, out of all the top-seeded teams, Michigan State will probably be involved in the closest game. That is, if you can call a 25-point win a close game.
LIU-Brooklyn actually matches up rather well with the Spartans. The Blackbirds are led by two post players, Julian Boyd and Jamal Olasewere, who are one-two on the team in both points and rebounds, respectively. LIU-Brooklyn can give the scoreboard operator a workout, averaging 81.9 points per game, good for third in the nation.
With so many scorers on the floor and a lineup that wont be overwhelmed during warm-ups by Michigan State's size, the Blackbirds could have some fun in their second-round matchup. In the end, however, Michigan State's physicality will wear LIU-Brooklyn down and turn an entertaining game into a dominating win.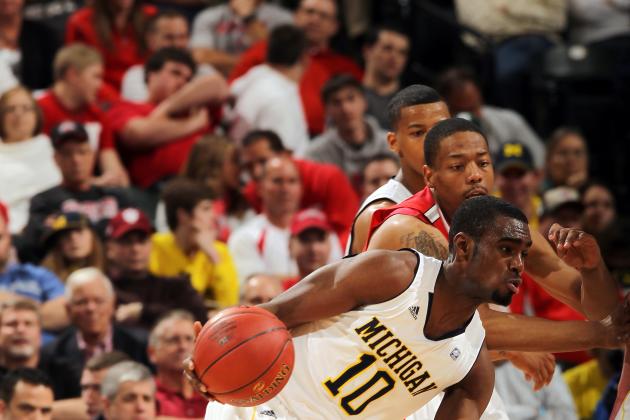 Jonathan Daniel/Getty Images
Tim Hardaway, Jr. leads Michigan into a first round matchup with Ohio.
Seeing the words "Michigan" and "Ohio" next to each other is usually in reference to a fierce rivalry, filled with epic battles between two schools that seemingly exist just to dislike the other. But, alas, the word "State" is missing from Ohio's name, completely changing the complexion of this game.
Michigan, led by their dynamic perimeter play, has gained confidence throughout the season. Head coach Jon Beilein always seems to get his teams to peak at just the right time headed into March, and this year was no different.
The Wolverines will simply be far too much for the outmatched Bobcats to handle and this game will not stay close for long.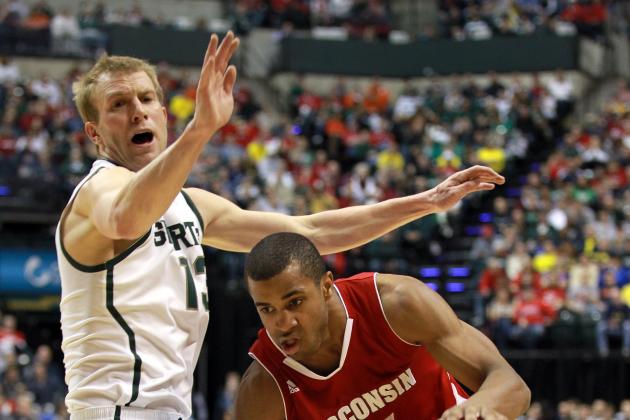 Andy Lyons/Getty Images
Jordan Taylor and the Wisconsin Badgers should have little trouble against Montana.
Wisconsin's style of play is such that, even if the Badgers were a No. 1 seed and you somehow knew ahead of time that they were about to be the first No. 1 seed to lose to a No. 16 seed, you still wouldn't be able to watch the entire game.
That is not meant to take anything away from the Badgers—who are both very patient and very efficient offensively, and play a physical, suffocating style of defense—as their style of play has proven to be very effective when it matters most, in March.
Montana's approach to the game isn't very different, so the result will be an absolute brawl. Points will come at a premium in this game, so the 12-point lead the Badgers will maintain for most of the game would actually be the equivalent of a 20-point lead under normal circumstances.
Does that sound like an exciting game to you? Me neither.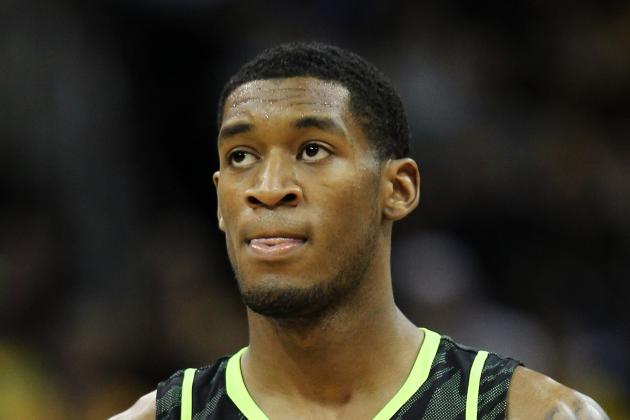 Jamie Squire/Getty Images
Perry Jones III and the Baylor Bears should roll in their first round matchup with South Dakota State.
This game was a tough call and the No. 23 ranking may end up being far too low, but so much of whether or not this game could be exciting rides on how South Dakota State shoots the ball.
Baylor favors an uptempo style of play and South Dakota State is capable of shooting lights out. Based on that statement alone, this could be a really fun game to watch.
Having said that, Baylor will have a very noticeable size advantage over the Jackrabbits, which could encourage Scott Drew to slow the game down and put it in the hands of Perry Jones III. If that happens, Baylor wins by a lot, and we all move on.
However, if South Dakota State catches fire from beyond the arc early, it could be anybody's game well into the second half, where, eventually and inevitably, the Bears' size advantage wins the game. Either way, Baylor wins going away, but how early you change the channel is debatable.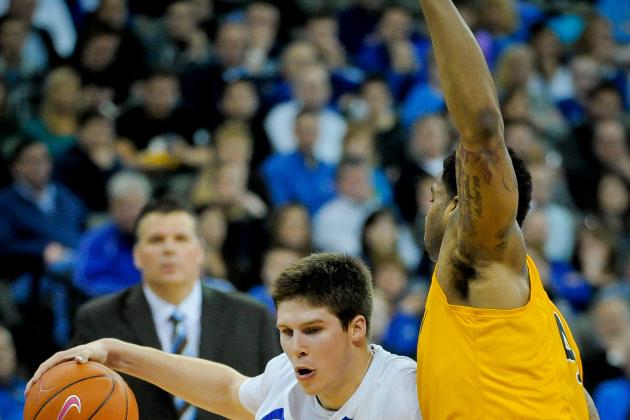 Eric Francis/Getty Images
Doug McDermott and the Creighton Blue Jays should slide past Alabama with ease.
In a matchup of contrasting styles of play, the superior team is able to impose their will upon the other team and their preferred style of play wins out.
This matchup brings together a very offensively oriented team, Creighton, with a very defensively oriented team, Alabama. So what gives?
Creighton leads the nation in field goal percentage, making their shots at a staggering 50.9 percent clip, meaning that, while Alabama may be able to force them to slow their pace down, or even work really hard to get open, Creighton will still score probably every other time down the court.
Alabama simply cannot and will not be able to keep up because they simply do not have the offensive weapons to do so.
The Crimson Tide may frustrate the Blue Jays early, but the game will break wide open by the end as Alabama gets more and more desperate for points and Creighton is able to push the tempo to a pace more fitting of their style.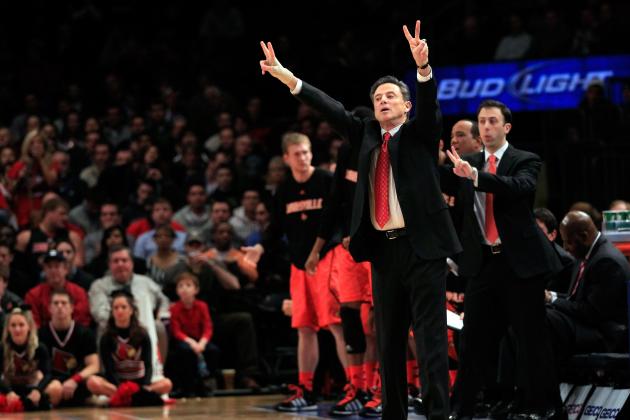 Chris Trotman/Getty Images
Rick Pitino's Louisville Cardinals will take on Davidson in the first round.
In another defense versus offense matchup, Louisville takes on Davidson.
Rick Pitino's teams have always been successful because of a dogged determination to defend. Constant pressure fuels a transition offense that fuels the Cardinals' success.
At Davidson, head coach Bob McKillop's teams have always been excellent on offense. Meshing perfectly the principled nature of a Princeton-style offense with an uptempo, let-it-fly pace, his teams are difficult to adjust to defensively.
Here however, Louisville's speed and overall talent will ultimately prevail as the pressure will crack Davidson's resolve, forcing bad shots and decisions, fueling a runaway win for the Cardinals.
In terms of excitement, this game could provide some in the early going, but don't expect to turn it on with five minutes left and find yourself on the edge of your seat.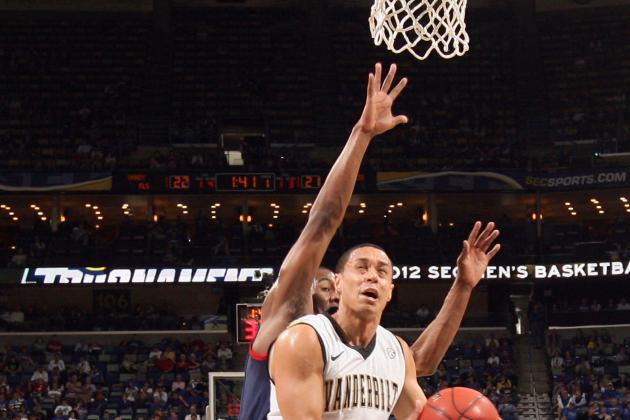 Chris Graythen/Getty Images
John Jenkins will look to steer Vanderbilt past Harvard in round one.
As we creep up the rankings, the teams become more evenly matched, even if the seeding does not indicate as much.
Sometimes, two teams that play similar styles can produce an exciting, fun-to-watch game that ultimately ends up just as everyone expects it to.
That will be the case in this game, where a red-hot Vanderbilt takes on Harvard, making their first NCAA Tournament appearance since 1946.
Where Vanderbilt molds itself after Harvard academically, Harvard is somewhat a reflection of Vanderbilt from a basketball perspective. Both teams rely on motion to get themselves the offensive looks they want, however, Harvard forces the issue in the post whereas Vanderbilt has the weapons to produce from beyond the arc.
Both teams are classically built, meaning they can match up on defense and pester their opponents into mistakes.
Vanderbilt is simply a much better team right now, so they will pull away as the game wears on, meaning your excitement will slowly wear off.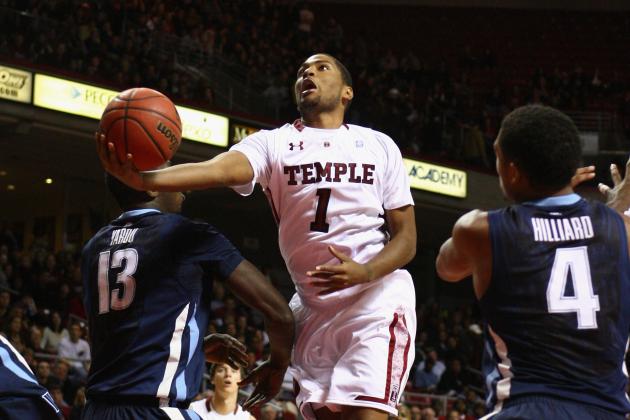 Chris Chambers/Getty Images
Khalif Wyatt is one of a trio of dangerous guards that lead Temple.
Fran Dunphy's Temple Owls are one of the few teams in the country that can excel in a game played at either end of the floor. Led by guards Ramone Moore, Juan Fernandez and Khalif Wyatt, Temple can score in bunches when it needs to, but also play lockdown defense and efficient, deliberate offense in a defensive battle.
That ability to seamlessly transition between styles of play will be of great help to the Owls as they prepare to face either California or South Florida.
South Florida will look to force a slow-paced slug-fest if they are able to take down the Golden Bears in Dayton. California, on the other hand, favors a more open style of play, so the game will take on an entirely different complexion if the Golden Bears can get past the Bulls.
Either way, the team waiting in Nashville is capable of handling whatever is thrown at them. Temple's guards can create open looks for themselves and their teammates, while making opponents feel some discomfort on the offensive end as they apply pressure on the ball.
Temple will simply beat either team they face, maybe not by double-digits, but well enough that the outcome will nary be in doubt, making this a moderately exciting matchup.
Streeter Lecka/Getty Images
Seth Curry and Duke face a fast-paced, high-scoring affair against the Lehigh Mountainhawks.
The Blue Devils matchup with the Lehigh Mountain Hawks is a very intriguing game.
The Mountain Hawks, who few outside eastern Pennsylvania are even aware existed, stole the Patriot League from Bucknell's grasp this season, winning the conference tournament, even as some experts were beginning to tout the Bison as a team to watch in the NCAA Tournament.
Lehigh plays an uptempo game, led by one of the country's leading scorers, guard C.J. McCollum. He is complemented nicely inside by forward Gabe Knutson, who provides a solid post presence.
The Mountain Hawks' strengths and the tempo they are comfortable with match up very nicely with Duke's strengths and desires. If Lehigh isn't blinded by the bright lights of the tournament and can find the bottom of the bucket early, you can expect to receive a text from someone midway through the second half checking to make sure you're watching this.
Having said that, if Lehigh is cold from beyond the arc and can't buy a bucket, this game is over pretty quickly, putting a damper on the excitement meter.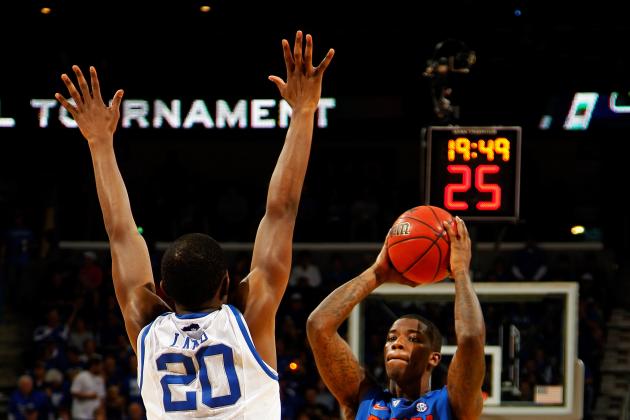 Chris Graythen/Getty Images
Kenny Boynton and Florida are in for a tough matchup when they take on Virginia in round one.
Tony Bennett, Virginia's head coach, is the son of former Wisconsin head coach Dick Bennett, who laid the blueprint for the current incarnation of Wisconsin basketball during his tenure there, which ended in 2000.
Much like his father's Wisconsin teams, Tony Bennett emphasizes defense above all else, which is why, despite having very little offensive firepower to rely on, the Cavaliers were able to earn a No. 10 seed in the NCAA tournament.
Bennett employs a defense built on the "pack line" principle, where his team will aggressively defend the ball-handler with tight pressure, but play off every one else on offense, choosing instead to protect the lane from penetration and put his players in better position to pull down the rebound.
While, this style of play has proven to be very effective—as it has in Wisconsin—it does not make for the most exciting brand of basketball.
Fortunately for fans, the Florida Gators boast a lineup that includes four top talents at guard, and a ton of athleticism.
What will make this game exciting will be the ebb and flow nature of it, as Florida's talent and athleticism will allow them to be able to get out in transition and turn up the pace at times, which Virginia will counter with deliberate offensive possessions and smart, solid defense. This game should be a chess match that any basketball junkie will enjoy.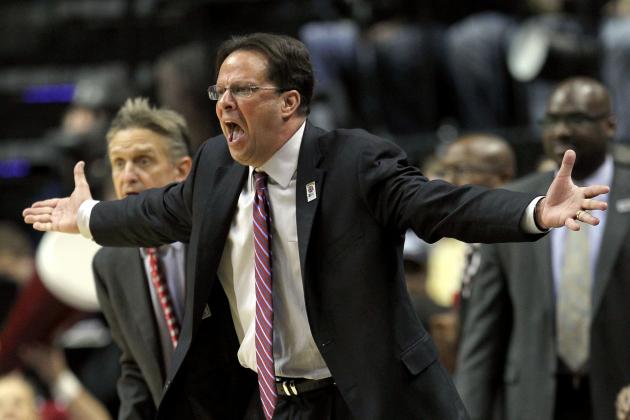 Andy Lyons/Getty Images
Tom Crean has brought his Indiana program back to life with his energy and basketball acumen. The Hoosiers face a tough underdog in New Mexico State.
When the brackets were announced on Sunday night, this game quickly became a trendy upset pick, if only because everyone knows someone has to pull an upset.
New Mexico State plays a physical brand of basketball. They are tough, aggressive, and unafraid to take it to their opponents.
Indiana survived the Big Ten regular season, where "tough, aggressive and fearless opponents" are also known as Tuesday. To survive in the Big Ten, you must embody all of those descriptions.
With these two teams being well-matched and comfortable with a relatively similar style of play, this game will be very fun to watch. Factor in the fact that a New Mexico State win would be one of the bigger upsets of the tournament, and this game could rise to another level of excitement in the waning minutes if the score is close.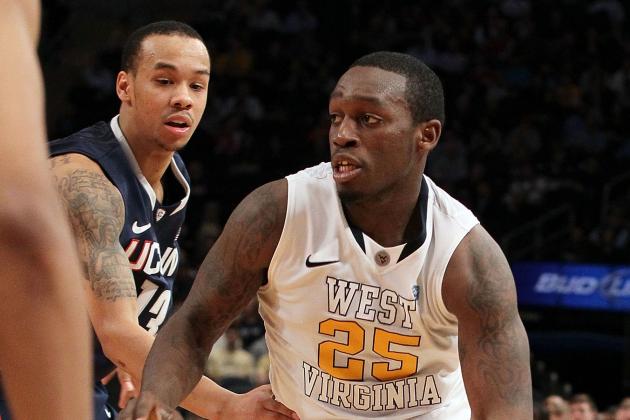 Jim McIsaac/Getty Images
Truck Bryant and West Virginia will look to pull an upset over Gonzaga in round one.
Bob Huggins is an imposing figure on the sidelines. Big in stature, a loud yeller and red-faced, he can be downright intimidating.
The West Virginia Mountaineers basketball team reflects their coach's disposition on the court. Rugged defenders, ferocious around the boards and generally big, West Virginia is capable of giving even the most confident, efficient offense fits.
Gonzaga is a confident, efficient team on offense. The 'Zags have good size in the post, great shooters on the perimeter, and distribute the ball very well fueling a balanced scoring attack.
The contrasting styles of play should lend itself to an exciting, back-and-forth battle. This game will be close throughout and play out as a great chess match between two very good coaches, Huggins and Gonzaga's Mark Few.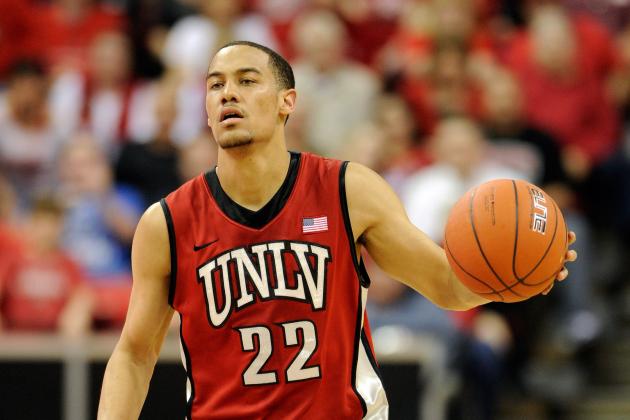 Ethan Miller/Getty Images
Chace Stanback and the UNLV Runnin' Rebels will try to put a stop to Colorado's march through the month of March.
The UNLV Runnin' Rebels are experience a bit of a renaissance as a program under first-year head coach Dave Rice. Led by a dynamic duo of transfers from UCLA, Mike Moser and Chace Stanback, the Runnin' Rebels are doing exactly what their name implies this season, runnin'.
Averaging 76.7 points per game, good for 24th in the country, UNLV has a realistic chance of making it beyond the first weekend of the tournament for the first time in a long time. Rice, who played for legendary former UNLV head coach Jerry Tarkanian, looks poised to return the program to its glory days of the past.
Colorado, newcomers to the Pac-12 this year, are in the NCAA Tournament thanks to a stunning run through their conference tournament. After dropping two straight and three out of four to close out their regular season, few even considered the Buffaloes realistic possibilities to win the conference tournament when it began.
Four wins in four days, including three over teams that finished higher than them in the conference, and Colorado is dancing.
With so much momentum coming into the tournament, Colorado will be playing confident basketball. Will it be enough to slow down the Runnin' Rebels and keep the game contained in the halfcourt where they could pull a fourth straight upset? Storylines like these drive excitement in March.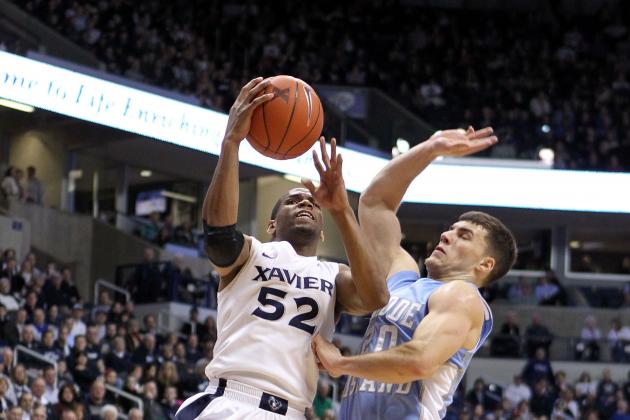 Andy Lyons/Getty Images
Xavier's Tu Holloway will look to keep his college career alive for one more game against a well-coached Notre Dame squad.
In another interesting No. 7 seed versus a No. 10 seed matchup, the unheralded, surprising Notre Dame Fighting Irish will take on the Xavier Musketeers.
This game is a tale of two seasons.
Notre Dame's season started on the losing end of blowout after blowout throughout their non-conference slate. As early as late-November, after a 29-point loss to Missouri, most wrote this off as a rebuilding year for Mike Brey's team, but they pulled together and managed a 13-5 record in the always difficult Big East.
If not for a couple late season losses, Notre Dame would almost definitely be seeded higher.
Xavier, on the other hand, started 2011-2012 in the Top 10, and justifiably so. They beat some very good teams throughout November and early-December, but with the clock winding down in a dominating performance against rival Cincinnati, the gloves came off, literally.
Since that fight, and the suspensions that came of it, this team has been without an identity.
The funny thing about the NCAA Tournament is that its very nature, the one-and-done format, can reignite the fire that fuels a team. Xavier is loaded with talent on paper, led by a duo of guards, Tu Holloway and Mark Lyons, who could probably start at most any school in the country.
Notre Dame should be concerned with almost every matchup Xavier's lineup imposes.
This game could turn into the ultimate cage match pretty quickly as Xavier struggles to save its season and Notre Dame fights to validate theirs. Definitely a must-watch game.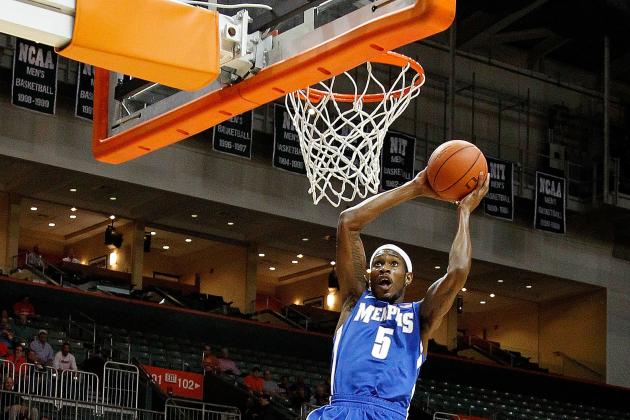 Mike Ehrmann/Getty Images
Will Barton's Memphis Tigers take on Saint Louis in the first round.
Probably owing to their middle-of-the-pack conference roots, this game is a matchup between two teams, Memphis and Saint Louis, who are very good, but get no love from the national media.
As the rush to find the next mid-major darling well before March results in increased media attention for the little guys everywhere, and the six power conferences market themselves with television networks and the like, medium-sized conferences like the A-10 and Conference-USA are often ignored.
Memphis is led by Will Barton, whose stat line (18.1 PPG, 8.1 RPG, 3.0 APG, 1.4 SPG) should garner all-America consideration, and Joe Jackson, an explosive athlete at point guard. Memphis is talented and deep and really came into their own in the latter half of the season under head coach Josh Pastner.
Youthful mistakes brought sloppy losses early in the year, which dropped the Tigers from the national scene, and they were largely forgotten until now.
Saint Louis is led by perimeter stars Brian Conklin and Kwamain Mitchell and the Billikens, like the Tigers, boast a deep rotation.
Saint Louis never caught the attention of the national media this season, despite beating a trio of power-conference teams in late-November, it being no fault of their own that none of those teams lived up to preseason expectations.
Which brings us to this. Two very solid basketball teams matched up against each other in March. Rick Majerus' team thrives on solid defense and painstakingly efficient offense. They simply will not beat themselves.
Memphis is explosive, athletic and extremely talented, but young, meaning they will have to overcome a lot to win this game. It will be a great back-and-forth battle which should carry drama right up to the final whistle.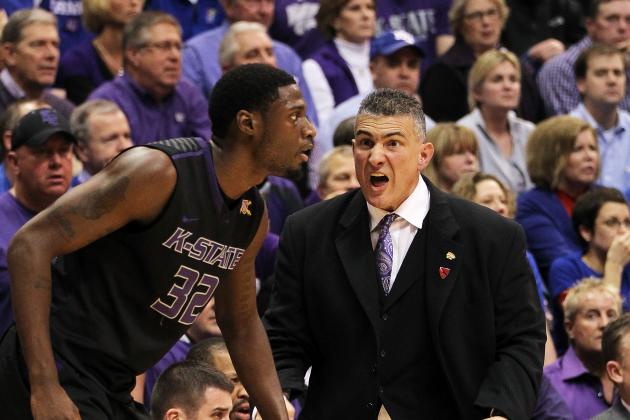 Jamie Squire/Getty Images
Frank Martin hopes to guide his Kansas State squad to a win over Southern Mississippi.
Kansas State and Southern Mississippi are two like-minded teams that rely heavily on physical defense and solid guard play on offense.
Many are writing the Golden Eagles off in this tournament after a lackluster second half, but it is important to note that the Golden Eagles do not turn the ball over, which is very important in March when every possession matters.
That they treat every possession with care is good for Southern Miss because Kansas State will certainly make them work. Frank Martin's team gets after the ball on defense and can force a ton of turnovers if opposing guards are not careful with the ball.
Being that Kansas State isn't all that efficient offensively, and considering Southern Miss' mindfulness when in possession of the ball, this game will remain close throughout and keep those who cared to make it interesting very interested.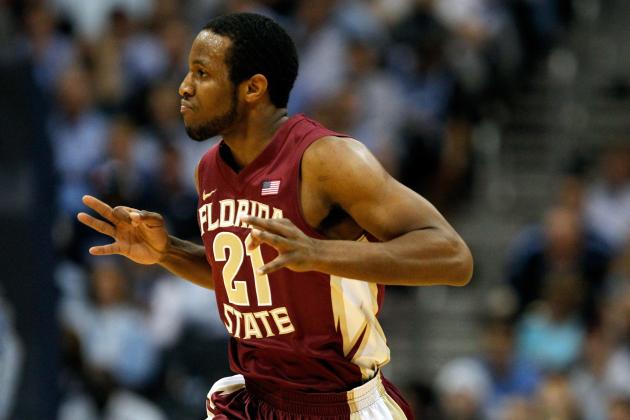 Streeter Lecka/Getty Images
Michael Snaer and the Florida State Seminoles face a hot St. Bonaventure team in their first round matchup.
Every year, some team storms through their high-profile conference tournament, pulls a couple of stunning upsets, and suddenly, everyone has that team in their Final Four.
This year's darling is Florida State, who tore through the ACC tournament, beating the likes of Duke and North Carolina along the way. Make no mistake, the Seminoles are a very good team, often overlooked playing in the long shadows of their Tobacco Road brethren.
In another completely coincidental matchup—this according to the selection committee who claims they do not take storylines into consideration when setting the field—the Seminoles take on a team in St. Bonaventure that pulled a similar feat themselves, albeit on a much smaller scale, in the A-10 conference tournament.
The Bonnies are a very underrated team, having really come together as the season wore on under head coach Mark Schmidt who, through five years at the helm, has restored the shine on a tradition-rich program that was struggling mightily before his arrival.
Led by senior machine Andrew Nicholson, the Bonnies understand their roles very well and have grown to be nearly unshakable late in the season.
They will need that tight discipline against Florida State, whose defense is among the best in the nation. Not to take anything away from how the Seminoles play the game, their focus on defense leaves them somewhat limited offensively, leaving the door open for a disciplined team, like St. Bonaventure, to hang around as the game wears on.
When a team is allowed to hang around in March, upsets happen. This game should wind up being a tight affair, with two very well-disciplined teams refusing to allow the other to get out of reach. Taking into account the seeding and the fact that many brackets are riding Florida State to New Orleans, this game will wind up a thriller.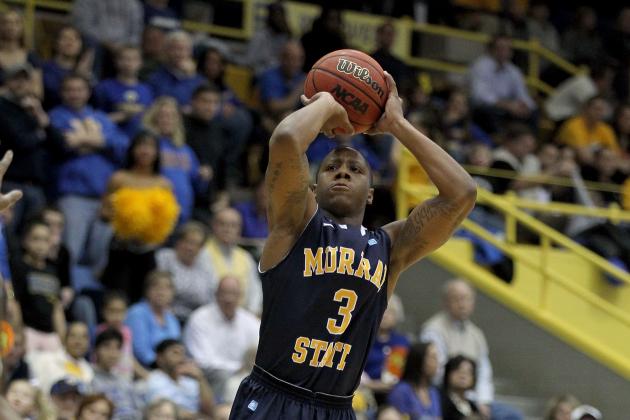 Andy Lyons/Getty Images
Isaiah Canaan and the Murray State Racers hope to keep their storybook season alive against Colorado State.
Everyone loves an underdog. Murray State embodies that role perfectly. Despite having just reeled off a 30-1 record through the regular season, the Racers were deemed no better than a No. 6 seed by the selection committee and rewarded with a matchup against one of college basketball's steadier teams.
While Murray State point guard Isaiah Canaan is a thrill to watch regardless of the circumstances, part of what makes March Madness so great is that it creates basketball stars whose names are somehow never really forogetten, like Harold Arceneaux at Weber State, Bonzi Wells and Wally Szcerbiak at Miami (OH), and T.J. Sorrentine at Vermont.
Canaan is the kind of player who can single-handedly lead a team to the Sweet 16. Explosive, athletic, and blessed with feather-soft touch, there isn't much this guy can't do.
Which is why it will be fun to watch him in Murray State's opening tournament game against Colorado State. Murray State is the type of team that isn't quite talented enough to blow teams out, but is just talented enough to pull out thrilling victories.
This game will be close throughout and has all the markings of a buzzer-beater waiting to happen.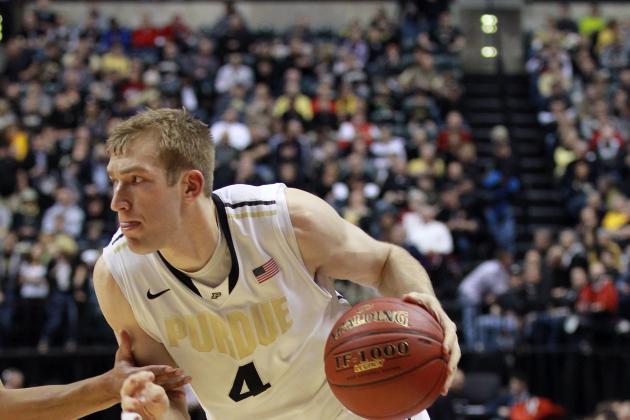 Andy Lyons/Getty Images
Robbie Hummel will look to drive the Purdue Boilermakers past Saint Mary's to extend his college career for at least another game.
Another game where an individual's storyline will dominate the narrative rather than that of a team is this matchup between Saint Mary's and Purdue, led by super-duper-senior Robbie Hummel.
Hummel has been the lifeblood of Purdue's program for five full seasons. In his junior year, with the Boilermakers poised to make a deep NCAA Tournament run and loaded with talent, Hummel tore his ACL in a late-season game. He missed the tournament and the Boilermakers fell short of their Final Four goal.
After battling through rehab to be ready in time for his senior season and one last crack at the Final Four with fellow senior stars E'Twaun Moore and JaJuan Johnson, Hummel was again struck down by a torn ACL, his best shot at the ultimate goal for collegiate basketball players evaporated.
Granted a fifth year of eligibility by the NCAA, Hummel is back for one last chance, this time playing the role of underdog. He will lead Purdue against a Saint Mary's team that plays a very fun-to-watch brand of basketball, led by junior Matthew Dellavedova.
Purdue likes to get out and run and Saint Mary's isn't one to slow down an uptempo game. This game will be high scoring, dramatic, and closely contested, definitely making it one of the best matchups of the first two days of the tournament.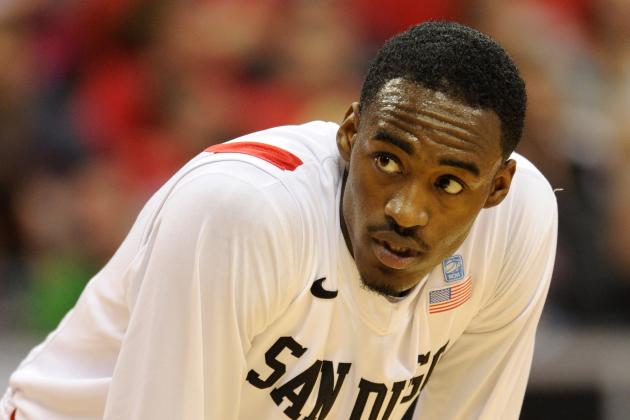 Ethan Miller/Getty Images
San Diego State's Jamaal Franklin will look to steer the Aztecs past the North Carolina State Wolfpack.
An interesting dynamic that has taken hold only recently in college basketball is the concept of the underdog favorite, an at-large team from a non-power conference facing an at-large team from a power conference.
San Diego State has played stellar basketball for two years running now, yet when they face off against NC State in their second-round matchup, many will be picking the Wolfpack to oust the Aztecs.
Led by star Jamaal Franklin, the Aztecs use their length and athleticism to pressure the ball and force teams into sloppy turnovers.
NC State, on the other hand, come into the game riding a surge of confidence thanks to a solid stretch of basketball in the ACC tournament. Led by dynamic sophomore C.J.3 Leslie, if any team has the size on the perimeter to see past San Diego State's length, it is the Wolfpack.
This game should come right down to the wire, with each team trading blows right up until the final whistle.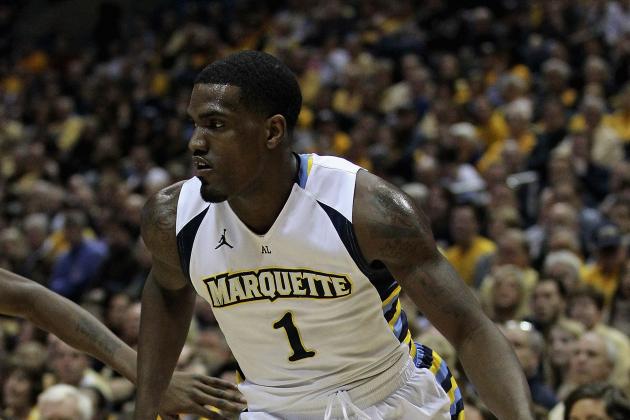 Jonathan Daniel/Getty Images
Darius Johnson-Odom and Marquette could face off with high-scoring Iona in what would be an extremely fun game to watch.
In ranking this game so high, I'm going out on a limb and saying Iona will win their play-in game against BYU.
Iona against Marquette would be a thrilling game to watch, given each team's ability to score the basketball.
Iona is led by three top talents in Scott Machado, Michael Glover, and MoMo Jones. The Gaels were the nation's top scoring team this season, and they can fill it up in a hurry.
Head coach Buzz Williams' Marquette squad is just as high-flying as the Gaels, led by Jae Crowder, Darius Johnson-Odom, and Junior Cadougan.
This game would be high-scoring, close until the end, and given their No. 14-seed, be a huge upset if Iona can pull off the win. Let's hope they make it.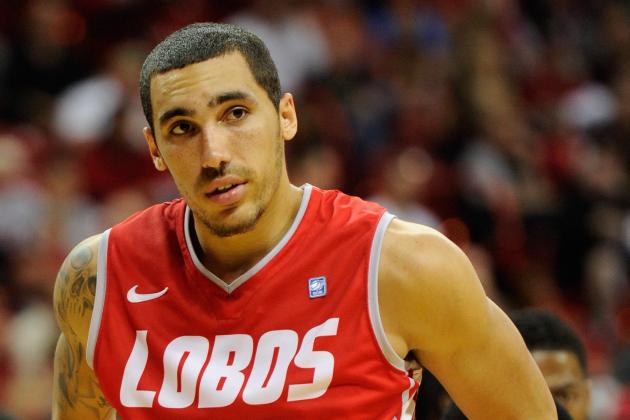 Ethan Miller/Getty Images
New Mexico's Drew Gordon will look to stave off elimination by beating Casper Ware and the Long Beach State 49ers.
Given the history of the 5/12 matchup in the NCAA tournament, you often need to look no further for exciting games than that spot in the bracket, and this is no exception.
Casper Ware, an explosive dynamo at point guard, leads a Long Beach State team built for this moment into their opening round matchup with Steve Alford's New Mexico Lobos.
Long Beach State played a borderline-insane non-conference schedule, facing off against the likes of Kansas, North Carolina, Pitt, Louisville, San Diego State, Xavier, and Creighton. Dan Monson, he who built Gonzaga into the perennial power it is today, was the architect of the schedule, designed to cushion the 49ers should they stumble in the Big West conference tournament for a third straight year and miss out on the tourney as a result.
Good thing they are well-prepared, because New Mexico is a high-quality team that knocked off the likes of UNLV and San Diego State in back-to-back games to win the Mountain West conference tournament. Anchored by stud post-player Drew Gordon, a UCLA transfer, the Lobos are physical and efficient.
Ware and Co. are raring to go toe-to-toe with the big boys and they will get their next opportunity in what should be one of the best games of the first round.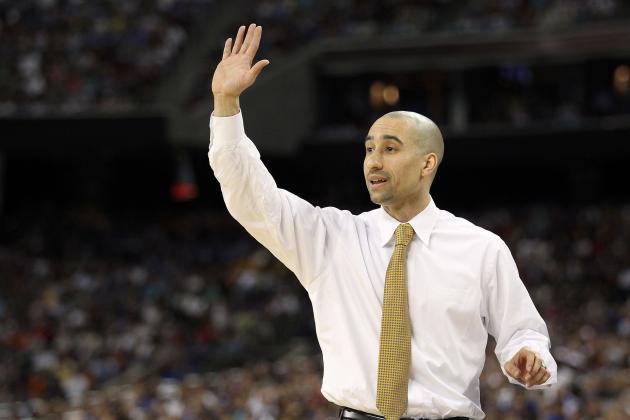 Andy Lyons/Getty Images
Shaka Smart leads VCU into the 2012 NCAA tournament to take on Wichita State, who looks to be the next mid-major program to reach the Final Four.
Last season, VCU was the tournament's ultimate Cinderella, storming through the field to reach the Final Four just weeks after having to prove they even belonged in the field in a play-in game.
Back for more, Shaka Smart's team wasn't given any brownie points for last year's effort.
They face a Wichita State team that, at one point during the season, had a lot of college basketball analysts predicting that a Final Four-run was not out of the question for the Shockers.
Before any talk of the Final Four can resume, they must first get past the team that pulled last year's tournament shocker.
VCU is anchored by a swarming defense, while Wichita State has powered through the season riding the efforts of an explosive offense.
This game will be a close battle with a lot of pride on the line. VCU will be gunning to prove they are among the game's elite while Wichita State tries to prove they were worthy of the chatter surrounding their program all season.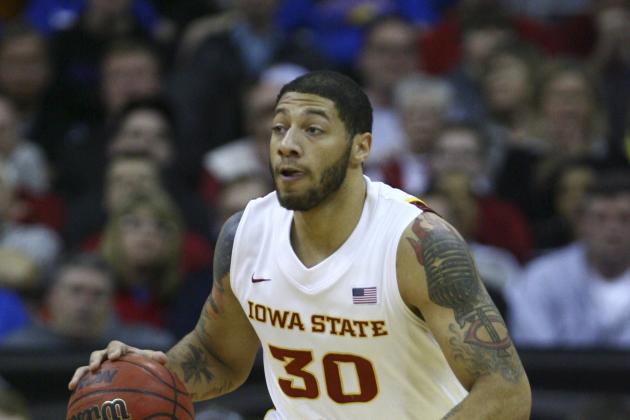 Ed Zurga/Getty Images
Royce White leads the Cyclones against defending champion UConn.
Last year, UConn reeled off eleven straight victories in tournament play, from the start of the Big East tournament through the NCAA championship game, to claim the title.
This year has been anything but what fans expected when the only player the team would lose was star Kemba Walker. The Huskies had plenty of talent returning and an immensely talented incoming freshman class. Few expected to be on the bubble headed into the conference tournament.
Iowa State, on the other hand, was a pleasant surprise for its fans this season, as Fred Hoiberg's team of castoffs acquitted itself very well during the regular season.
Any game that puts the defending national champion in jeopardy of officially falling short of defending their title will be exciting. This game, pitting size and speed against size and speed, will be no different.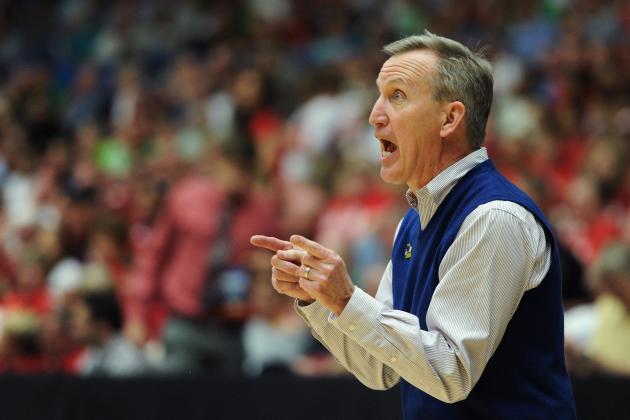 Harry How/Getty Images
Rick Byrd leads the Belmont Bruins into the NCAA tournament hoping to knock off Georgetown.
A No. 14-seed has not beaten a No. 3-seed since 2006 when the Northwestern State Demons shocked the Iowa Hawkeyes, 64-63.
This year could be the year it happens again. Two 3/14 games feature teams seeded entirely too low, St. Bonaventure and this team, the Belmont Bruins.
Belmont was a trendy pick to pull an upset last season and almost did before falling late to No. 4-seed Wisconsin.
The Bruins are every bit the team this year that they were last year, but this year, they face an opponent more susceptible to falling victim to their style of play in the Georgetown Hoyas.
Belmont spreads the ball well, doesn't turn it over, and can shoot the lights out. Georgetown is a decent team defensively, and have struggled at times on offense. The ingredients are there for Belmont to score a huge upset.
Even if they can't pull it out, expect this game to be close. The three-point shot is college basketball's great equalizer and the Bruins shoot it exceptionally well. With an upset this monumental in the making, the game will be extremely exciting, even if Georgetown can pull it out late.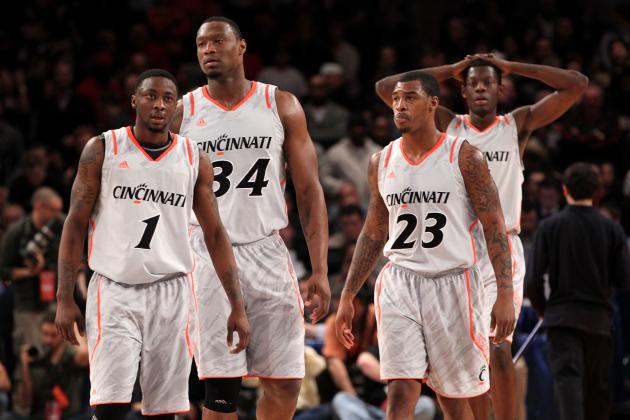 Michael Heiman/Getty Images
Cincinnati is ready to take on Texas in the first round of the NCAA tournament.
Why is this going to be the most exciting game of round one?
These two teams are very evenly matched. Both play an exciting brand of basketball. Both teams have athleticism to spare. Finally, both teams have been playing well of late.
Given that a Texas win would be a pretty good sized upset, this game will be extremely entertaining.
Looking for a fun matchup of modern-day Pistol Petes? Look no further than Texas' J'Covan Brown tangling with Cincy's Cashmere Wright and Sean Kilpatrick.
Texas is such a young team that it doesn't know any better than to go into the tournament and play lights out basketball. Size isn't an issue for this team, neither is ability. They have suffered the growing pains that a team full of freshmen is due, and they are ready to break out.
Cincy comes in confident, having just marched to the final of the Big East tournament. Riding a four-guard lineup all season, the team is just now beginning to understand their roles.
Either team could use this game as a launching point for a serious tournament run.
For your printable bracket for the 2012 NCAA tournament, click here