NBA Trade Deadline 2012: Odds of O.J. Mayo, 4 More Memphis Grizzlies Being Dealt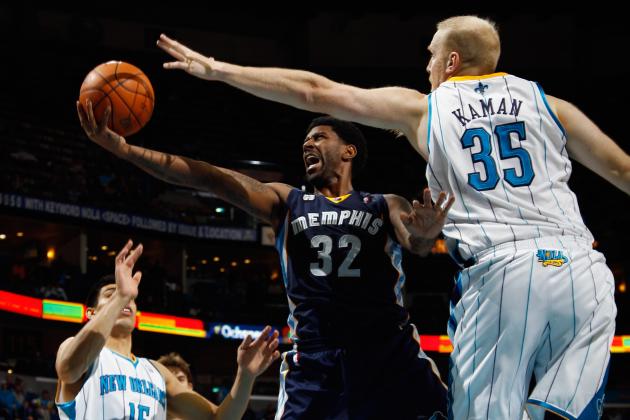 Chris Graythen/Getty Images

O.J. Mayo has been a hot name on the trade wire for more than a year. The Memphis Grizzlies have entertained offers but haven't been impressed by any of them. Now, the Grizzlies seem to be holding Mayo even closer, as the NBA trade deadline approaches.
Mayo might be sliding off the market now. According to Hoopsworld, the Grizzlies aren't at all inclined to trade Mayo anymore. This comes after the Indiana Pacers and Minnesota Timberwolves had been looking to acquire Mayo before the trade deadline.
Many fans might shrug their shoulders at this report. The Grizzlies sixth man has been bandied about so often that he seems like a certainty to be dealt.
Still, fans must wonder what this report means and if Michael Heisley can let go of the flashy guard.
Now, the Grizzlies might trade a player other than Mayo, who becomes a restricted free agent after this season. The Grizzlies have four other contract-year players. At least one of these players could be dealt to add a draft pick or clear salary cap space.
The Grizzlies are right around the luxury tax threshold and may need to deal to get under it. According to The Commercial Appeal, Heisley wants to ensure that the Grizzlies don't have to pay the luxury tax.
The following is a breakdown of the odds of Mayo and the other contract-year players being traded.
Begin Slideshow

»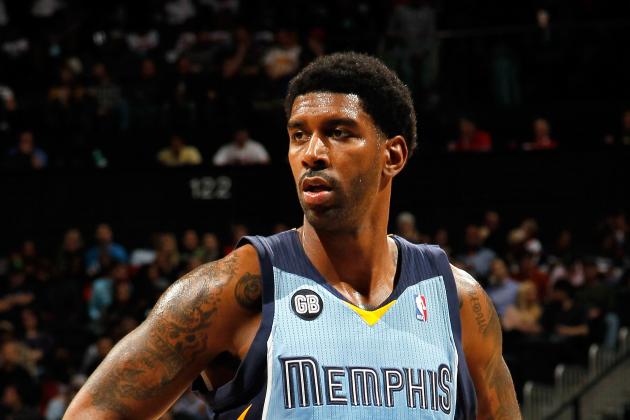 Kevin C. Cox/Getty Images

O.J. Mayo seems to be the apple of some teams' eyes.
The Timberwolves need Mayo to serve two possible roles. Now that Ricky Rubio is out for the year, they could use a serious starting point guard, and Mayo can play the point. Also, they need a backcourt scorer, and Mayo would easily make the Minnesota starting lineup.
The Pacers could use another scorer in their backcourt. Paul George and Darren Collison average 12.5 points per game, respectively. However, Mayo, who averages 12.3 points per game, could become a prime scoring threat in the Eastern Conference.
Now, the Grizzlies are stingy about trading Mayo. After trade talks with the Pacers in December fell apart, Michael Heisley said he wouldn't trade Mayo. Earlier that month, Heisley told The Commercial Appeal that he didn't want to trade Mayo, adding that he would let Grizzlies general manager Chris Wallace take offers if they presented the right value.
None of the offers have seemed palatable for Heisley. Josh McRoberts wasn't good enough, even with Darrell Arthur out for the year with an Achilles tear. Anthony Morrow of the New Jersey Nets, who The Commercial Appeal mentioned as one figuring in trade talks between the Grizzlies and Nets in January, wasn't good enough.
Perhaps Heisley doesn't think any player is good enough to merit a trade for Mayo, and as Hoopsworld suggests in the aforementioned article, he might persuade Wallace to trade someone else. That would open cap space for the Grizzlies to re-sign Mayo in an effort to make him the next Manu Ginobili, a key scorer off the bench.
Still, as no rumor is dead until the trade deadline hits, Mayo still just might be traded.
Odds: 10-1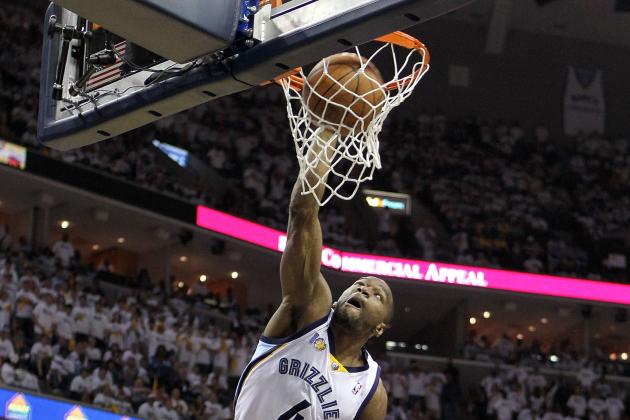 Andy Lyons/Getty Images

Sam Young is the only other Grizzlies player who seems like a good possibility to be traded. He's a young guard who costs just enough to make a difference for the luxury tax situation.
Young could be a good contributor for a team that wants him. He started 46 of his 78 games last season, averaging 7.3 points per game on 47.2 percent from the field. After Rudy Gay went down with a shoulder injury, Young took his place in the lineup. He averaged 9.3 points per game after the All-Star break.
This season, Young has played only 21 games due to ankle and back injuries, averaging 3.7 points and 1.8 rebounds per game.
Also, Young, who stands 6'6" and weighs 220 pounds, can play small forward or shooting guard.
Young makes a little less than $1 million, and the Grizzlies are within hundreds of thousands of dollars of the threshold.
He might be able to net a mid-to-late first-round pick in a trade.
Odds: 9-1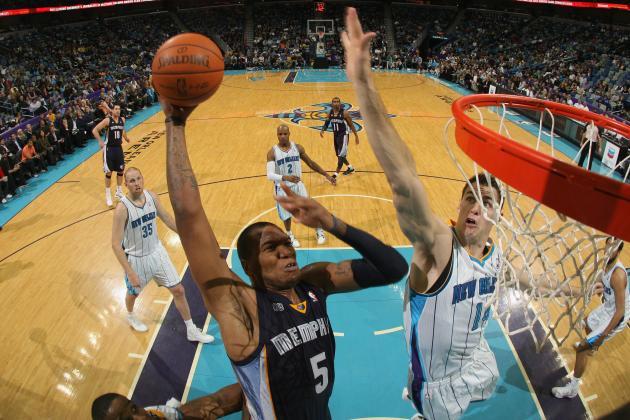 Chris Graythen/Getty Images

Marreese Speights hasn't been mentioned in any rumors. No concrete nor far-fetched scenario has been hatched by the ESPN trade machine—yet.
That's a good thing.
No trade rumor should involve Speights. He's too involved in the Grizzlies rotation. He's started since shortly after Zach Randolph went down and is the second most important inside player for Memphis until Randolph returns.
After Randolph returns, Speights will be one of the first two frontcourt players off the bench for the Grizzlies.
As thin as the Grizzlies are up front, the Grizzlies can't give him up. Randolph might not come back to the lineup before the deadline, and the Grizzlies wouldn't want to deal Speights and leave their frontcourt vulnerable even if Randolph seamlessly returns to the court. They still need Speights' rebounding for roughly 20 minutes per game once Randolph gets back.
Speights will be a restricted free agent after the season, and the Grizzlies would be able to match any offer for him.
Odds: 75-1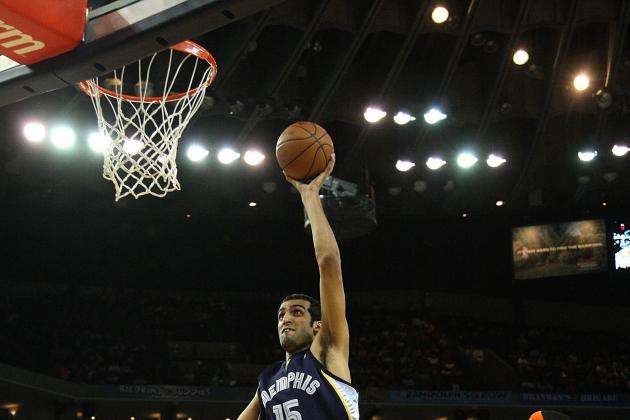 Jed Jacobsohn/Getty Images

Hamed Haddadi doesn't play much, but he carries a significant price tag. Haddadi, who plays a little more than six minutes per game, makes $2 million this year.
He can do a bit of damage in a short amount of time on the court. Haddadi averages 2.4 rebounds per game and 0.6 blocks per game. He averages 13.2 rebounds and 3.6 blocks per 36 minutes.
The Grizzlies might move the Iranian center to clear cap space. However, they might not be willing to move him since he's the only backup center the Grizzlies have.
With only three currently active reserve frontcourt players, the Grizzlies might not even be able to afford to trade Haddadi, even though he's one of the last guys on their bench.
Odds: 50-1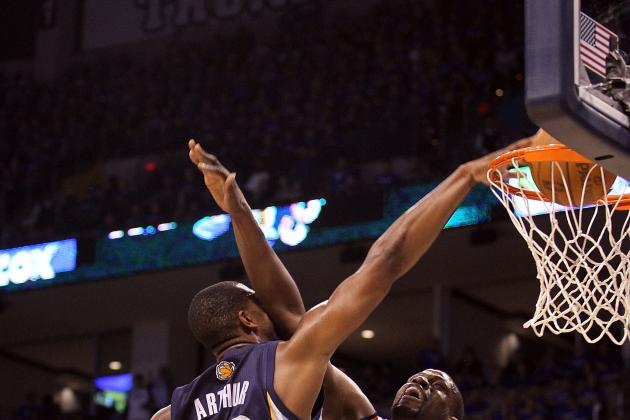 Ronald Martinez/Getty Images

The Grizzlies wouldn't trade Darrell Arthur nor could they if they wanted. Arthur is out for the season with an Achilles tear, and no team would rent a player who can't play. Besides, the Grizzlies received a $1.1 million injury exception from the league to compensate for his injury.
They wouldn't deal the player for whom they acquired the exception.
Anyway, if the Grizzlies were to trade Arthur, they wouldn't be able to net a first-round draft pick, making a deal involving him meaningless.
Odds: 100-1