NBA Draft 2012: 8 Players the New Jersey Nets Must Have Eyes on This March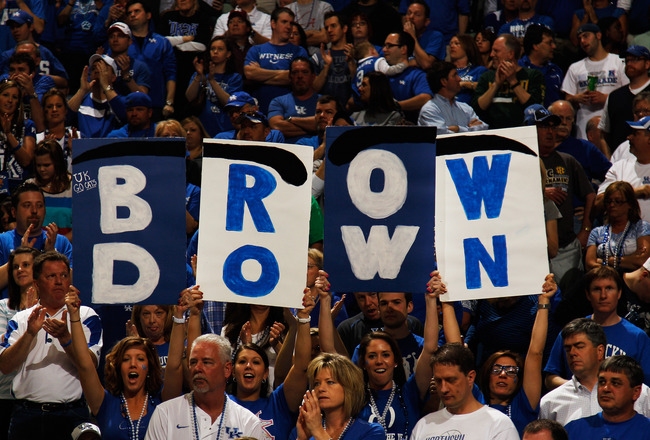 Chris Graythen/Getty Images
If the New Jersey Nets do not acquire Dwight Howard at the trade deadline, they should go into tank mode.
With a record of 14-29, they are the sixth-worst team in the league. They're unlikely to make a playoff run but are likely to have a chance at this year's No. 1 overall pick.
While their most pressing need is at small forward, they will draft Kentucky star Anthony Davis with the top pick if they get it. Then, find a way to fit him in their starting five with or without Howard and/or Brook Lopez.
Anthony Davis is not the only star player in the upcoming draft, as there are a few other options at small forward for the Nets, but he's clearly the best player.
If no trade happens, not only will the Nets have their lottery pick, but they will also have the Houston Rockets' lottery protected pick should Houston make the playoffs. With the Minnesota Timberwolves being their main competition and with Ricky Rubio out for the season, it looks like the Rockets will sneak in.
Here is an elite eight of players that the Nets need to keep their eye on.
Quincy Miller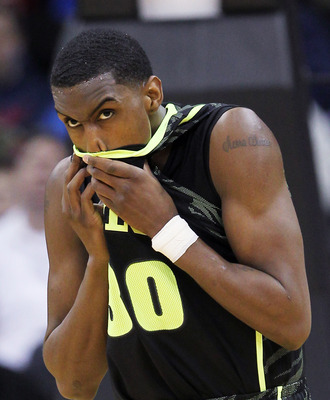 Jamie Squire/Getty Images
Quincy Miller is a 6'9'' forward from Baylor. His game is similar to his teammate's Perry Jones. He has a very skilled offensive game, as he can handle the ball, play the midrange and is capable of hitting from deep.
As a freshman, Miller is averaged 11.1 points and five rebounds per game. He did this without being the focal point of the offense and while still in the middle of recovery from a torn ACL.
Miller is rail thin and will need to add some weight, but he proved he can still score at the college level, scoring 20 or more points in six games.
If he has a good tournament showing, he might work his way into the top 10.
While Miller is far from a complete product, the Nets would be drafting him on his potential. It looks like he may be worth a shot, given the black hole that's the Nets' small forward position.
Perry Jones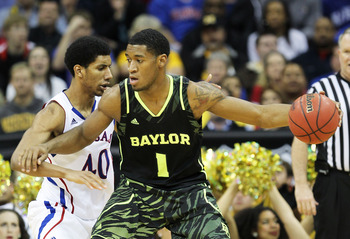 Jamie Squire/Getty Images
Perry Jones is the sophomore teammate of Quincy Miller at Baylor. He's bigger, at 6'11'', 235 pounds, and has more experience.
With Jones being the focal point of Baylor's offense, he averaged 14 points, 7.7 rebounds and .7 blocks per game.
Jones is a very good ball-handler for size who has the problem of falling in love with the jump shot instead of banging down low. At times, he plays reluctant and without passion. But when his head is in the game, he looks like a top-five pick.
If the Nets do not do their due diligence in checking if Jones' head is fully committed to an NBA career, he could turn out to be a bust.
Austin Rivers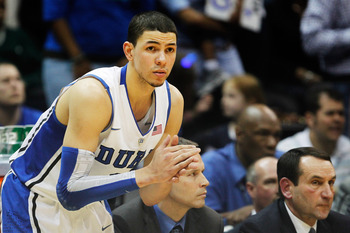 Streeter Lecka/Getty Images
If the New Jersey Nets get the feeling that Deron Williams will not commit for the long-term, they may have to take a look at Duke freshman point guard Austin Rivers.
While Rivers is more of a pure scorer rather than a pass-first point guard, his talent may be too good to pass up on. He's a player who needs the ball in his hands while being a streaky shooter who can get to the line a lot. Think Devin Harris.
If the Nets strike out in their quest for Dwight Howard and are able to re-sign Brook Lopez and Kris Humphries and bring in a legitimate starting power forward like Michael Beasley, pairing Austin Rivers and MarShon Brooks in their backcourt may not be the worst idea under the circumstances.
Jeremy Lamb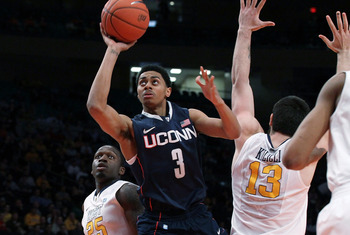 Jim McIsaac/Getty Images
Jeremy Lamb is a long 6'5'' sophomore at Connecticut. In his sophomore year, he's averaging 17.7 points, 4.9 rebounds per game and 1.2 steals per game.
Lamb has a great midrange game and can get to the rim when he wants to. His game reminds me of Rip Hamilton's.
Lamb's problem is that he is not an outspoken leader who commands the ball when he should. Sometimes, he disappears in games and is a nonfactor.
But, if the New Jersey Nets are able to pair him with Deron Williams, he may thrive, since he can take the backseat role that he appears comfortable with.
Terrence Jones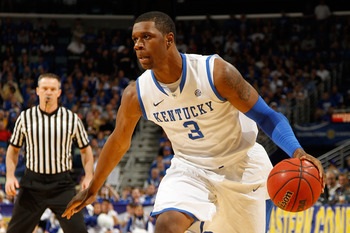 Chris Graythen/Getty Images
When I think of Terrence Jones' game, I think of a blend between the games of Josh Smith and Lamar Odom.
Jones is a tweener at Kentucky. He can play small forward or power forward, as he can handle the ball well for his size. At 6'9'' and 252 lbs., he has an NBA-ready body.
This year, in his sophomore season, his numbers were down, as he's averaged 12.5 points, seven rebounds, 1.8 blocks and 1.3 steals per game. But, with a loaded team at Kentucky, almost every players stats were a bit skewed.
While Jones is not afraid to work around the basket, he sometimes settles for a jump shot. But, if Josh Smith can fall out of love with a three-pointer, Jones can too.
The Nets should jump at the chance if he falls to them with that Houston Rockets pick. If they get a lower lottery pick, they should also seriously consider picking him.
Harrison Barnes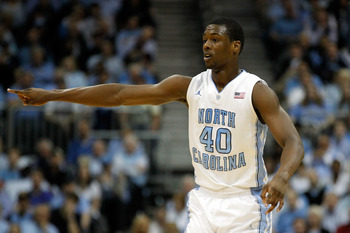 Streeter Lecka/Getty Images
Harrison Barnes, the sophomore small forward out of North Carolina, could be a perfect fit for the New Jersey Nets. He also can be a lockdown defender like Michael Kidd-Gilchrist, but he only is, some of the time.
What he is, is a pure scorer and a better offensive player than Kidd-Gilchrist.
In his sophomore year, Barnes averaged 17.4 points per game while shooting 45 percent from the field and 37.7 percent from three. He has a great mid-range game and can drive to the basket when he has to. He also has the ability take over games with his offense.
At 6'8'' and 215 lbs., he has good size to play at the next level. If he's able to add a little more weight and continues improving upon his offensive abilities, Barnes can become Carmelo Anthony 2.0.
Michael Kidd-Gilchrist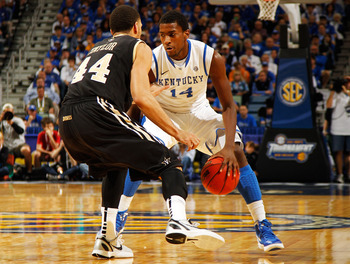 Chris Graythen/Getty Images
Michael Kidd-Gilchrist is a 6'7'' freshman forward out of Kentucky. He can be a shutdown defender at multiple positions and has relentless energy.
Kidd-Gilchrist is not really a stat stuffer, unless he has to be. His game is all about winning as he plays within the flow of the game. If his team needs points, he scores. If this team needs rebounding, he rebounds. If his team needs defense, he defends.
He's a money player who shows up in big games. In his head-to-head matchup against Harrison Barnes and North Carolina, Kidd-Gilchrist had 17 points and 11 rebounds. In one of his biggest games of the year, against Louisville, who was ranked fourth in the nation at the time, he scored 24 points and 19 rebounds.
Kidd-Gilchrist is a player whose mental makeup and desire to play basketball need not be questioned. The only bad thing about him is that he might decide to stay in school.
Anthony Davis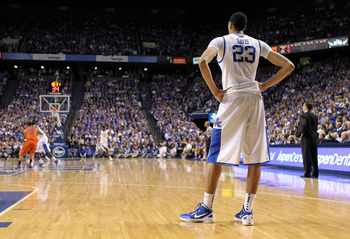 Andy Lyons/Getty Images
The unibrow is not sexy just yet, but give it a year, after Anthony Davis brings it with him when he's picked No. 1 overall and signs on the dotted line of a multimillion-dollar contract.
Davis is just a freak of nature. At the beginning of his junior year of high school, he was a 6'3'' guard in search of a college scholarship. At the end of his junior year, he was 6'8''. Now, he's 6'10''.
He kept his ball-handling skills from when he was a guard and is able to still use them after growing seven inches. His newfound height and huge wingspan added another element to his game, turning him into a defense machine.
As a freshman at Kentucky, Davis averaged 14.3 points, 10 rebounds and 4.6 blocks per game. Those 14.3 points came mostly on putbacks, dunks or layups. He has not really shown his total offensive game off as of yet.
While he is terrific on both ends of the floor, he's pretty lanky and will most likely have to put on some weight to be a star at the next level. Then again, Kevin Durant is doing just fine, while he does his best impression of a stick man with a very polished offense game.
If the Brooklyn Nets, which is what they will be named at the time, are lucky enough to secure the first overall pick, Davis should be the pick no matter what.
Their best move may be playing Davis at small forward with him guarding the likes of LeBron James, Kevin Durant, Carmelo Anthony and the other offensive stars who play the 3 in the league today.
Keep Reading

Brooklyn Nets: Like this team?