Playing a Numbers Game: Projecting the Chase for the Sprint Cup in March
March 13, 2012

Jeff Zelevansky/Getty Images
There's a trick to predicting the Chase for the Sprint Cup. It's not particularly difficult if you follow the trail that the past few years' worth of standings have produced.
In fact, I probably can tell you right now who's going to make this year's Chase, even though we're only three rounds into the season. I doubt I miss more than two drivers, if any.
Not convinced? Alright, let's go through the whole shebang and play what I like to call a numbers game—that is, we're going to look at the numbers from the past few seasons and figure out who's going to make it and who isn't.
It starts with last year's champion. Only one driver missed the Chase the year after winning it, Tony Stewart in 2005, and that was under the 10-driver format. His three wins before the Chase would have gotten him in under the current format. That makes Stewart, as defending Chase winner, a lock for this year.
The guy in second place usually comes back next year, but almost always falls far down the standings. Losing painfully in 2010 killed Denny Hamlin's 2011 season and led to a crew-chief change for this year.
Losing to Jimmie Johnson in 2007, despite scoring a whopping 30 top-10s, led to Jeff Gordon only scoring a single win in the next three seasons. Mark Martin, meanwhile, missed the Chase entirely in 2010 after a strong 2009. Don't be shocked if the same thing happens to Carl Edwards.
In fact, many of the championship challengers in any given season are the guys on teams with high expectations who struggled in the previous year. That may be the ticket for Hamlin, Dale Earnhardt Jr. and Greg Biffle this year, three drivers who struggled to varying degrees last year.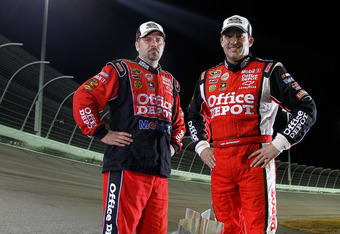 Chris Graythen/Getty Images
A fresh start in 2010 redeemed Kevin Harvick, who had finished 19th in points in 2009. In fact, had the Chase not existed, he would have won the championship in 2010.
Plenty of other drivers also put together Chase bids after late-. season charges, but the jury is out on whether or not they guarantee a strong points finish. Last year's example was Brad Keselowski, who parlayed some strong August runs into a Chase berth and later a fifth-place finish in points. But Clint Bowyer could only muster a 10th-place finish in 2010, partially due to crippling penalties issued after winning the first race of the Chase.
Two other groups have notable rates of production: top five drivers from the season before and completely new combinations. 2010's third- through fifth-place drivers—Kevin Harvick, Carl Edwards, Matt Kenseth—all came back strong in 2011.
Meanwhile, 2009 was a watershed year for new teams making the Chase, with Tony Stewart, Ryan Newman (in both new Stewart-Haas entries) and Mark Martin all making it. Last year, Keselowski and Paul Wolfe, having taken over Penske Racing's lead car, were an example of both of these categories.
Perhaps we're just over-analyzing here, though. A handful of drivers, if not in one of the categories above, are usually guaranteed to make the Chase in any given season.
These drivers include Jimmie Johnson (no misses), Denny Hamlin (no misses), Jeff Gordon (only miss in 2005), Stewart (only miss in 2006), Edwards (only miss in 2006), Matt Kenseth (only miss in 2009), Kyle Busch (only misses in 2005 and 2009) and Harvick (only misses in 2004, 2005 and 2009). That's eight spots almost guaranteed to be filled every year.
Assume that all eight of those teams will figure it out this year. That leaves a spot for Biffle as the comeback driver, Keselowski as a member of last year's top five, one driver who's in the mix all season but overachieves in August (going to go with Dale Earnhardt Jr. over Ryan Newman for this one) and one driver with a new team (take your pick between Kasey Kahne, Clint Bowyer, A.J. Allmendinger or even an overachieving Kurt Busch—mine is Bowyer).
That's it. That's all it takes.
Once again, for posterity, your Chasers for this season will be Jimmie Johnson, Denny Hamlin, Jeff Gordon, Tony Stewart, Carl Edwards, Matt Kenseth, Kyle Busch, Kevin Harvick, Greg Biffle, Brad Keselowski, Dale Earnhardt Jr. and Clint Bowyer. As far as alternates go, look at Newman and Kahne, with Gordon and Bowyer the most likely to fall out.
There you go. Simple as that. Keep this list handy, and let's see how it pans out come September.