Oklahoma Sooners Football: 10 Benchmarks for Spring Success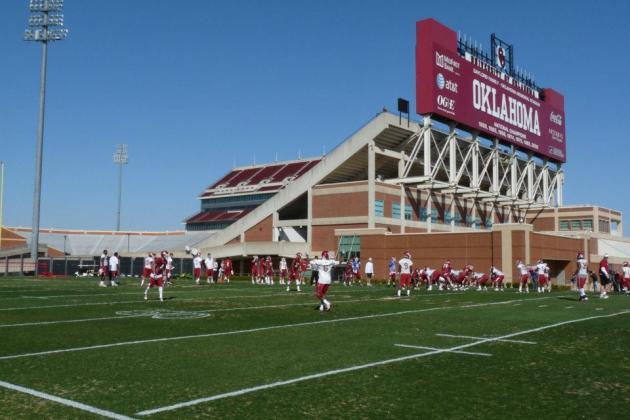 Photo by: Sooner Sports
Spring practice for the Oklahoma Sooners officially began March 5 and runs until April 12, culminating in the Oklahoma Red and White Spring Game, which takes place on April 14.
The Sooners are looking to improve on last season's 10-3 record, and there's no question that they once again have the talent for a run at the national championship.
This season will bring a few new faces to the Sooners' conference schedule, as TCU and West Virginia are set to join the Big 12. The Sooners also host the Notre Dame Fighting Irish in what's likely to be a huge non-conference battle.
So far, so good in regards to how spring practice has gone for the Sooners, and there have even been a few stories from just a week's worth of being on the field.
Let's take a look at what spring practice has provided so far and what the Sooners must address in order to have success—not only in the spring, but in the upcoming season as well.
Begin Slideshow

»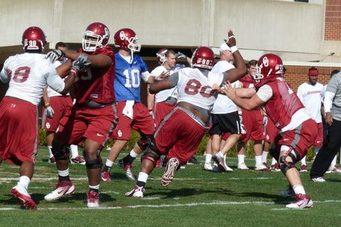 Photo by: Sooner Sports
One of the biggest question marks going into last season was the defensive line. Who was going to step up? Would the Sooners be able to get pressure on opposing quarterbacks?
Needless to say, former defensive end Frank Alexander quieted any doubters. Alexander had a monster year, getting to the quarterback 8.5 times. Fellow defensive end Ronnell Lewis accounted for 5.5 sacks last season as well.
That's 14 sacks the Sooners have to make up for, not to mention the countless number of QB hurries the two produced. It seemed that when the Sooners had a defensive player in the backfield, it was always Alexander or Lewis.
The Sooners will have plenty of experience on the defensive line this season, as defensive ends David King and R.J. Washington got ample amounts of playing time last season, and defensive tackles Casey Walker, Jamarkus McFarland and Stacy McGee all have experience starting games for the Sooners.
However, will all that experience translate to production? That's the big question.
Out of those five guys, the Sooners got a total of 10 sacks last season. So, to reiterate, two guys (who are now both gone) totaled 14 sacks, and the five guys who are returning totaled 10.
Yeah, the production is going to have to step up.
Redshirt freshman Jordan Phillips (pictured) has had a good spring thus far, and he could be contributing if the seniors can't get the job done.
Other players to watch include junior college transfer Chaz Nelson, redshirt sophomore Chuka Ndulue and freshman Jordan Wade.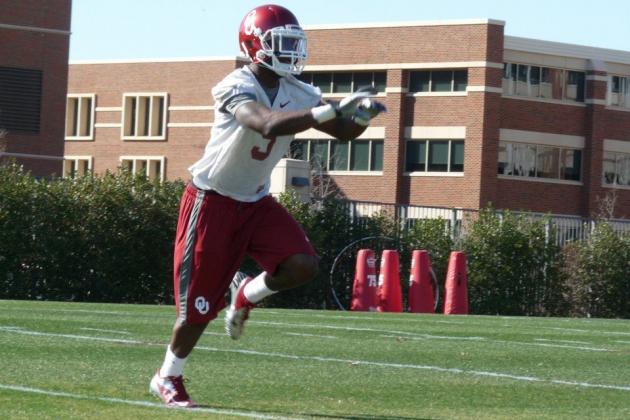 Photo by: Sooner Sports
Everybody already knows about last season's struggles in the secondary, so there's no need to waste time and talk about it, right?
Wrong.
That's exactly what Mike Stoops should be jamming into his defensive backs' heads during spring practice. Show them the film, remind them of what went wrong and show them what to fix. You can't just let something that was an obvious sore spot on an otherwise decent defense just fall through the cracks.
The self-proclaimed "sharks" have to be motivated to do better this year. I can't imagine getting embarrassed by every spread offense you go up against is a good feeling. If there's one thing that they should already know, it's that they can't get by on their athleticism and confidence.
It seemed like athleticism and confidence were the two main factors that the defensive backs used last season instead of technique and intelligence. If you get beat, go back and figure out what you did wrong and fix it. Don't just rely on your athletic ability.
With former cornerback (and best defensive back from last season) Jamell Fleming gone to the NFL, players like Tony Jefferson and Demontre Hurst are going to have to step up and play up to their potential this season.
Gabe Lynn (pictured) is a guy that I'm expecting big things out of. Coming out of high school, Lynn was highly regarded as one of the best defensive backs in the country. He hasn't done anything at OU that would back that claim up yet, though.
Under Mike Stoops, Lynn is a guy that I think can shine. Junior college transfer Kass Everett will have a chance to produce right away at corner, though, so Lynn will have to prove his worth.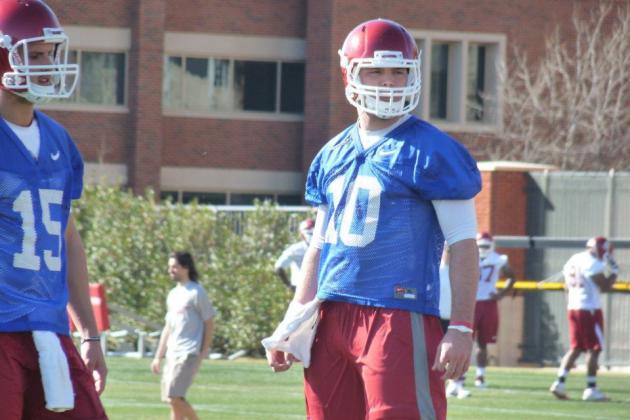 Photo by: Sooner Sports
Rumor has it that Blake "The Belldozer" Bell has been taking some snaps at tight end during spring practice. There's a couple of ways to take this newly acquired information.
The first way is obvious: Blake Bell, as we all saw last season, is a tremendous athlete. While he remains the team's No. 3 quarterback behind Landry Jones and Drew Allen, it only makes sense to try to fit Bell into some unconventional packages.
While Bell thrived in the Wildcat last season, scoring 13 touchdowns on the ground (including three in the Insight Bowl), he can't be over utilized at that position. If you weren't aware, Bell is a 6'6", 245-pound monster of a man (hence the name "Belldozer"); tight end is a natural fit given his size.
Does Bell have good hands?
I'm not entirely sure, as I've never seen him catch any passes. I'm sure he has decent hands, and his speed and athleticism would make him a tough cover for any defensive back or linebacker that tries to take him on.
Here's another plus: he knows all the plays and routes already.
But as exciting as this news could potentially be, does this mean that the Sooners are desperate for a starting tight end? Tight end was a major concern at the end of the season, as James Hanna graduated and Austin Haywood transferred, leaving the Sooners with a tight end predicament.
However, the Sooners were lucky enough to get a good crop of talent in recruiting, including junior college transfer Brannon Green and standout (incoming) freshman Taylor McNamara. I figured Green would get the starting nod due to experience alone, but it's possible that he and the rest of the tight ends on the roster just aren't cutting it in practice.
I guess we won't officially know until somebody comes out and makes a statement, but the Sooners need to find a starting tight end for the sake of their offense. If that happens to be Blake Bell, then so be it, but I assume that any time he spends at tight end will only be in unconventional packages.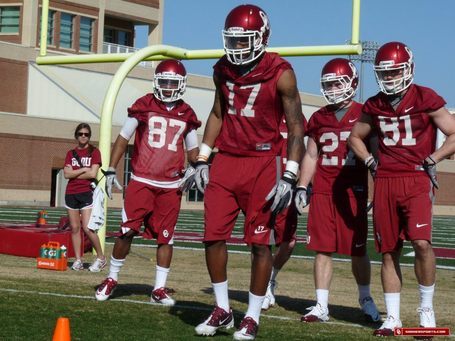 Trey Metoyer (pictured) certainly passes the eye test, and he's apparently been performing well in spring practice, too. Is he going to be the answer to the Sooners wide receiver woes?
To be fair, I wouldn't exactly call them "woes," but the production at the position definitely slipped after Ryan Broyles was lost for the season due to injury. Junior Kenny Stills is the most likely candidate to pick up the slack, but his performance with Broyles out didn't exactly make anybody believe that he was answer.
At times, Stills almost looked lost without Broyles on the field. It could be that Stills was just not ready to take on the No. 1 receiver duties as a sophomore, and he may come into this season with more confidence.
Whatever the case, he now has competition.
Metoyer is the first five-star wide receiver that Bob Stoops has ever had the benefit of coaching. He's got good size at 6'2" and 185 pounds, and he is hard to take down in the open field once he has the ball (check his YouTube videos).
If Metoyer can remain in good standing in the classroom, my guess is that he'll be contributing from day one. He may be the player I'm most interested to watch during the OU Red and White Spring Game (April 14).
To the surprise of most, junior wide receiver Jaz Reynolds was cleared to practice during the spring with no restrictions. Reynolds had to miss the Insight Bowl due to a kidney injury, which turned out to be rather serious.
The fact that Reynolds has been cleared is huge for the Sooners, who now get to evaluate their entire crop of wide receiver talent at the same time.
It's time to find a playmaker.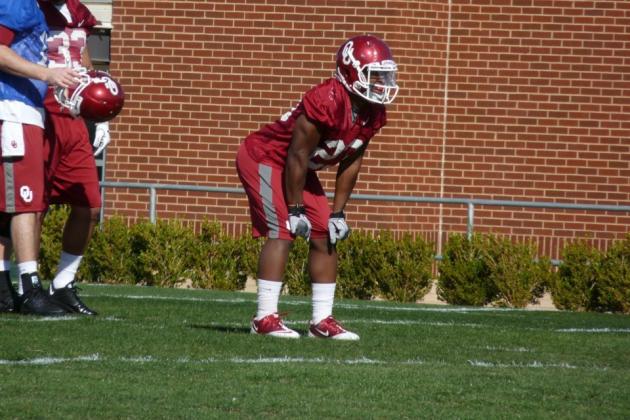 With the injury to Dominique Whaley, the transfer of Brandon Williams and less-than-stellar play of Brennan Clay, running back was a position that the Sooners desperately needed to have an impact on in recruiting.
Luckily, the Sooners signed junior college transfer Damien Williams and (incoming) freshmen Alex Ross and David Smith. While Ross and Smith are likely to red shirt, Williams will certainly add another competitive body out there, and he even has a chance to get some serious playing time.
But what about Danzel Williams? It seems like amidst everything that was going on, we all seemed to forget about the four-star recruit that was currently redshirting. Now, as a redshirt freshman, Williams has impressed during spring practice and is ready to earn some playing time.
Williams ran for over 1,600 yards and 30 touchdowns his senior year of high school, and although he was recruited as a defensive back, Williams appears to be getting his reps at running back.
If Whaley can stay healthy, he should regain his starting job. However, Williams and Finch would be great complimentary backs coming off the bench. Like Finch, Williams is on the smaller side but is explosive with the ball.
At 5'8" and 185 pounds, Williams is more of a shifty-speed back than a bruiser.
Hopefully Williams will be able to showcase his abilities this season, but with the competition at running back, he'll have to really prove himself during the rest of the spring.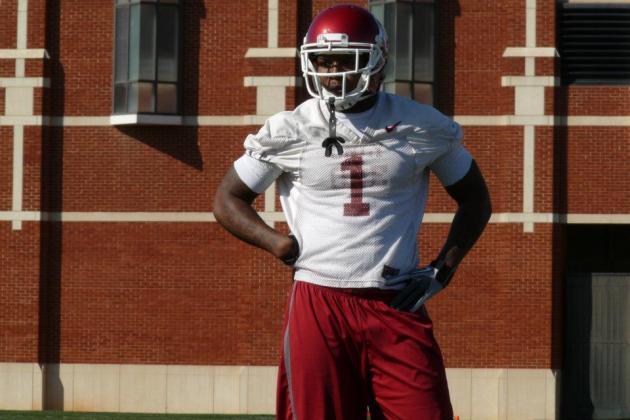 Photo by: Sooner Sports
I'm looking at you, Tony Jefferson.
Travis Lewis was undoubtedly the leader of the defense for the past two seasons. You could even argue that Frank Alexander and Jamell Fleming were "leaders" last season, as well, especially for their respective positions (defensive line and defensive back).
However, all those guys aren't around anymore.
Who is now the best player on the defensive side of the ball? Some could argue Tom Wort, some could argue Demontre Hurst, but I think when push comes to shove, there's not a lot of arguing going on about Tony Jefferson.
The hybrid linebacker/defensive back is the best all-around defensive player Oklahoma has. His value to the defense is higher than anybody else right now.
After a better than average freshman season, Jefferson's sophomore campaign was even better, as he totaled 74 tackles, 4.5 sacks, four interceptions and one forced fumble.
With Jefferson's talent, there's a chance he could leave a year early if he has a great junior season. If that's the case, Jefferson needs to make the most of his remaining time at Oklahoma. He needs to step up and be the defensive leader we all know he's capable of being.
Make us proud, Tony.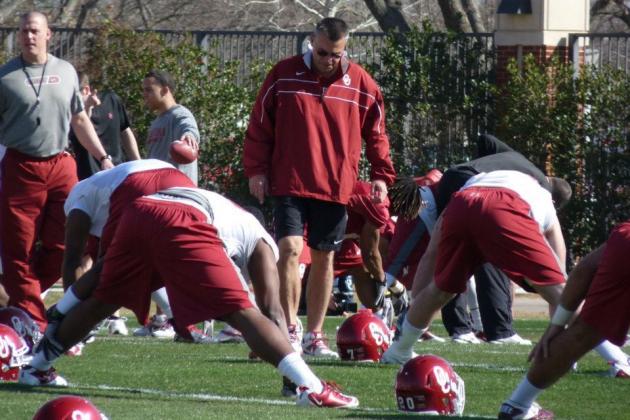 Photo by: Sooner Sports
Everyone is talking about the return of Mike Stoops and how he'll hopefully bring back Sooner magic on the defensive side of the ball. While the addition of Stoops was desperately needed, nobody is really talking about who Stoops brought with him.
Coach Tim Kish, who will be taking over as linebackers coach for Oklahoma this season, was the defensive coordinator at Arizona while Mike Stoops served as the head coach. Kish has spent his last eight seasons with the Wildcats, and served a crucial role in the team's recent success.
Kish had been the linebackers coach at Arizona since 2004, so he is more than qualified to take over the job at Oklahoma. The fact that he is quite familiar with the defensive scheme that Mike Stoops will run is even more of a positive.
As of now, the starting linebackers appear to be Tom Wort, Corey Nelson and Tony Jefferson.
Kish will have a pretty solid starting group with a good rotation of Joseph Ibiloye, Jaydan Bird and Aaron Franklin. I also believe that red shirt freshman P.L. Lindley will get a decent amount of snaps this season.
Apart from being well-versed in the art of coaching linebackers, Kish is renowned as being an active recruiter with great ties on the west coast and in the southwest. After the Sooners failed to bring any linebackers in with their last recruiting class, it will be interesting to see what Kish does with the 2013 class.
The Sooners have already offered 12 linebackers in the 2013 class, eight of which are in the ESPNU Top 150. If Kish can bring in a few of these players, then I will call it a success.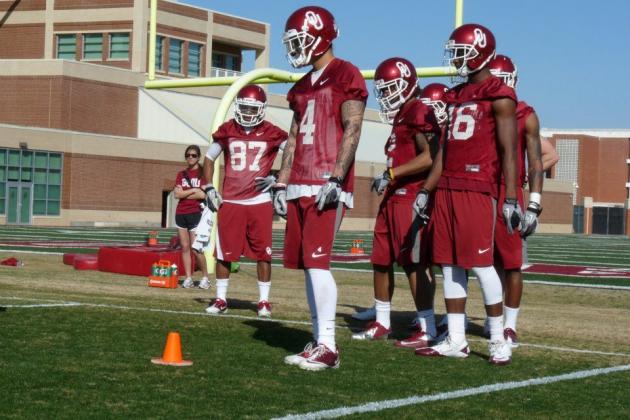 Photo by: Sooner Sports
Come April 14, we should all know a little bit more about the Sooners. There will be over a month of spring practice in the bag and there are sure to be a few surprises along the way.
This is the most anticipated Red and White Spring Game I can remember in years. While there are a lot of hopes and aspirations surrounding this talented Sooners team, I'm really more interested in the level of competition at each position.
When I go watch the game, I'm going to be looking at Kenny Stills (pictured) and whether or not he stands out above Jaz Reynolds and Trey Metoyer. I'm going to be watching Danzel Williams try to make a name for himself in the backfield.
I need to see the defense step up in a big way, especially in the secondary. Will Javon Harris be starting at safety, or is Tony Jefferson moving over? Mike Stoops has raved about Joseph Ibiloye so far this spring, so Harris could be in trouble.
I want to see the defensive line getting after it against the offensive line. I want to see whether or not Tom Wort can remain healthy throughout more than one series.
Probably most importantly, I want to see whether Landry Jones can have chemistry with his wideouts without Ryan Broyles around.
Competition in the Red and White Game is a must. It will get the team fired up and make every player on the field earn their position.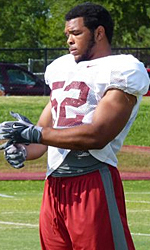 Kellen Jones (pictured), a 6'1", 223-pound linebacker that spent one season with the Sooners after transferring from Michigan, is just the latest Sooner to transfer out of the program.
Jones played sparingly for the Sooners last season, notching 10 total tackles on the season. However, Jones was in line to get a healthy dose of playing time this season and would have likely started next year.
Jones joins running back Brandon Williams and tight end Austin Haywood as notable Sooners that have left the program. Williams' transfer was at least understandable, as he wanted to be closer to home and earn more playing time at a different program, but Haywood was set to be a starter and Jones was a rotation linebacker.
Alas, you can't win them all, I suppose.
If the players don't want to be in Norman, then the Sooners are better off without them, anyway. At least, that's the optimistic outlook on an otherwise depressing situation.
No. More. Transfers. The Sooners need depth and talent to compete.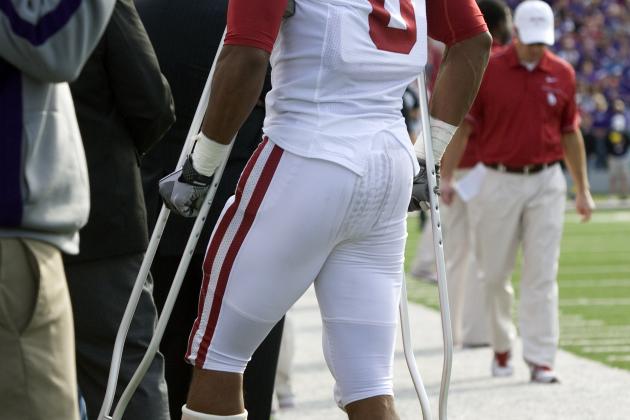 Ed Zurga/Getty Images

This is the most important "benchmark for success" by far. When the Sooners have a talented roster, there are almost assuredly multiple injuries that hold the team back.
Last season All-American linebacker Travis Lewis was hampered with a toe injury during the spring, and it noticeably lingered all the way through the season. Dominique Whaley's season was cut short due to an ankle injury against the Kansas State Wildcats in Week Nine, rendering the Sooners thin at running back to end the season.
And, of course, we all remember the Ryan Broyles injury and how that affected the offense.
So far, with spring practice a little over a week underway, I can fortunately say that there have been no significant injuries to any Sooner. We can only hope it stays that way.
Whaley will not be participating at all during spring practice, so hopefully he'll spend this time wisely— rehabbing, lifting, etc.—so he'll be able to return on time.