Philadelphia Eagles: 3 Players Most Likely to Make Their First Pro Bowl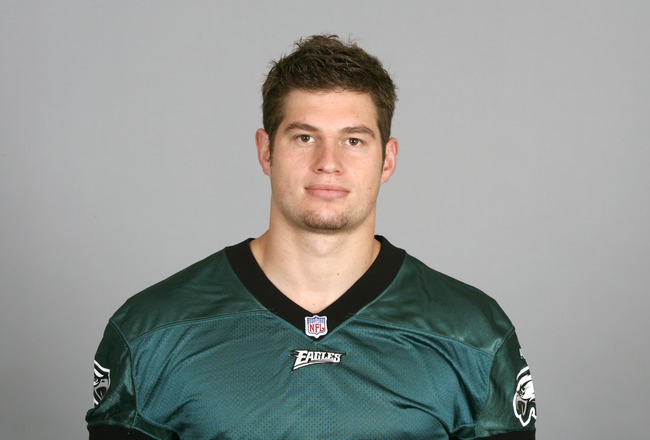 Handout/Getty Images
Last year, several leading members of the Philadelphia Eagles dropped off in performance and production. If this trend carries over into the 2012 season, Philly will need others to raise their level of play.
If the Eagles lean on these three players, they should get Pro Bowl performances from them in return.
Alex Henery, Kicker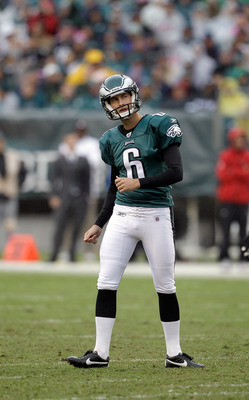 Rob Carr/Getty Images
Philadelphia fans might still have a feeling of contempt after watching longtime placekicker, David Akers, set the single-season points record in his first year with the San Francisco 49ers.
In his place, the Eagles spent a fourth-round pick on Alex Henery, who did have a promising rookie campaign.
Akers' 166 regular season points certainly warranted his Pro Bowl selection; however, Henery is on the right track to replace him on this roster as well.
The recent signing of Randy Moss not only provides San Francisco with a red zone threat, but also a threat to Akers as well.
Moss' presence should decrease the total number of field-goal attempts that Akers gets within the 30-yard line, where he led the league with 18 conversions on the same number of attempts.
For the Eagles, Henery should see his own number of attempts rise.
The Eagles deployed him cautiously last season and allowed him only two attempts of 50 yards or more. When given the opportunity, the former Nebraska product has proven to be reliable by connecting on 89 percent of his kicks (which ranked third in the NFC).
With his continued improvement and Akers' predicted drop in production, it would be no surprise to see Henery kicking in Honolulu next season.
Evan Mathis, Left Guard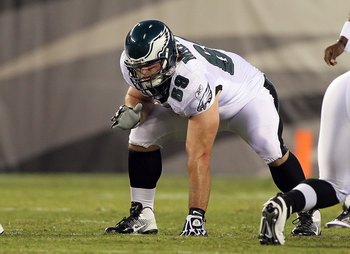 Jim McIsaac/Getty Images
This choice is obviously contingent on Evan Mathis re-signing with Philadelphia as a free agent. The left guard has already jokingly noted that he would come back for "$20 and a pizza", so it's very likely that he returns.
If he can replicate his performance from last year, Mathis should be a lock to make the Pro Bowl.
According to Pro Football Focus, the Eagles finished the season with the second-best offensive line, only behind the New Orleans Saints.
The Saints are still trying to get quarterback Drew Brees to sign a long-term contract after designating him with the franchise tag. This is important because as long as the team has their attention and financial assets committed to Brees, they won't have anything substantial to offer Pro Bowl free agent Carl Nicks.
Since Nicks is likely to walk, there is a very realistic chance that he switches conferences, which would leave Mathis with very little competition for his Pro Bowl roster spot.
According to PFF standards, not only did Mathis outperform Pro Bowl teammate, Jason Peters, but also Nicks as well.
In the 15 games he started, Mathis allowed only one quarterback pressure per game and didn't give up a single sack in 1,024 snaps.
His consistency should translate well into his second season with Philly, especially since the offensive line will be more experienced and have the benefit of a full offseason together.
Brent Celek, Tight End
Brent Celek carries two defenders into the end zone on his 73-yard catch and run score.
Rob Carr/Getty Images
It's really a shame how frequently Brent Celek gets overlooked among all the offensive stars that Philadelphia has to offer.
For a player who has never missed a game in his five-year career, he rarely gets the recognition he deserves.
Last season, Celek combined with teammates Jeremy Maclin and DeSean Jackson to make up the first trio of players to each break 800 yards of receiving in franchise history.
He also contributed 62 receptions and five touchdowns.
Those numbers do seem pretty modest when compared with those of Pro Bowl tight ends Jimmy Graham and Tony Gonzalez. But it was later revealed, that Celek played basically an entire season with a sports hernia and torn labrum.
This kind of toughness shouldn't get him any extra Pro Bowl votes but does provide optimism for what he can do when healthy.
Even in his handicapped state, Celek managed a 73-yard touchdown that qualified as the longest play amongst NFC tight ends. His 13.1 yards per catch ranked only behind Jimmy Graham for conference peers with at least 60 receptions.
Celek finished the season with touchdown catches in three consecutive games and should continue to be the primary red zone target for Philly next season.
Keep Reading

Philadelphia Eagles: Like this team?