New York Knicks: 10 Reasons Baron Davis Will Be Important to a Playoff Run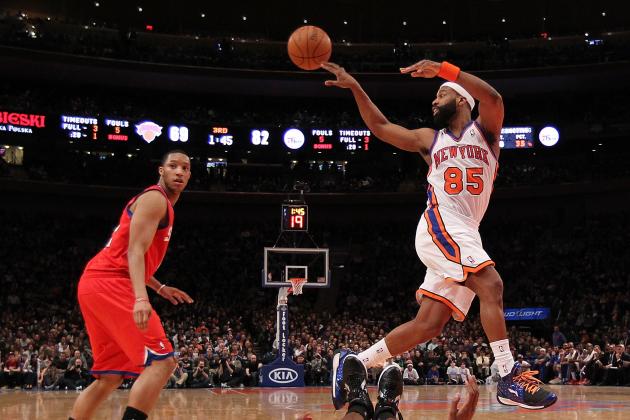 Nick Laham/Getty Images

Baron Davis could be exactly what the New York Knicks need to make a playoff run in 2012.
After the Knicks lost to the Chicago Bulls last night, marking their sixth straight defeat, it's clear that somebody needs to step up to help right the ship.
That hero could be Davis.
The luster of Linsanity has faded quite a bit since the Knicks started losing again, and patience is running thin in the New York.
The prospects of Mike D'Antoni's job security have become increasingly grim, but Davis has the potential to be the second guy this season to save his coach's butt (see Jeremy Lin).
Here are 10 reasons why Davis will be important to a Knicks' playoff run.
Begin Slideshow

»
Baron Davis has been in the New York Knicks' situation before.
Back during the 2006-07 season, when he played with the Golden State Warriors, B-Diddy helped the team scratch and claw their way into the playoffs as the eighth seed in the West.
In the last eight games of that season, in which the Warriors went 7-1, Davis averaged 19.8 points, 7.3 assists, almost four rebounds and 2.6 steals.
If the Knicks need a final push to get into the playoffs, Davis will need to step up for the team to reach the postseason.
In case you forgot what Davis is capable of, check out the video up top. The guy is silky.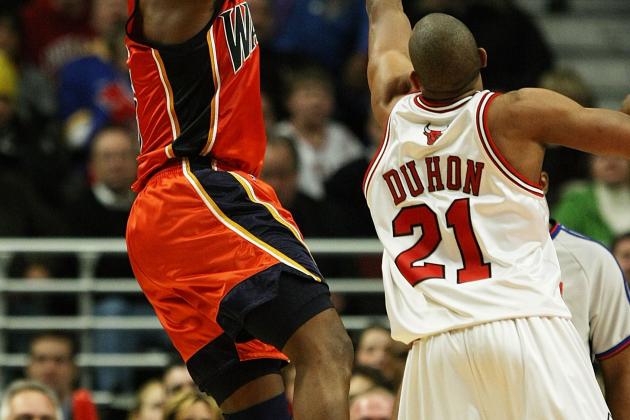 Jonathan Daniel/Getty Images

Now that we've touched on Baron Davis' past performances to get his team in the playoffs, we can give him credit for performing once he gets there.
The Golden State Warriors entered the 2006-07 NBA playoffs as a No. 8 seed. They defeated the No. 1 seed Dallas Mavericks in a six-game series.
Davis absolutely killed it in that series, averaging 25 points, 5.7 assists and 6.2 rebounds. In the first game of that series, the Warriors finished on a 16-5 run after he returned from an injury.
In 46 career postseason games, Davis has scored 20 points per game.
Should the New york Knicks reach the playoffs, Davis' experience will work greatly in their favor.
Nick Laham/Getty Images

There's times down the stretch when Jeremy Lin looks so gassed. It's times like these when Baron Davis will be pivotal to the New York Knicks making the playoffs.
Since he has become the starting point guard, Lin has played almost 37 minutes per contest. Before Davis returned from his back injury, Lin was playing almost 40 minutes.
Three minutes doesn't seem like too much, but if Mike D'Antoni can get Lin a few more minutes on the bench, Lin would be that much better down the stretch of games as well as the stretch of the season.
The efforts of Davis will be huge in regards to giving Lin some extra bench time, as well as playing effectively when he is on the bench.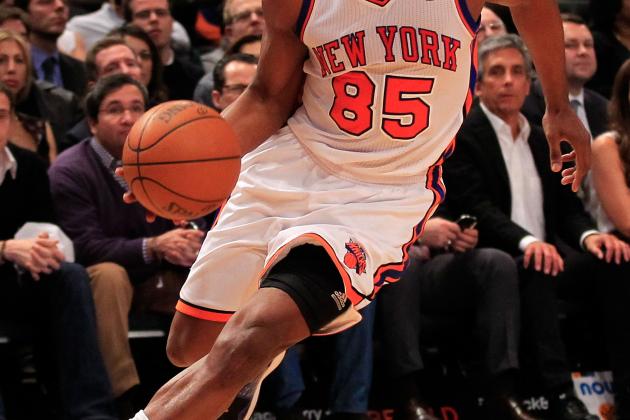 Chris Trotman/Getty Images

Oscar Robertson played till he was 36, John Stockton played till he was 41, Steve Nash and Jason Kidd are still kicking.
Baron Davis is only 32.
Even though his back injury may have sped up his aging process a bit, Davis isn't as old as everyone is making him out to be. At least he's not Mike Bibby's corpse taking up a spot on the roster.
With age comes knowledge. Davis has gained plenty of that over the course of his career.
You can tell by watching him that he sees the court differently than most guys. He uses his veteran savvy to make things happen on the court.
He's got the legs to at least finish the season, but it's beyond 2012 that should concern Davis.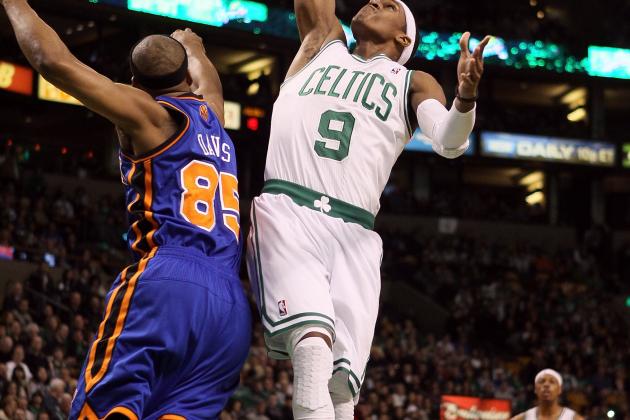 Elsa/Getty Images

Baron Davis missed the first 32 games of this season after undergoing back surgery for a herniated disc. Through his first few of games, it was obvious that he was still getting his sea legs.
In the last five games, he's averaged six points and six assists in just about 20 minutes of playing time. That's pretty efficient by most standards.
He's also started to look more comfortable on the court. Not to mention with his teammates.
Tyson Chandler and Amar'e Stoudemire look more familiar with Davis than they do with Jeremy Lin, for some reason. STAT runs a better pick-and-roll and Chandler looks to be more effective when setting his high screens.
The later it gets into the season, the better these guys will look with each other.
Two adequate point guards on the team typically bodes well for organizations looking to make the playoffs.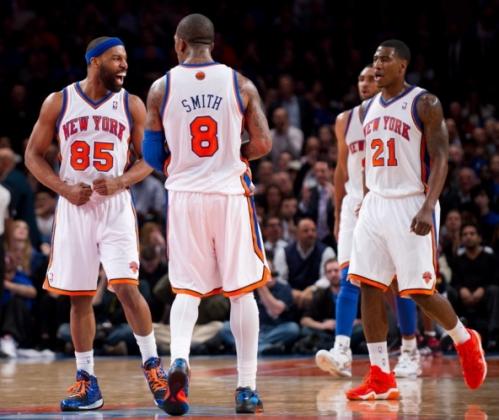 Courtesy of nydailynews.com
The New York Knicks are one of the deepest teams in the NBA. They have 10 legitimate NBA players that are in the rotation every game.
Mike D'Antoni typically includes Jared Jeffries, Steve Novak, J.R. Smith and Iman Shumpert in his second team.
Sprinkle a little B-Diddy on top of that and you've got yourself a legitimate group of second-stringers. The importance of a talented second team simply cannot be overvalued.
In a grueling NBA season such as this one, the more time the Knicks can put their second team out there, the better. Half the time, you can't tell that it's the next five in the rotation.
Depth is so crucial to winning playoff basketball games and the Knicks are in good shape when it comes to that.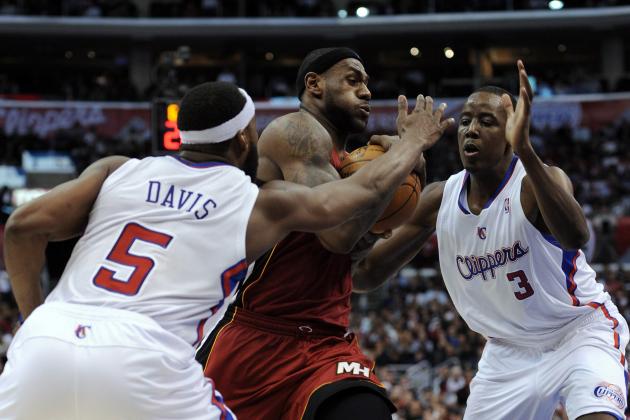 Harry How/Getty Images

Baron Davis led the league in steals twice, in 2005 and 2008. He's not the defender he used to be, but he occasionally shows shades of his former self.
In the Knicks loss to the Chicago Bulls last night, Davis defended Derrick Rose well when he was asked to. The Bulls' star point guard scored 32 points, but shot just 41 percent from the field.
Even if Davis isn't the defender he used to be, he can still show young players like Jeremy Lin and Iman Shumpert how to improve their defense on the perimeter.
A veteran in practice and on the court, helping younger players learn the defensive aspect of the game, pays dividends to a team trying to make the playoffs.
In his last two games, Baron Davis has scored 15 total points, on 6-of-11 shooting.
For a guy who played a measly 16 and 13 minutes on back-to-back nights, he was surprisingly efficient and selective. He created shots for himself and took the ball to the hoop numerous times.
In one specific instance against the Chicago Bulls, Davis posted up his defender in the corner about 17 feet from the hoop, then used a clever drop-step to get an easy layup. Mind you, the Bulls are one of the best defensive teams in the NBA, if not the best.
He's also reminded us that he can still shoot the three-ball. He's had a lot of games when he was stone-cold form behind the arc, but he's also had games in which he's buried open looks.
Guys who have played to the tune of 17 points and seven rebounds per game over the course of their career don't just forget how to play the game.
Look at BD posterize Andrei Kirilenko in the 2007 playoffs.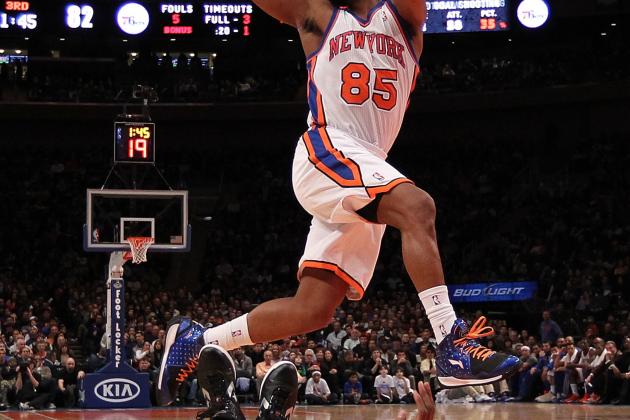 Nick Laham/Getty Images

Baron Davis has played very sparingly since his return from injury.
Even in the minimal number of minutes, Boom Dizzle has been racking up assists at a crazy rate. He's only been on the court for 17 minutes per game, but if you look at his per-48-minutes stats, you'll be impressed.
Of course the per-48-minutes stats don't usually correlate to reality, but Davis has a 48-minute average of 12 rebounds, 15 assists and five rebounds.
Could you imagine BD dropping 15 dimes in a game? Madison Square Garden would register on the Richter Scale.
He still has the ability to run a seamless pick-and-roll. He also gets himself in trouble sometimes by forgetting he plays for the New York Knicks and not the Harlem Globetrotters.
If Davis can just stick to what he's good at, and keep himself from getting too fancy, he'll continue to create for the Knicks second unit.
The only issue there is that Davis is good at fancy. And he knows it.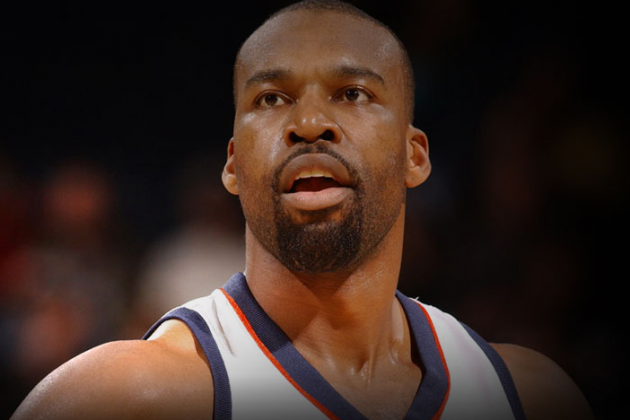 Courtesy of soraspy.com
The New York Knicks have so many other weapons on the team that the opposition won't even be thinking about what Baron Davis can bring to the table.
Davis isn't even close to the top priority for teams leading up to games. He's even behind the likes of Iman Shumpert and Steve Novak.
Teams might even be worrying about Jared Jeffries defense more than they worry about Davis' offense (never thought that sentence would be written).
Davis should be able to sneak under the radar of some opponents in big games, which would give him an opportunity to do some serious damage down the stretch.
Other teams concentrate so much on bottling up Carmelo Anthony, Jeremy Lin and Amar'e Stoudemire, that Davis could be able to be one of the Knicks' biggest assets at the end of the season.