Boston Celtics Rumors: Is There Any Hope for the Future of the C's?
March 13, 2012

Stephen Dunn/Getty Images
We're just over 48 hours until the NBA's trade deadline and as they've been since before this lockout-shortened season began, the Celtics are swirling right in the thick of the rumor mill.
Whether the rumblings concern Rajon Rondo, Ray Allen, Kevin Garnett or even Celtics lifer Paul Pierce, it seems like every day, something new is written about, pontificated upon or tossed out there.
The only certainty regarding this group right now is that it is a fringe playoff team at best and any real designs on making hay come postseason time are nothing but a pipe dream.
Still, it can't hurt to look at some of the noise emanating from these trade winds and examine whether or not any of it bodes well for Boston not just this year but in the future as well.
Most of the rumors bandied about over the last week-plus concern Rondo. His mercurial personality, whether or not he gets along with his teammates and coaches and his shortcomings and inconsistencies on the court all seem to lend weight to the possibility that he's as good as gone from Boston come Thursday afternoon.
ESPN's Chad Ford even went so far as to write last week that Rondo is the most likely player to be traded of anyone in the NBA, not just on the Celtics. 
"If Ainge can get two pieces back for Rondo," wrote Ford, "I think he'll do it. Atlanta, Portland and Indiana are interesting destinations if they'll pay."
What was most interesting about Ford's assertion was that it came after Rondo's otherworldly performance against the Knicks on March 4, in which he went for a superhuman triple-double totaling 18 points, 20 assists and 17 rebounds in a nationally televised, overtime win. That game seemed to curb a great deal of the Rondo trade enthusiasm.
It was as if Rondo himself said, "enough is enough," over the TD Garden PA system at center court before going out and submitting his Robertson-ian masterpiece.
The pertinent question is, how can the Celtics get better by trading Rondo? The answer is, they can't.
For starters, Rondo's contract (four years, $45 million) is one of the biggest bargains in the NBA. A top-level point guard who's already won a championship just entering his prime making just over $11 million per season? Wow.
And also, remember that Rondo is still young and that this has never truly been his team. With Allen and Garnett assuredly gone next year and Pierce likely out the door the year after, it's only a matter of time before Rondo is the marquee name in this organization, if he isn't already. Perhaps once he is out of the shadow of the Big Three, his alleged attitude problems will subside.
If anyone has to go and the future of the team would be addressed one way or another with the deal, Rondo is the last guy Celtics fans should be hoping is out the door.
On the other hand, someone like Allen, who has an expiring contract, could prove to be on the opposite end of that spectrum. Allen did not show up on Ford's list of the top 10 most likely to be dealt.
But elsewhere at the Worldwide Leader, John Hollinger has the NBA's all-time leading three-point shooter headed West, to the Clippers.
The deal, which Hollinger speculates would also involve the New Orleans Hornets, has L.A. acquiring Allen to shore up its hole at the 2-guard since Chauncey Billups's injury, with the Celts getting back, Hornets center (and former Clipper) Chris Kaman and young, up-and-coming Clippers guard Eric Bledsoe.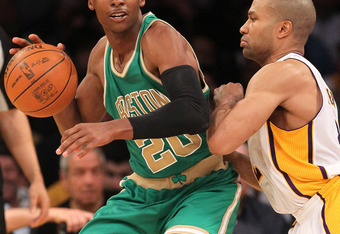 Stephen Dunn/Getty Images
"This actually has value for the C's," writes Hollinger, "who unlike New Orleans actually has a prayer of re-signing Kaman."
If the Celtics could get this kind of return for Allen, who may be back next year at a reduced rate, but will likely be elsewhere anyway, they should jump at it. Their biggest weaknesses are depth, size and physicality up front, aspects of the game Ainge must have forgotten first when he traded Kendrick Perkins last season and again, when he sent Rivers and his men into battle this season with Jermaine O'Neal and Chris Wilcox (both now out indefinitely) as the top two men in the pivot.
Kaman provides all of the above while Bledsoe, a silky, talented, potential star in the making, yet languishes behind Chris Paul, Mo Williams and Randy Foye on the Clippers bench, could well be the perfect complement to play both behind and alongside Rondo for the next several years.
These are just a couple of ideas that have been thrown about regarding the Celtics (we haven't even gotten to any scenarios that involve dumping the useless, glass-boned O'Neal and his inconceivable $6 million salary, if for no other reason than to save the C's some luxury tax swag).
What is certain, however, is that Ainge, with just four players signed to guaranteed deals for next season, must do whatever it is that he's going to do, whether it's nothing or a lot of stuff, with one eye firmly focused on keeping this team out of low playoff seed/middling lottery team purgatory going forward.