March Madness 2012: 5 Teams Guaranteed to Exit Early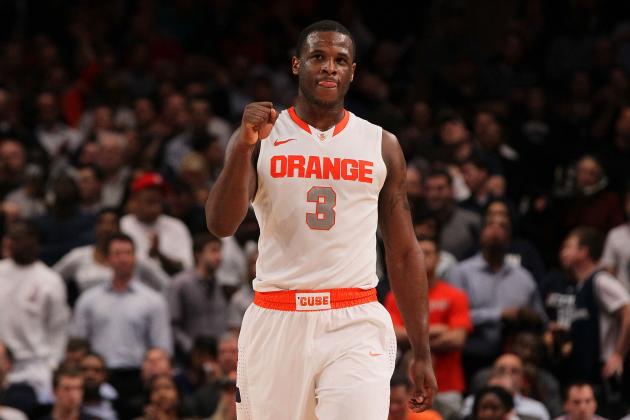 Jim McIsaac/Getty Images

Ah yes, it's that time of year again!
The most magical event of the sports world is set to soon take place, and it seems like all anybody can talk about is the NCAA tournament.
One of the great perks of college basketball's postseason—besides how awesome the format is (college football, take a hint)—is that anyone, no matter their level of actual basketball talent, can partake in all the madness of March by predicting what the outcomes will be at every level of the tournament.

As you probably already know, bracket filling is a sensation that begins once the selection committee unveils which teams will soon begin their quest to become national champions, and where their first challenge to that quest will be located, and ends once the brackets are locked at the start of the second round.
It's become such an integral part of our culture that even the President fills out his very own bracket.
While there is no perfect science or methodology that can provide a person with an infallible bracket that is the envy of all who stand before it, there are helpful sources of information to help one at least begin moving in the direction of bracket dominance.
This article hopes to do that by highlighting five teams that will likely fail to live up to expectations and exit the tournament earlier than planned.
Of course, almost every NCAA tournament is filled with improbable events and occurrences, so every piece of bracket selection advice you hear should be taken with a grain of salt.
Actually, let's take that grain and turn it into a pound.
Without further ado, here are five teams that will fail to meet expectations in this year's tournament.
Begin Slideshow

»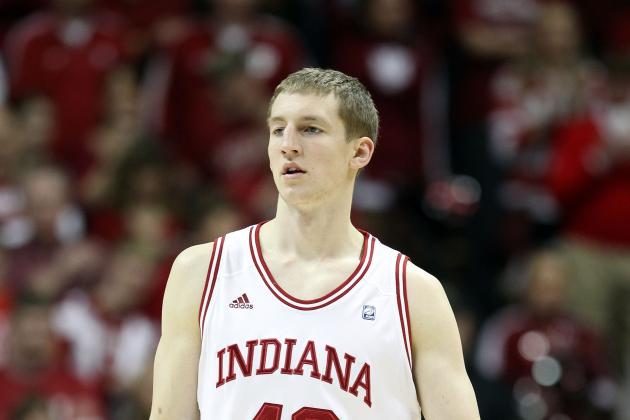 Andy Lyons/Getty Images

Indiana's 2011-12 season has seen two very different versions of the Hoosier squad.
At home, they were 19-1 with victories over Kentucky, Ohio State, Michigan and Michigan State. Away from historic Assembly Hall, however, they were much less effective with a 6-7 record, including losses to Iowa and Nebraska.
The other major impediment to their tournament success is the loss of senior point guard Verdell Jones III, who went down with an ACL tear in the team's opening game of the Big Ten Tournament against Penn State. Jones had helped the Indiana program return to the Big Dance for the first time since 2008 with his solid leadership and distributing.
While he didn't finish the season as the team's leading assist man, it's difficult to overlook just how important a role floor leadership from a senior point guard can play in the madness that is March. Indiana has a solid roster that could potentially make a deep run, but they're sure to miss the presence of Jones, especially in tight late-game situations.
Their second-round matchup against the 26-9 New Mexico State Aggies will be anything but a cakewalk. The Aggies are led by senior forward Wendell McKines, who is a powerful inside presence that can stretch the floor and get Cody Zeller into foul trouble.
A potential third-round matchup against either Wichita State or VCU could also spell trouble for the Hoosiers. Both teams like to constantly pressure the ball and prevent teams from comfortably running their offense.
My exit point for Indiana: Third Round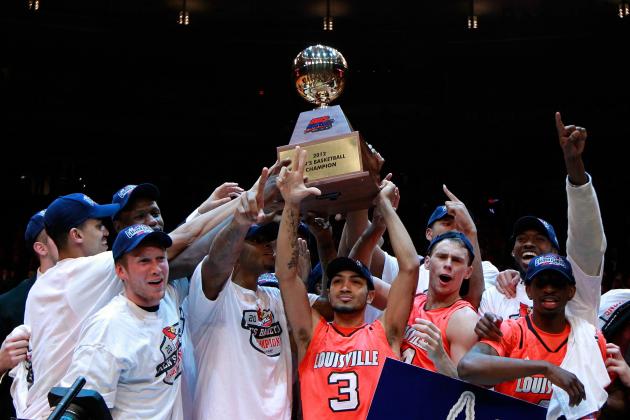 Chris Trotman/Getty Images

The Big East Tournament champions have a tough first-round matchup against a Davidson squad that head coach Rick Pitino described as having "a Princeton offense on steroids."
While Louisville can take solace in the fact that Stephen Curry is in the NBA, they still have face a Wildcat squad that has the nation's 12th highest scoring offense at 78.4 points per game and five players with double-digit scoring averages—led by forward De'Mon Brooks.
Davidson played a good non-conference schedule—highlighted by contests against Duke, Vanderbilt and Kansas—and even defeated Kansas 80-74 back in December in what was essentially a home game for the Jayhawks, as it took place in Kansas City (about a 30-minute drive from their campus in Lawrence).
The Wildcats will surely not be intimidated by anybody.
Louisville will likely apply constant full court pressure on Davidson's guards to try taking them out of their comfort zone. If the Wildcats are able to break down Louisville's defense, look for them to fire away from three-point range—since they were 19th in the country this season for three-pointers attempted, averaging about 23 per game.
In the NCAA tournament, free throw shooting always looms large. If Davidson and Louisville are in a neck and neck contest, the advantage goes to the Wildcats. Davidson has the country's ninth best free throw percentage at 76.6, while Louisville is ranked 196th at 68.6 percent.
If Louisville gets past the small school from North Carolina, they'll have to go up against either the Mountain West Conference Champion New Mexico Lobos or the Big West Conference Champion Long Beach State 49ers. Both teams feature guards that can handle Louisville's press and light up defenses when they're rolling.
My exit point for Louisville: Second Round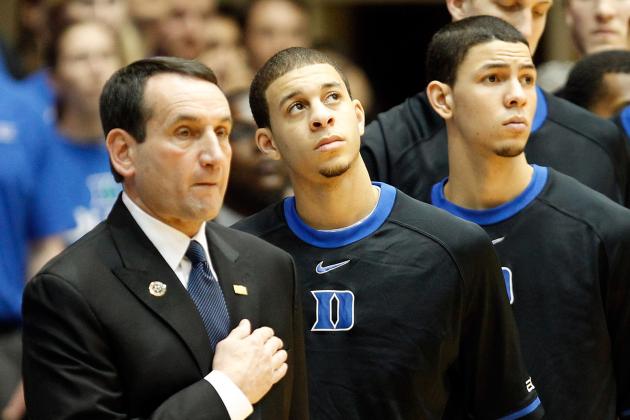 Streeter Lecka/Getty Images

The Dallas Cowboys of College Basketball are often an enticing selection to have exiting early. Although they had some tough losses, 2011-2012 was overall a good season for the Duke Blue Devils.
Of course, the NCAA tournament is a much different beast than the regular season. Guard play overshadows almost everything, especially when games are in crunch time.
While freshman (and part-time super hero) Austin Rivers and junior Seth Curry finished the season with solid statistics, they've each gone tough stretches where shooting percentages dipped and turnovers rose. Duke has solid frontcourt talent, but much of their offense is initiated through the backcourt.
Even though the game would take place in Greensboro, which is roughly 50 miles from Duke's campus, a potential third-round matchup with a defensively gritty Notre Dame squad could spell the end of the Blue Devils' season.
If they advance to the Sweet 16, either Baylor or UNLV would be very difficult matchups, thanks in part to Duke's struggles on the defensive side of the ball.
My exit point for Duke: Third Round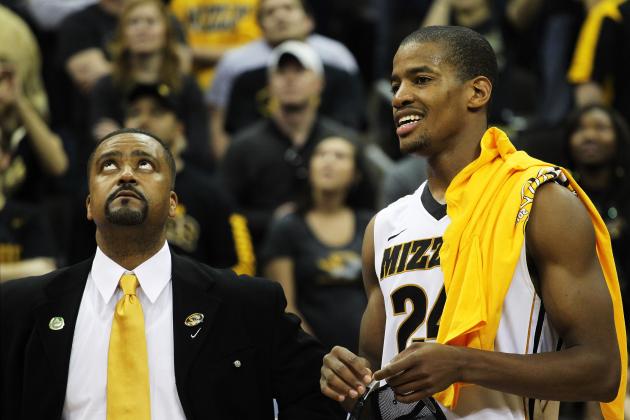 Jamie Squire/Getty Images

It's not often that a team with 30 wins and a Big 12 Tournament Championship on their resume isn't selected as a No. 1 seed.
Regardless, Missouri probably feels confident that they can storm through Omaha and Phoenix and reach the Final Four in New Orleans.
In the words of ESPN college football analyst Lee Corso: Not so fast, my friend!
The Tigers have an extremely potent offense, evidenced by their 80.3 points per game (the nation's sixth highest) and five players averaging at least 10 points per game, but they can struggle defensively and are undersized. Because a good portion of their scoring comes in the form of jump shots, a bad shooting performance against a team that rebounds well could spell their demise.
Missouri's first matchup against Norfolk State shouldn't be much of a contest, but their potential third-round matchup against Florida (assuming they beat Virginia) will not be easy. The Gators have the nation's second best scoring defense, a fierce inside presence in Patric Young and three guards in Bradley Beal, Kenny Boynton and Erving Walker, who can each make big shots and score 20 points or more in any given game.
My exit point for Missouri: Second Round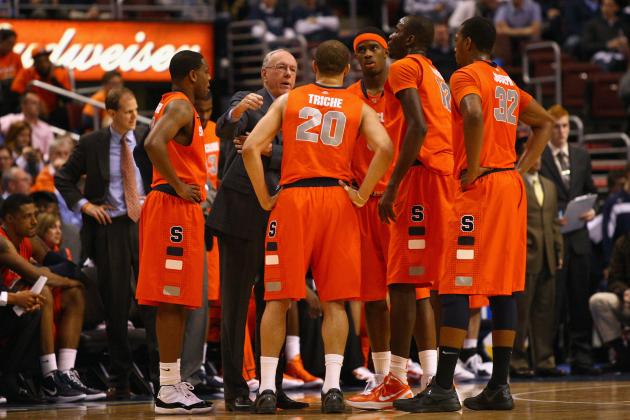 Chris Chambers/Getty Images

The 2011-12 version of the Orange are widely considered to be Jim Boeheim's best team since 2002-03, when Carmelo Anthony led them to a national championship. While this year's team doesn't have a prolific superstar like Carmelo, they do have arguably the most depth out of any team in the tournament.
Behind their vaunted 2-3 zone, the Orange constantly force teams to play a completely different style of offense than they're accustomed to. Some teams are able to adjust and stretch the zone out, while others are much less successful. Syracuse forced the ninth most turnovers in the country this year.
Of course, this team is not without its flaws. The most notable being their defensive rebounding struggles, evidenced by their national ranking of 344th in allowing opponents offensive rebounds.
One of the pitfalls of the zone is that it makes boxing out for defensive rebounds much more difficult. In man-to-man defense, a defensive player is usually close by an opposing player and can quickly locate who he needs to box out. In a zone defense, defensive players don't have that advantage.
Another problem with the zone is that a hot shooting team can tear it apart. While Syracuse shouldn't have much of a problem with their first two matchups in UNC-Asheville and the winner of Kansas State and Southern Miss, a potential Sweet 16 matchup against Vanderbilt—a team that hit the third most three-pointers in the country this season—could prove dangerous.
If they have to put a team away or stay in the game via the free throw line, the Orange could be in serious trouble. Collectively, they shot just 69.1 percent from the line this year—good for 175th in the country.
My exit point for Syracuse: Sweet 16