The 10 Best Free Agent Signings in San Francisco 49ers History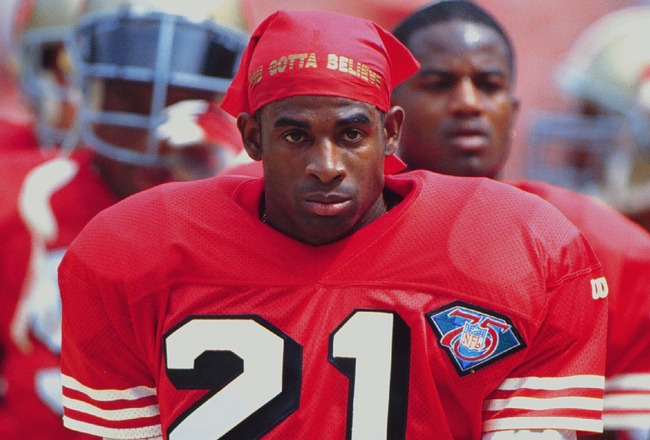 Deion Sanders is one of many great 49er free agent acquisitions
Al Bello/Getty Images
The San Francisco 49ers have had some excellent free agent signings in their storied history.
NFL free agency essentially began in 1989 in what was originally called Plan B. In 1993, the restrictions on player movement were eased and free agency as we know it became much more popular.
Rather than go into the boring legalese of the process, it's much more fun to focus on the players who made an impact in free agency for the 49ers. At the time, then owner, Edward DeBartolo Jr. was more than willing to pay big money to bring in players through free agency.
Many of these players were instrumental to the 49ers' championship seasons. The NFL instituted a salary cap in 1994 in large part to combat the aggressive DeBartolo and the 49ers.
Let's take a closer look at the top ten free agent acquisitions by the 49ers.
Honorable Mention: David Akers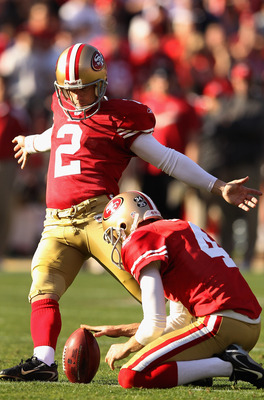 David Akers had a great season in 2011
Ezra Shaw/Getty Images
David Akers was an outstanding free agent acquisition by GM Trent Baalke, heading into the 2011 season. Akers was extremely reliable and actually set team and league records in his first year with the 49ers.
Akers converted 44 of 52 field goal attempts, both all-time NFL records. He also made all 34 of his extra point attempts. Akers' 166 total points was another NFL record.
The 49ers had trouble scoring touchdowns, especially in the red zone, so it was critical for the success of the team that Akers made his field goals. He was a key player in the 49ers' 13-3 season and return to the playoffs, their first appearance since 2002.
The 49ers' special teams also benefited from Akers' deep kickoffs. 47 of his 93 kickoffs resulted in touch-backs.
Akers made his sixth Pro Bowl and was a fist-team All-Pro for the second time in his career. If Akers had more than just this first season with the 49ers, I would have definitely moved him up on our list. Nevertheless, his outstanding contribution makes him worthy of the Honorable Mention.
10) Carlos Rogers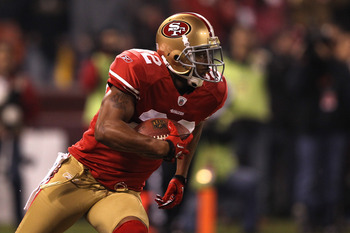 Carlos Rogers returns one of his six interceptions
Ezra Shaw/Getty Images
After six seasons with the Washington Redskins, Carlos Rogers had a career total of eight interceptions. He signed a one-year contract with the San Francisco 49ers prior to the 2011 season and has a career year.
Rogers was the top cornerback for the 49ers and was tied with Dashon Goldson for the team lead with six interceptions. The emergence of Rogers as a play maker helped to solidify the 49ers' defensive backfield.
Rogers made his first Pro Bowl in 2011. Because he signed just a one-year deal with the 49ers, Rogers is again a free agent. He wants to be paid on a par with the elite cornerbacks in the league. It remains to be seen whether the 49ers will come to an agreement with him.
9) Ray Brown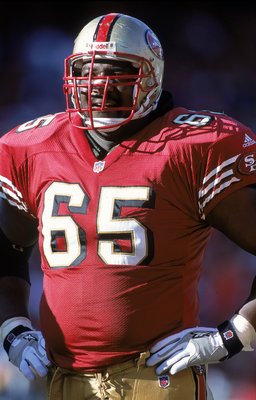 Ray Brown played and coached for the 49ers
Tom Hauck/Getty Images
Ray Brown joined the San Francisco 49ers at the age of 34. Many thought he was on the downside of his career, but Brown went on to play six stellar seasons for the 49ers.
Brown played left guard for the 49ers and his performance belied his age. He started 95 games for the 49ers and missed just one.
At 6'5" and 318 pounds, Brown was one of the biggest linemen in the game. He had amazing athleticism for a man his size. Brown was a strong blocker both in pass protection and in the running game.
Amazingly, Brown made his first and only Pro Bowl in 2001, at the age of 39. He left the 49ers following the 2001 season and played four more years in the NFL.
Brown also was the 49ers' assistant offensive line coach in 2010.
8) Rickey Jackson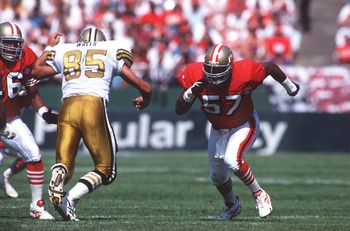 Rickey Jackson came to the 49ers from the Saints
Stephen Dunn/Getty Images
Rickey Jackson played with the New Orleans Saints for 13 years, from 1981-1993. Frustrated with the inability of the Saints to sustain any success, Jackson joined the 49ers as a free agent in 1994, with the hope that he could win a championship.
His dream came true as the 49ers won the Super Bowl following the 1994 season. Jackson was an integral member of the 49ers' championship defense.
Jackson, an outside linebacker and pass rusher, played two years with the 49ers. He was a solid contributor to the 49ers' defense and started 30 out of a possible 32 games. Jackson retired from professional football after the 1995 season.
7) Larry Allen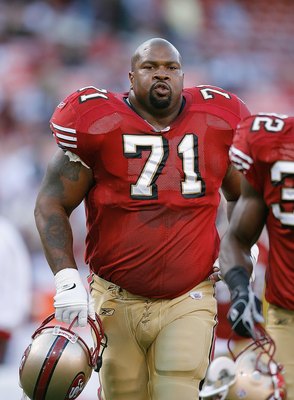 Larry Allen brought toughness to the 49ers
Greg Trott/Getty Images
Larry Allen played his entire 12 year career with the Dallas Cowboys, prior to joining the 49ers in 2006. He played two years with the 49ers and will be remembered for bringing a huge amount of toughness and physicality to the 49ers' offensive line.
A huge man at 6'3" and 325 pounds, Allen was known as one of the roughest, most physical offensive linemen in all of football. He loved to punish defenders with his powerful run blocking and had a mean, nasty streak that conveyed to everyone not to mess with him or his team.
In his first year with the 49ers, Allen was a Pro Bowl selection. This marked the 11th time he had received this honor. Allen retired after the playing for the 49ers in 2007.
6) Deion Sanders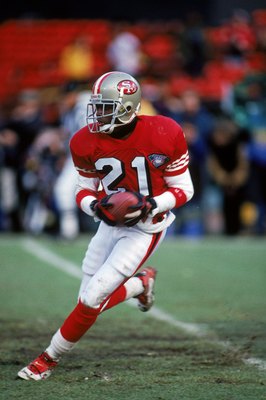 Deion Sanders played only one season in San Francisco
George Rose/Getty Images
Few athletes have come to town with the fanfare of Deion Sanders. He was a larger-than-life player who loved to talk as much as he played. He was known as "Neon Deion" or "Prime Time" and his boastful style was only accepted because he always backed it up with his superior play.
Sanders played for the 49ers in 1994 and was the epitome of a shut-down corner. He effectively shut down the opponents' top receiver and in essence closed off about a third of the field to an opposing offense.
Sanders led the league with 303 return yards and three touchdowns on his six interceptions. He was a Pro Bowl selection and first team All-Pro.
His one year in San Francisco was like an exploding super nova as he most certainly made his presence felt. Sanders had such an outstanding year he was named the AP Defensive Player of the Year. He also helped lead the 49ers to their fifth and last Super Bowl victory.
5) Tim McDonald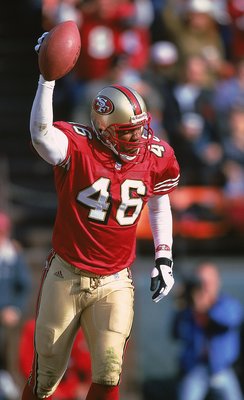 Tim McDonald played safety for the 49ers
Jed Jacobsohn/Getty Images
Tim McDonald signed with the 49ers as a free agent prior to the 1993 season. He spent seven stellar years with the 49ers as their strong safety.
McDonald accumulated 20 interceptions as a 49er. He was also a solid tackler and very good against the run. Where McDonald also excelled was as a leader. He was a highly respected professional and his leadership qualities helped to guide the 49ers' defense.
Durability was also an asset of McDonald. He started 111 out of a possible 112 games for the Niners.
McDonald was a member of the 49ers' 1994 Super Bowl championship team. He also was a three-time Pro Bowl selection, while with the 49ers.
4) Garrison Hearst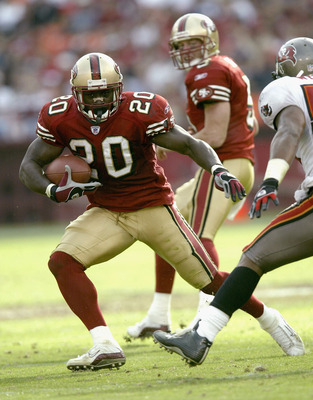 Garrison Hearst played five years in San Francisco
Stephen Dunn/Getty Images
Garrison Hearst joined the 49ers for the 1997 season and played five years in San Francisco as their feature back. He missed the 1999 and 2000 seasons due to injury, but returned in 2001 rushing for over 1,200 yards.
Hearst had three years of over 1,000 yards rushing. including a career high of 1,570 yards in 1998. Hearst also averaged 35 receptions in his five years playing for the 49ers.
Hearst was a Pro Bowl selection in 1998 and 2001. As a 49er, he was also named the Comeback Player of the Year in 2001. Hearst left the 49ers after the 2003 season and played one more injury plagued year in Denver.
3) Ken Norton Jr.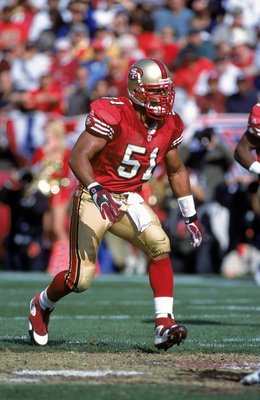 Ken Norton's dad was once the Heavyweight boxing champion
Tom Hauck/Getty Images
Ken Norton Jr. joined the San Francisco 49ers in 1994, after six seasons with the Dallas Cowboys. In Norton's first season with the 49ers, he helped anchor a defense that led the 49ers to their fifth Super Bowl title.
Norton was always one of the top tacklers on the 49ers' defense. He was a tough, hard nosed player who played an intense, rugged style.
Norton played seven years in San Francisco, ending his career as a 49er, in 2000. He represented the 49ers in the Pro Bowl in 1995 and 1997. He also earned first-team All-Pro honors in 1995.
2) Jeff Garcia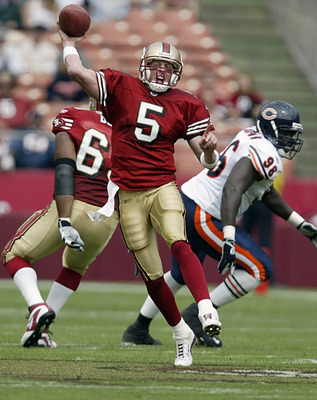 Jeff Garcia was an undrafted free agent who played in Canada
Jed Jacobsohn/Getty Images
Jeff Garcia played five years in the Canadian Football League before coming to the 49ers in 1999. He was a favorite of Bill Walsh, due to his passing accuracy, mobility and intelligence.
Garcia played five seasons with the 49ers. He completed 1,449 out of 2,360 pass attempts, a rate of 61.4%. Garcia also threw for 113 touchdowns, with 56 interceptions.
Mobility and his ability to keep plays alive was a major asset for Garcia. He rushed 318 times for 1,571 yards and 21 touchdowns, in his five years with the 49ers.
As a 49er, Garcia made the Pro Bowl three times, from 2000-2002. He followed Hall of Fame quarterbacks Joe Montana and Steve Young. Although he wasn't at the level of Montana and Young, Garcia was one of the best quarterbacks in the league for several years.
1) Justin Smith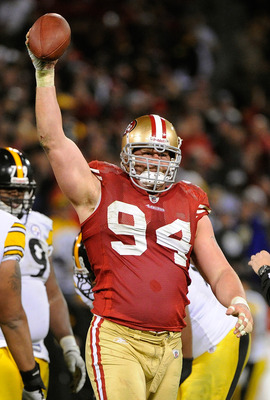 Justin Smith has been a warrior for the 49ers
Thearon W. Henderson/Getty Images
Justin Smith played the first seven years of his career with the Cincinnati Bengals. He signed with the 49ers as a free agent, prior to the 2008 season.
Smith is almost legendary for the effort he always puts forth on the field. He has a "motor" that never quits.
In his four years with the 49ers, Smith has started and played in every game. He can be best described as the heart and soul of the 49ers' defensive line.
Smith is a three time Pro Bowl selection and was a first-team All-Pro in 2011. He is my selection for the top 49ers' free agent based on his production, work ethic and leadership.
2012 Will Usher in a New Crop of Free Agents for the 49ers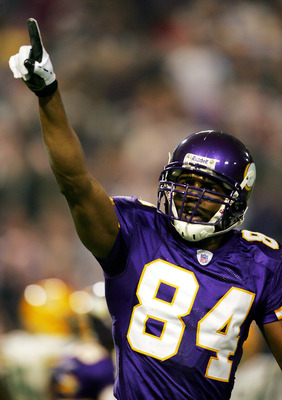 Randy Moss signed a one-year deal with the 49ers for 2012
Matthew Stockman/Getty Images
The San Francisco 49ers have had a mixed record when it comes to signing free agents. There have been some outstanding contributors to the team and there have also been some expensive busts.
Under the current personnel regime, led by GM Trent Baalke, the 49ers have tended to go after players with short term deals, who's salary levels tend to be in the the low to mid range.
The San Francisco 49ers just signed free agent Randy Moss to a one-year contract, in the hopes that he will help the 49ers' weak wide receiver corps. The hope is that Moss can give the 49ers a deep threat that opens up the 49ers' passing attack.
Free agency is one of the ways a team can bolster their roster and the 49ers are liable to make more moves in 2012. Let's hope they're good ones.
Keep Reading

San Francisco 49ers: Like this team?