NFL Free Agents 2012: Why Mario Williams Will Bring Talents to Chicago Bears
March 13, 2012

Bob Levey/Getty Images
After landing stud defensive end free agent Julius Peppers before the 2010 season, the Chicago Bears are looking to improve their defensive line yet again by going strong after Houston Texans' DE Mario Williams.
According to Comcast Sportsnets' John Mullin, the Bears are right now the front-runners to land the former No. 1 overall pick from the 2006 NFL Draft.
The Bears will go into the hours leading to the start of free agency considered around the league to be the favorite in the competition to sign defensive end Mario Williams away from the Houston Texans, CSNChicago.com has learned from a number of NFL sources.
If the Bears can land Williams, and put him on the opposite side of Peppers, the team would have one of the most athletic and dangerous defensive end combinations in the entire league.
NFL free agency won't get underway until 3 p.m. EST on March 13th. Once that clock strikes three, it looks as if the Bears will target their first big free-agent acquisition of the season.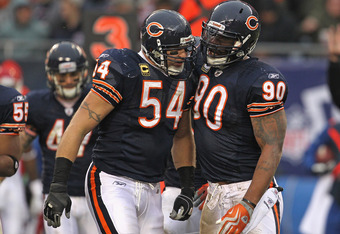 Jonathan Daniel/Getty Images
The Bears signed Peppers to a $91.5 million deal, which had $42 million guaranteed for the first three years. While Peppers has certainly been worth the price, Williams comes with his concerns.
This past season, he missed all but five games, as he only recorded 11 tackles.
Besides that though, Williams has been healthy for the rest of his career, including a 2007 season where he recorded 14 sacks and in 2008 where he racked up 12.
Williams would be wise to come to Chicago, as the team already has a strong defense in place, and he would be able to join the likes of Peppers, Brian Urlacher and Lance Briggs.
The four combined could certainly cause some major damage in the NFC North, where the Green Bay Packers and now Detroit Lions are starting to emerge as the front-runners.
The Bears still need to address their offensive needs, more importantly their offensive line and wide receiver situation, but by no means should they be hesitant about bolstering their defense.
Williams would be wise in choosing Chicago, just as Peppers did in 2010. The only difference this time around is that the ball will be in new general manager Phil Emery's court.
If he wants to make a big splash quick to prove that he is the real deal in Chicago, he will have to do so by landing arguably the second best player in the entire free-agent class.
Jeff Chase is a Featured Columnist for the Chicago Cubs and Arizona State football.
Follow @Real_Jeff_Chase