Georgetown vs. Belmont: Game Time, TV Schedule, Spread Info and Predictions
March 13, 2012

Streeter Lecka/Getty Images
The Georgetown Hoyas and the Belmont Bruins will meet in the second round of the NCAA tournament. Despite the seeding, this matchup promises to be a showdown.  
Belmont hails from the Atlantic Sun Conference and is its only representative. At 27-7, the Bruins got to the Dance by throttling the Florida Gulf Coast Eagles 83-69 for their conference title. 
The Hoyas fizzled out of the Big East tourney early, dropping to eventual runner-up Cincinnati. But their 23-8 record was good enough to snatch them an at-large bid and a coveted No. 3 seed.
Where: Columbus, Ohio at the Nationwide Arena
When: Friday, March 16 at 3:10 p.m. ET
Watch: TruTV
Listen: ESPN 980 will broadcast for Georgetown. Belmont's radio affiliate 104.5 "The Zone" will hook you up with audio for the Bruins. 
Betting Line: Georgetown -4.5 according to Wager Minds
Key Injuries
*All injury information via USA Today.
Hoya center Tyler Adams has been sidelined since December 10, 2011 over concerns about the health of his heart. He will miss this year's Tournament. Adams was averaging 2.5 points in 6 minutes a game this season. 
What's at Stake? 
Georgetown's reputation is at stake in this one. The Hoyas are becoming known as choke-artists.
Since making their fifth ever Final Four appearance in 2007, Georgetown has fallen to underdogs in three of three tournament appearances since.
2008 saw the Hoyas advance to the field of 32, but there they fell to Davidson in its magic Elite Eight run.
In 2010, the third-seeded Hoyas fell victim to the Ohio Bobcats, seeded at No. 14, in a rout.
Georgetown provided an encore to their 2010 showing last year, exiting the Tournament in embarrassing fashion, as the VCU Rams defeated them in a blowout.
Georgetown must win this one for pride's sake.
Belmont, on the other hand, has little to lose and everything to prove on Friday.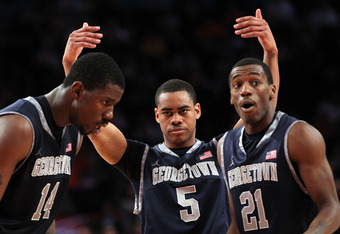 Michael Heiman/Getty Images
Earning their fifth-ever Tournament appearance this season, the Bruins have now punched a ticket to the Dance as many times as the Hoyas have gone to the Final Four.
But Belmont has never made it through the first round of the Tournament.
And while the Hoyas have undoubtedly forgotten, Belmont will remember well: it was Georgetown who extinguished their 2007 Tournament hopes—in a massacre.
The Selection Committee has given the Bruins a shot a redemption in this one.
What They're Saying
NBCSports.com's Rob Dauster discusses why Georgetown will dominate:
Georgetown is the best team in the country when it comes to defending the three-point line. Their perimeter defenders are long and athletic. They can play man-to-man or a 2-3 zone. When they have Jason Clark, Greg Whittington, Otto Porter and Hollis Thompson on the floor together, they become so difficult to score against because of how versatile those four on that end of the floor.

Belmont is not turning teams over as much as they have in the past, either, which means that the Bruins are not going to be able to take advantage of the fact that Georgetown lacks a pure point guard.
Seth Davis of CBS Sports picks Belmont as a silent underdog: 
I like Belmont as my sleeper team in this tournament. I think they beat Georgetown and San Diego State and go to the Sweet 16.
Most Important Player to Watch: Belmont guard Drew Hanlen
This 5'11" senior guard can absolutely bury the three pointer. Hanlen heads into the Tournament shooting over 50 percent from beyond the arc in his last ten games. 
He is shooting 48.1 percent from downtown this season.
Key Matchup: Belmont's three-point shooting vs. Georgetown's three-point D.
Georgetown's solid offense will put up points against Belmont's sub-par defense, but the matchup at the other end of the court is what will determine this one.
The Bruins score the fourth-most points of NCAA teams, putting away 81.5 points per game.
How? Belmont is among the NCAA's three-point aristocracy. Over a quarter of their points come off threes.
The Bruins light it up from behind the arc, shooting almost 38 percent to sink an average 8.8 three-point shots per game.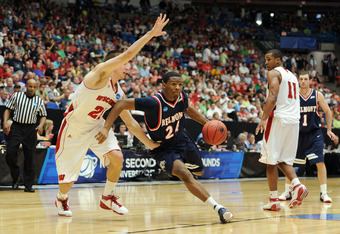 Harry How/Getty Images
But the Hoyas might just have what it takes to defend them. They've allowed just 59.2 points per game this year.
Georgetown is even more compelling in three-point territory, ranking first in the NCAA at defending that shot. They allow just 27 percent of opponents' downtown lobs to fall.
This game comes down to whether Georgetown's D can stave off a sharpshooting Bruins team behind the arc.
Prediction: Belmont 73, Georgetown 69
Belmont will be this year's bracket-buster.
Georgetown showcased its potential for upset this season in an embarrassing loss to Seton Hall.
Belmont, on the other hand, proved it could hang with the big guys, losing by just a point to Duke in its season opener. The Bruins are riding a 14-game win streak into the Dance.
Expect Georgetown's defense to come into this one sluggish and for the Bruins to take advantage.
The sleeping giant wakes up too late, and it's choke city for the Hoyas.
Bruins advance for the first time ever in a close one.
For your printable NCAA bracket, click here.