NCAA Bracket 2012: 3 Decisions You Will Immediately Regret at Opening Tip
March 13, 2012

Jonathan Daniel/Getty Images
Once the ball is tossed up in the air during the Western Kentucky and Mississippi Valley State game at 6:40 p.m. ET today, that is it. Your bracket is locked, unless you're playing without the first round, and there is nothing you can do but hope for the best, as the 2012 NCAA tournament is officially under way.
Only thing is, we quickly realize that we regret many of the decisions we made. It isn't our faults, as none of us own a crystal ball, but sometimes we realize that we did something that is just foolish.
The following decisions are ones that most fans will regret the minute the ball tips off.
1. You Picked Some Ridiculous Upset Like Davidson Over Louisville
Yep, it happens to the best of us. We want to be gutsy, and do something that nobody else would likely have. Sometimes it really pays off, but a lot of the time watching that game is some of the most intense minutes of your life—until your team falls behind by 14 after eight minutes and you feel ruined when it's just the second round! (I still call it the first).
In order to get the most correct picks...well, you have to take risks. The problem with those risks is they often will make this a very long tournament for many.
If they pay off, though, you will be one happy camper.
2. You Heard About VCU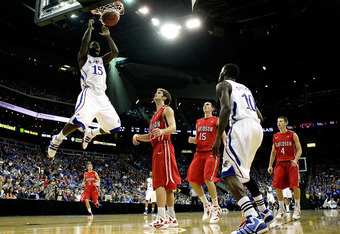 Jamie Squire/Getty Images
Oh, so you have the VCU Rams making it past not just Wichita State, but also the Indiana Hoosiers and and Kentucky Wildcats?
I mean, can't blame you. You want to be THAT guy (or girl) this year. That is a fair risk to take, but you can't rely on the past.
The Rams are a good team, so don't get me wrong, but once a Cinderella team doesn't always make you a Cinderella team.
If they can make another magical run, many people will be kissing their brackets. Until that happens, people will be questioning their decision for quite some time.
3. You Have Kentucky, Syracuse, North Carolina and Michigan State in your Final Four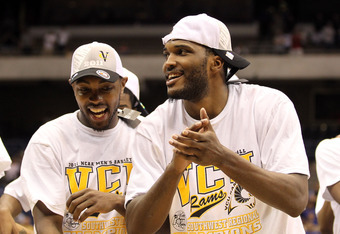 Ronald Martinez/Getty Images
If you weren't keeping count, those are all No. 1 seeds. While it is hard to go against the top seed in each region, let's be realistic.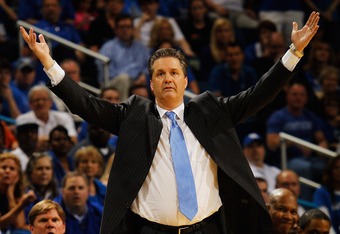 Chris Graythen/Getty Images
It doesn't happen all that often.
Actually it has only happened once, as the Tar Heels, Kansas Jayhawks, Memphis Tigers and UCLA Bruins all advanced to the Final Four during the 2008 tourney.
So yes, the odds are against you. Sure, it is a safe bet that you will get probably one or two of the Final Four teams correct, but there is no fun unless you take some sort of risk.
Jeff Chase is a Featured Columnist for the Chicago Cubs and Arizona State football.
Follow @Real_Jeff_Chase