San Diego State vs. NC State: Game Time, TV Schedule, Spread Info and Prediction
March 13, 2012

Kevin C. Cox/Getty Images
The San Diego State Aztecs and the NC State Wolfpack will square off in one of the most intriguing second-round matchups of the tournament.
San Diego State finished the regular season with a record of 26-7. They made it to the Mountain West Conference Tournament Championship before losing to New Mexico.
NC State ended up with a 22-12 record under new coach Mark Gottfried. The Wolfpack made a strong run in the ACC Tournament, before falling to rival North Carolina in the semifinals.
Where: Nationwide Arena in Columbus, Ohio
When: Friday, March 16th; 12:40 p.m. EST
Watch: truTV
Betting Line: NC State -2 according to Wager Minds
Key Injuries: Neither team has any reported injuries
Key Players To Watch
San Diego State: Guards Jamaal Franklin and Chase Tapley
The guard-oriented Aztecs are led by stalwarts Franklin and Tapley. Franklin, a 6'5" guard, leads the Aztecs with 17.2 points per game, while Tapley, at 6'3", is second with 15.7 points per contest.
North Carolina State: Forward C.J. Leslie and guard Lorenzo Brown
Ultra-athletic forward Leslie is averaging 14.6 points per contest to go along with 7.5 rebounds a game. The 6'5" Brown is averaging 12.7 points per game.
What To Watch For: San Diego State

San Diego State wants to attack the rim every single time down the floor. As a guard-oriented team, their game is predicated upon penetration and quickness.
The downfall with being a guard-oriented team is their overall lack of size. The Aztecs start four guards—measuring at 6'5", 6'3", 6'3", and 6'5".
In addition to Tapley and Franklin, guards Joe Rahon and Xavier Thames can cause problems. Rahon is a crafty, cerebral player who can knock down the perimeter shot. Defensively, he's a very solid player too.
Washington State transfer Thames is an athletic guard who thrives in transition. He'll often leak out on rebounds and look to be aggressive on the offensive end. The fifth starter is 6'7" forward Tim Shelton. Shelton is not an offensive threat, but rather is in the game to bang down low and rebound. 
Ethan Miller/Getty Images
For SDSU to win, Franklin needs to have a big game. He's the most talented player on the roster and needs to be aggressive from the get-go.
In addition, the team needs to connect on three-point shots. Although they have shot a lackluster 34 percent from downtown on the season, it will open up driving lanes if they can hit a few from beyond the arc.
Defensively, they have to keep Leslie and Richard Howell off of the glass. With NC State's immense size advantage, the Aztecs will rely on LSU transfer Garrett Green and forward Deshawn Stephens for help rebounding and defending in the paint.  
What To Watch For: NC State
The Wolfpack are an incredibly balanced basketball team. All five starters average double-figures on the season.
For NC State, it starts with Brown. He's got great size at 6'5", and is extremely coordinated with the ball.
Not only is he an above-average athlete, but he's very shifty and always seemingly gets to where he wants to go out on the floor. He's also leading the team with 6.4 assists per game.
Leslie is a stud in the post. As a player, he's still somewhat raw, but he's made a big leap this season and has only recently begun to realize his huge potential.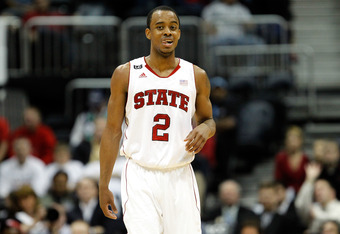 Streeter Lecka/Getty Images
The ACC Tournament was Leslie's coming out party. The forward averaged 17.3 points and 10.7 rebounds per game. His explosiveness around the rim makes him an absolute handful for any interior defender. He could be the most dynamic big man SDSU has faced all season.
Forward Scott Wood is the third-highest scorer on the team, averaging 12.5 points a game. He's the one guy on the perimeter that SDSU needs to be cognizant of at all times.
As the Wolfpack's resident sharpshooter, Wood is shooting a very respectable 41 percent from three-point range. He'll look to spot up on the wing and be the beneficiary of penetration from Brown.
Leslie's running mate in the post is forward Richard Howell. He is an absolute bull down low. At 6'8" 250 pounds, he carves space out down low and is a terror on the boards. He's averaging 10.9 points a game to go along with 9.3 boards.
The fifth starter is C.J. Williams. The 6'5" guard/forward averages 10.6 points per game and is a great glue guy for Gottfried.
Prediction: NC State 65 San Diego State 61

A big question for SDSU coach Steve Fisher will be whether he opts for a more traditional lineup as opposed to the unorthodox four-guard set. If so, look for Green and Stephens to play bigger roles than they're accustomed to.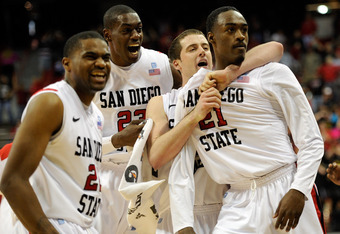 Ethan Miller/Getty Images
Without question, the battle of the boards is a key facet in this game. If the Wolfpack can dominate the glass, they'll impose their will against the undersized Aztecs.
Conversely, if San Diego State can hit some shots from three-point land, it will open the floor up for the best strength of the team—slashing to the hoop. If Rahon can be effective from deep, Franklin and Tapley become that much more dangerous.
Defensively, NC State has to curb the driving efforts of both Tapley and Franklin. Franklin is a strong, physical guard who can pose big-time problems. Also, Tapley is a quicker threat who can dually stroke it from three-point range.
SDSU is a very solid defensive team, allowing only 63.2 points per game. They'll have to clog the paint and force NC State to shoot from the perimeter in order to have success. Without the requisite size, they'll have to utilize their athleticism and quickness.
Ultimately, the size of Howell and Leslie will be too much for SDSU to handle. Franklin and Tapley will keep it close, but the Wolfpack will be moving on to the second round.