Lakers Rumors: Why Stubborn Lake Show Must Overpay for Rajon Rondo
March 13, 2012

Elsa/Getty Images
The one main problem with the Los Angeles Lakers' front office is that they want their cake, but to eat it too. There is just no way that they are going to land a major component without giving up anything big in return, especially if the team is serious about trading for Boston Celtics point guard Rajon Rondo.
According to the Los Angeles Times' Mike Bresnhan, the Lakers are unwilling to part with big man Pau Gasol in order to bring Rondo to Los Angeles.
The teams talked last week about a trade for Celtics guard Rajon Rondo, though nothing was close to accomplished and discussions dried up.

The Lakers are unwilling to trade Pau Gasol for Rondo, making a deal with Boston unlikely before the trade deadline Thursday.
Considering the Lakers have been seeming desperate to move Gasol all season long, it is quite odd that they think they can keep Gasol while adding a player like Rondo.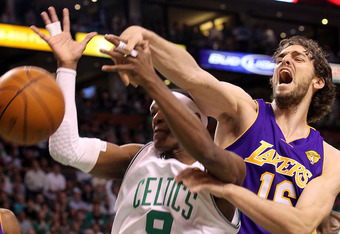 Ronald Martinez/Getty Images
The Lakers don't exactly have a ton of assets to give up, and everyone knows they won't be giving up center Andrew Bynum in such a deal.
Would the Lakers be overpaying for Rondo with Gasol? Perhaps a little, but the team really has nothing else to offer to make this deal work besides draft picks, but the Lakers won't be finishing anywhere that will make such picks appealing to the Celtics.
According to the source, a person familiar with the situation said, "Unless they give up Gasol, they're not going to get a top-level point guard."
That sounds just about right, as nobody can imagine a team departing with a talent like Rondo without receiving some sort of talent in return.
If the Lakers are willing to part with Gasol to get a piece that they want, then this is the deal to make. Otherwise, the team needs to decide where they draw the line, as for now they just seem to be constantly flip-flopping on what they want to do.
The Lakers are never going to score a deal like they did with Gasol, where they pretty much got him for nothing. Until they realize this, they won't be landing anyone without giving up someone.
Jeff Chase is a Featured Columnist for the Chicago Cubs and Arizona State football.
Follow @Real_Jeff_Chase