49ers Rumors: Randy Moss and Mike Wallace Could Both End Up in San Francisco
March 12, 2012

Jared Wickerham/Getty Images
There is no reason why Randy Moss and Mike Wallace can't both end up wearing Crimson and Gold for the San Francisco 49ers in 2012.
Moss is visiting with the 49ers at team headquarters after working out for approximately 15 minutes with Jim Harbaugh.
At the same time, Joshua Morgan was visiting to find out what kind of offer the team might have for him before he hits the open market (he is likely to be one of the hotter commodities once free agency starts).
Randy Moss still visiting 49ers facility after 3 hrs. I'm still here too. Ive seen Aldon Smith, Anthony Davis, Ray McDonald, Anthony Dixon
— Cam Inman (@CamInman) March 12, 2012
It's an exciting time of year for teams and fans, and with the 49ers sitting pretty with around $20 million left on their cap it's not out of the question to wonder if they might be able to land both Moss and Wallace.
If we consider for a moment that the team might end up re-signing Adam Snyder, we can probably rule out the pipe dream of landing Carl Nicks, who will end up being one of the highest-prized free agents in this year's class.
Besides, Daniel Kilgore could be an up-and-comer this year. He played well in preseason last year and I have high hopes that he will be a good player for the 49ers for years to come.
Carlos Rogers will likely test the open market and with teams like the Detroit Lions and Dallas Cowboys desperately looking to get better at the cornerback position, I'm betting he won't be back with the 49ers in 2012.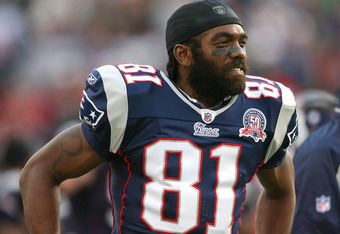 Jim Rogash/Getty Images
The 49ers could make a run at either Cortland Finnegan or Brandon Carr as a younger replacement for Rogers, and I wouldn't complain about it.
The 49ers could just as easily lay down a fat wad of cash to vastly improve their offense by acquiring both Moss and Wallace.
It sure doesn't hurt that they now have an extra $1.6 million in cap space after the latest news out of the NFL league offices: the Dallas Cowboys and Washington Redskins are getting punished for front-loading contracts in 2010, an uncapped season.
Alex Smith may not be Peyton Manning or even Matthew Stafford, but given the kind of weapons we're talking about here there is no reason to believe the 49ers wouldn't be one of the most explosive offensive teams in the NFL with a lineup that included Moss, Wallace, Vernon Davis and Michael Crabtree.
If ever there was a time to make this kind of a bold statement to the rest of the NFL this is the time. The 49ers have the room to make it happen.
They should make it happen.