MLB Power Rankings: Is Red Sox Nation Still Baseball's Most Insane Fanbase?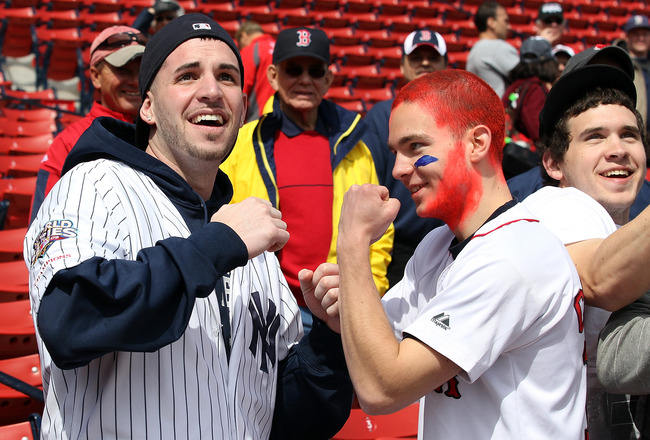 Jim Rogash/Getty Images
Baseball fans are a bit crazy at times and some teams' fanbases take pride in the fact that others happen to think that they are insane.
Dedicated fans are easy to find for almost every team in baseball and there are fans that show up in costumes to games. Walk into certain stadiums and you know that the home fans will be making noise the whole game.
The Boston Red Sox fans have been considered to be one of the crazier fanbases in the game of baseball, but they have been challenged for the top spot. See if the Red Sox fans were able to hold on to that position or if another team has overtaken them.
30. Houston Astros
This video comes to mind when thinking about Houston Astros fans. Obviously all of the team's fans are not like this, but it is hard to ignore when a dude jumps out of the way of a foul ball when it is headed directly towards his girlfriend.
As for the rest of the Astros' fanbase, they are not too crazy. Keep in mind that this can be a good thing, but the long season this year might drive them a little bit nuts.
29. Oakland Athletics
Kevork Djansezian/Getty Images
Oakland Athletics fans are not known for being too insane. This is a bit disappointing as one would assume that many of their fans also are fans of the Oakland Raiders.
Clearly the city's insane passion for football does not carry over to the local baseball franchise.
28. Tampa Bay Rays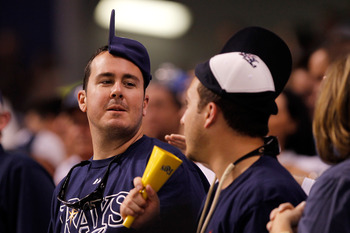 Mike Ehrmann/Getty Images
Tampa Bay Rays fans are generally a very calm bunch who do not do much to draw attention to themselves.
Part of the reason for that could be that even with all of the success that the team has had in recent years, the Rays still have trouble getting fans out to the ballpark.
27. Toronto Blue Jays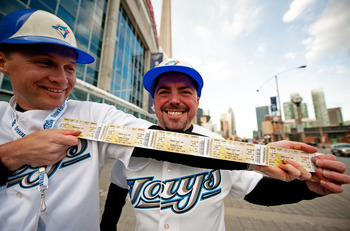 Dave Sandford/Getty Images
Toronto has always been a hockey city and it does not seem like that will change any time soon. The Toronto Maple Leafs have fans that are much more dedicated and crazy than the Toronto Blue Jays.
If the Jays start showing that they can compete with the New York Yankees and the Boston Red Sox then maybe the fans will get a little bit rowdier.
26. San Diego Padres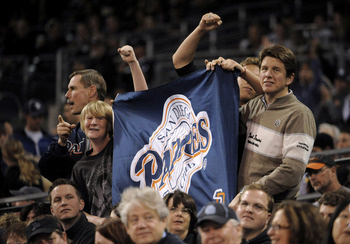 Denis Poroy/Getty Images
Yet another team with a relatively tame fanbase is the San Diego Padres. Things are just way more chill in San Diego.
The fans come out and enjoy the games at Petco Park, but they do not really get to crazy or insane as the action is going on.
25. Miami Marlins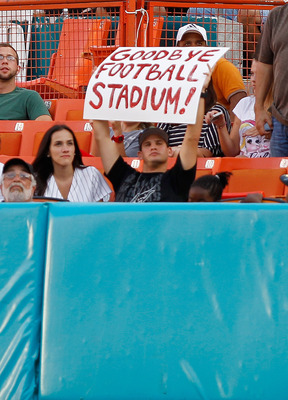 Mike Ehrmann/Getty Images
Even with the beautiful Miami weather, the Marlins had a tough time being the biggest draw in Miami during the summer.
The franchise is hoping that the move to their new stadium will have more fans show up and will cause them to become more vocal during Marlins games.
24. Pittsburgh Pirates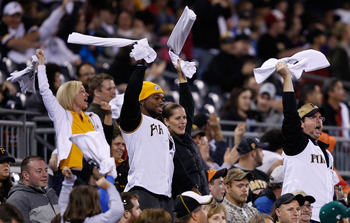 Jared Wickerham/Getty Images
After all of the losing seasons that the Pittsburgh Pirates have had in recent years, it would not be crazy to think that Pirates fans are a bit insane.
The fans of this storied franchise scheduled a walkout in 2007, but not many participated. This is about as crazy as Pirates fans get.
23. Washington Nationals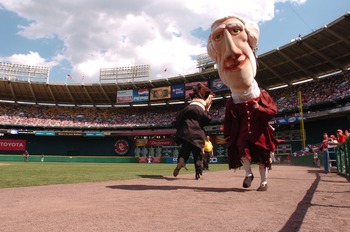 Lawrence French/Getty Images
The Washington Nationals had to build up a new fanbase after the team moved from Montreal and they have done a fairly decent job.
Nationals fans do occasionally get more excited for the presidents race then the games (can you really blame them for that?), but they are a growing fanbase that brings some energy to the park.
22. Kansas City Royals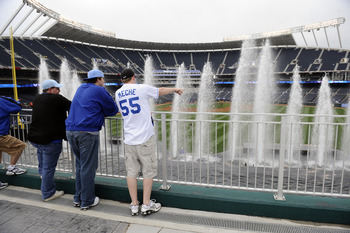 G. Newman Lowrance/Getty Images
Despite the struggles that the Kansas City Royals have had over the past few seasons, their fans are still dedicated.
With a young group of players at the major league level, there is hope in Kansas City and it can certainly be seen on the fans' faces.
21. Arizona Diamondbacks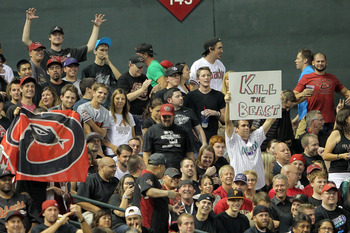 Doug Pensinger/Getty Images
Things get hot in the desert and as the temperature rises, the fans of the Arizona Diamondbacks occasionally get a bit rowdy.
These fans generally stay in line, but there have been times when they have been known to berate fans of opposing teams.
20. Texas Rangers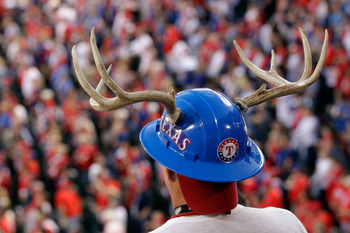 Rob Carr/Getty Images
The Texas Rangers have gotten more and more fans after they have made back-to-back trips to the World Series.
Dedicated Rangers fans have gained a bit of an attitude as a result of their team's success. This is not a bad thing, but it shows the passion that they have for their team.
19. Colorado Rockies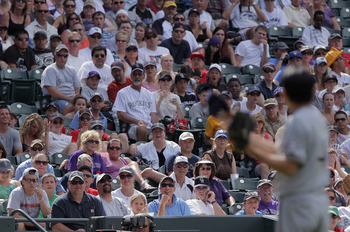 Doug Pensinger/Getty Images
Colorado has a fairly dedicated fanbase and the fans are not afraid to speak out about players on their team.
Some people have considered Rockies fans to be a bunch of punks based on their actions in the past.
18. Seattle Mariners
Otto Greule Jr/Getty Images
The Mariners fan base has been known to be a bit quirky at times, but that is a good thing.
Their fans are very dedicated to the franchise but they do not go over the top.
17. Minnesota Twins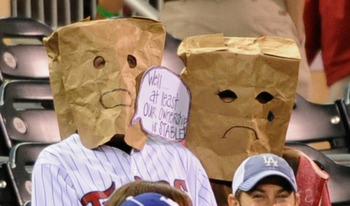 Hannah Foslien/Getty Images
Minnesota Twins fans are very dedicated to their team. They are big supporters of the franchise and the Twins are a big draw in the summer.
A number of fans still show up when the weather begins to get cold in September and it shows just how much these fans love their team.
16. Detroit Tigers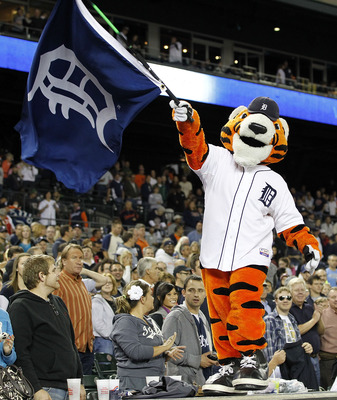 Leon Halip/Getty Images
There will be a lot for Detroit Tigers fans to cheer about this season after the team's acquisition of Prince Fielder.
Since the Tigers have a number of rivalries, it is no surprise that the team's fanbase is very dedicated and they go all out during games.
15. Los Angeles Angels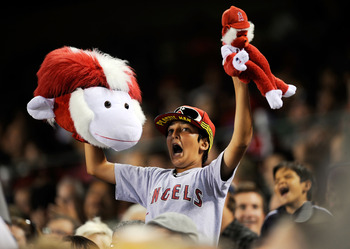 Kevork Djansezian/Getty Images
Even though there are two teams within a small area surrounding Los Angeles, each team has a number of insane and dedicated fans.
The Rally Monkey has become popular with fans and many have brought stuffed Rally Monkeys to the game with them.
14. Baltimore Orioles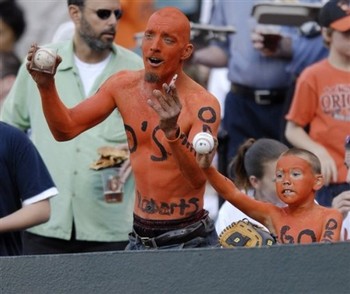 Photo Credit: Centerfield Gate
While the Baltimore Orioles have struggled for much of recent memory, that has not stopped a number of dedicated Orioles fans from showing up at games.
There is a small group of fans that could certainly be a little bit more insane than the general fanbase.
13. Cleveland Indians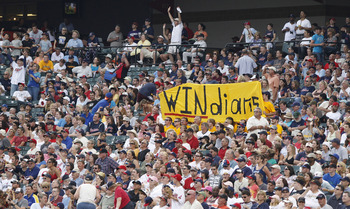 David Maxwell/Getty Images
An incredibly dedicated group of fans come to Progressive Field to root on the Cleveland Indians. The Indians are one of the oldest teams in baseball and the team has a lot of tradition.
Fans are very dedicated to the franchise and many are willing to go over the top to show their devotion to their team.
12. Cincinnati Reds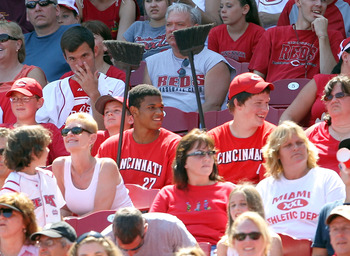 Andy Lyons/Getty Images
The Cincinnati Reds are the only team that are guaranteed to have an Opening Day game at home every single year.
In preparation for the game, the entire city slows almost to a stop. That is certainly a great example of dedication to a team from the fans.
11. Milwaukee Brewers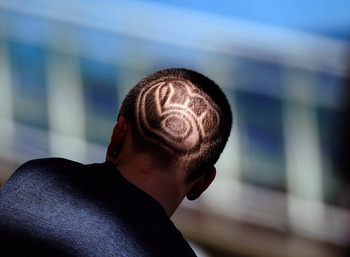 Kevork Djansezian/Getty Images
The Brew Crew have some of the most dedicated fans in baseball. Milwaukee Brewers fans are known for being lots of fun at games.
Fans of the team have a strong hatred for the Chicago Cubs and the St. Louis Cardinals and they are certainly not afraid to voice their opinions.
10. Atlanta Braves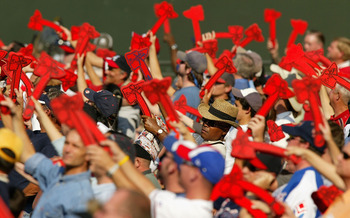 Streeter Lecka/Getty Images
Almost every single baseball fan knows about Atlanta Braves fans and their use of the Tomahawk Chop.
Braves fans are a group that can go a bit over the top when it comes to supporting their team, but there is nothing wrong with that.
9. New York Mets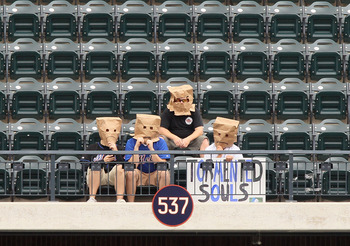 Jim McIsaac/Getty Images
New York Mets fans are an incredibly resilient bunch and they have been through a lot lately.
They not only boo opposing players, but they also have been known to boo their own players. Two of their more famous fans are Cow-bell Man and Pin Man.
8. Chicago White Sox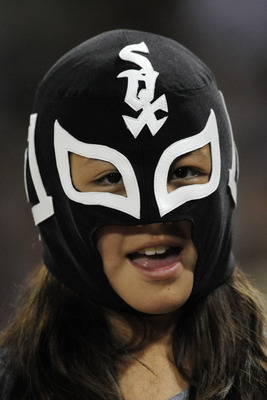 David Banks/Getty Images
In the past, there have been incidents with Chicago White Sox fans that have given them a bad reputation. Two fans attacked Royals first base coach Tom Gamboa in 2002.
There have not been any ugly incidents like this since, but White Sox fans have improved their reputation since then, but they are still a bit insane.
7. St. Louis Cardinals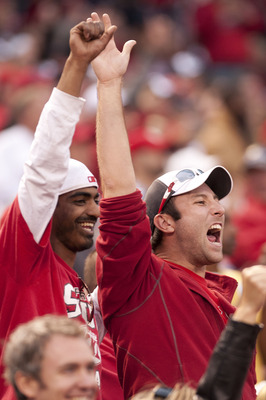 Ed Szczepanski/Getty Images
The scenes from downtown St. Louis after the Cardinals won the World Series this past year were incredible to see.
St. Louis fans certainly know how to celebrate and they absolutely love their team.
6. San Francisco Giants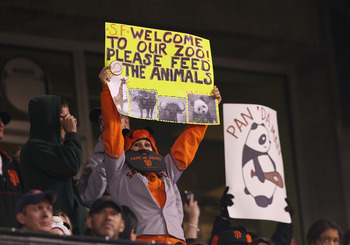 Tony Medina/Getty Images
As Brian Wilson became more and more popular and successful in San Francisco, Giants fans have become a little bit more insane.
It seems as if Wilson has been rubbing off on them. Giants fans also have a big obsession with Pablo Sandoval.
5. Los Angeles Dodgers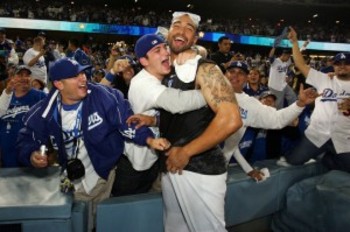 Photo Credit: Free Andy LaRoche
Los Angeles Dodgers fans have gone a bit over the edge in recent years. Dodger Stadium is generally a nice place to visit, but only if you are a Dodgers fan.
Fans have gotten fairly rowdy on a number of occasion and they have caused some problems.
4. New York Yankees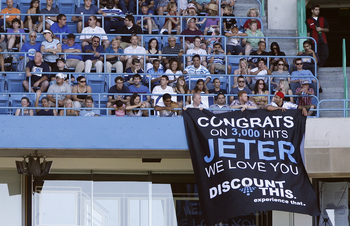 Abelimages/Getty Images
There are tens of millions of New York Yankees fans around the world and they are all incredibly passionate about their team.
For those that have ever gotten into an argument with a Yankees fan, it is clear how passionate Yankees fans are about their team.
3. Chicago Cubs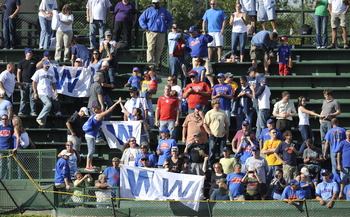 David Banks/Getty Images
Love them or hate them, you have to respect Chicago Cubs fans. They have stayed incredibly dedicated to their team despite the fact that they have become lovable losers.
Albert Einstein said, "insanity is doing the same thing over and over again and expecting different results." That is exactly what Cubs fans have done.
2. Boston Red Sox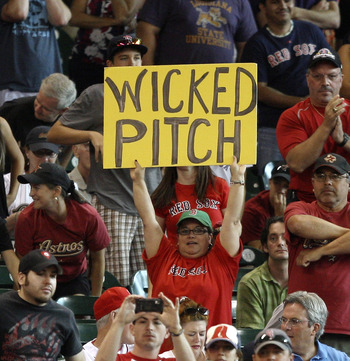 Bob Levey/Getty Images
There was a time when Boston Red Sox fans were the most insane fans in the game of baseball. However, times have changed.
Red Sox fans are still insane and incredibly dedicated, but they have been taken over by fans of another franchise as the most insane fans in baseball.
1. Philadelphia Phillies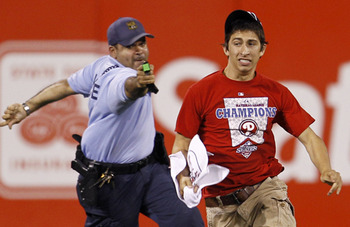 Photo Credit: NY Daily News
There are no fans in baseball that are more insane than Philadelphia Phillies fans. They have been involved in a number of incidents in recent years.
In one disgusting incident, a Phillies fan threw up on a child. More incidents have occurred in the past few seasons.
Keep Reading