March Madness 2012: Teams Ready to Bust Your Bracket
March 13, 2012

Jamie Squire/Getty Images
Nothing is more aggravating than seeing a top team lose to an underdog in the NCAA tournament, which in turn will totally bust your bracket.
Nobody can ever tell who will be the team that will destroy everyone's hopes and dreams in making a winning bracket, but there are always a few teams that send caution flags our way.
The following teams should have their regions on watch, as they will be looking to be on upset alert in this year's Big Dance.
East Region: No. 7 Gonzaga Bulldogs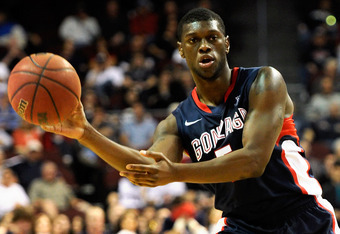 Ethan Miller/Getty Images
After going 25-6 this past season, the Bulldogs are still vastly underrated as they enter the tournament as a No. 7 seed. In the first round, they are are going to be pitted against the West Virginia Mountaineers, who are coming out of the strong Big East.
The Zags dropped some games that many thought they should have won, including early matchups with Illinois and Michigan State. They also lost to BYU on February 2, as well as SMC twice. The last time was in the WCC conference tournament, as they fell in overtime 78-74.
If the Bulldogs can get past the Mountaineers in the early goings, they will potentially have a big task on hand in taking down the No. 2 Ohio State Buckeyes.
They do have some stiff competition throughout the rest of the bracket, but they should be able to give teams like Florida State Seminoles or Texas Longhorns a run for their money.
The Syracuse Orange are definitely the team to beat, but even if the Bulldogs can get past one or two of those teams, they can certainly send people's brackets for a spin.
West Region: No. 6 Murray State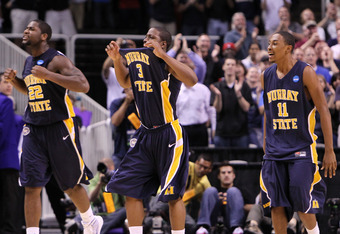 Jed Jacobsohn/Getty Images
A dangerous team to run into during this tournament is Murray State. The Racers, led by guard Isaiah Canaan, can most definitely throw off any team they are put up against.
In the Second Round, they will be playing the Colorado State Rams, a team which should be easy to get past. It is the third round that will be the major upset point for the Racers, as they will likely be playing the Marquette Golden Eagles.
If they can take down the No. 3 seed in the tourney, the Racers could just be this year's shocker in the early goings.
Canaan will be tested, but after averaging nearly 20 points a game this season, he just may be ready to put teams on upset watch.
South Region: No. 12 VCU Rams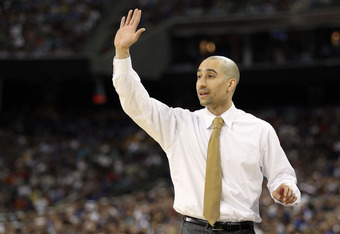 Andy Lyons/Getty Images
Ah yes, last year's Cinderella team is back, and they are ready to put the tourney on its back once again. This year, ranked No. 12 in their region, the Rams are have a large task on their hands.
While many will be confident that they can get past Wichita State in the Second Round, the concerns start to pile in when it comes to the Indiana Hoosiers in the third round.
The Hoosiers have been a strong team all season long, but this is pretty much the same squad that made a run just a season ago. If they can find that magic yet again, who knows how far they can take it.
Their main task would be in taking down the Kentucky Wildcats in a potential Sweet 16 meet up, which would echo their game against the Kansas Jayhawks in last year's Elite Eight.
If they can once again upset a No. 1 seed, coach Shaka Smart could have the Rams returning to the Final Four.
Midwest Region: No. 11 NC State
Streeter Lecka/Getty Images
The Wolfpack have quite a region to get through, but it won't be impossible. They have a tough second round game against the San Diego State Aztecs, but after how well the team played against the UNC Tar Heels in the ACC tourney, they look like a team that can surprise.
Their half of the Midwest region isn't easy though, as they potentially have the Georgetown Hoyas in the third round, and the Kansas Jayhawks in the Sweet 16.
Not to bash on the Jayhawks, but they have proven time and time again that they can struggle to finish a tournament. This is different team and a different year, but their recent loss to the Baylor Bears in the Big 12 tourney have some skeptical of their ability to keep winning here.
If the Wolfpack can upset all those teams and potentially reach an Elite Eight matchup with the Tar Heels, they could have a legitimate chance to throw UNC off the map.
While that remains a long shot—plus, we have to see how Tar Heels forward John Henson is doing as the tournament gets underway—the Wolfpack could possibly add another fairytale story to their school's history.