NFL Draft 2012: 5 Prospects Guaranteed to Be Selected in the First Round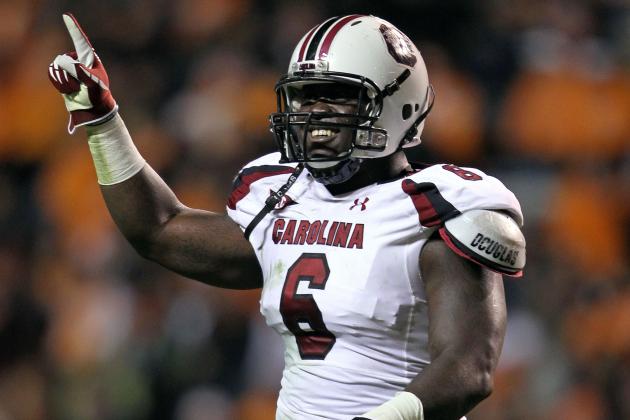 Andy Lyons/Getty Images

We have all heard the hype surrounding top-notch NFL Draft prospects such as Andrew Luck, Robert Griffin III and Justin Blackmon. All three are expected to be top-five selections in this April's draft, and all
five will cash in with huge NFL paychecks in the upcoming months.

But what about those borderline first-second round guys that Mel Kiper Jr., Todd McShay and the other NFL draft experts have all over their boards?

So much of the draft has to do with filling positions of need, and because of that, players can see their names rise and fall at a rapid pace during draft day. But everyone has their opinion, and make no doubt about it, I have my own when it comes to the draft.

Here are five borderline first-round prospects who are guaranteed to be selected in the opening round of this April's draft.
Begin Slideshow

»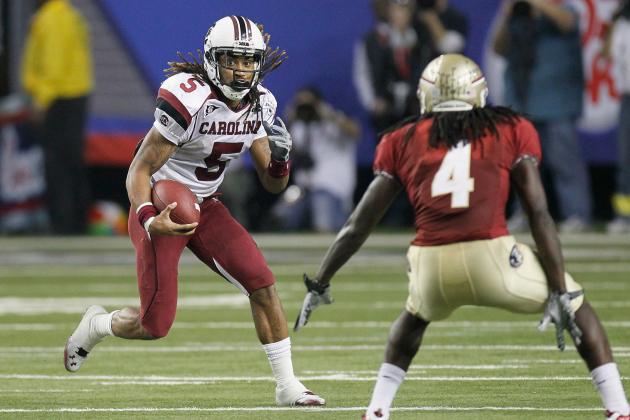 Kevin C. Cox/Getty Images

Stephon Gilmore is a guy who has seen his name thrown all around mock drafts over the past couple of weeks. There are some that believe he will be a top-15 pick, and others that believe he could fall somewhere in the middle of the second round.

Personally, I think this guy is a lock to be a first-round selection.

There are three things that every cornerback making the jump from college to the NFL should possess:

1. Elite Speed/Athleticism
2. Experience
3. Knowledge of the game

Gilmore possesses all three of those traits, which is why I believe there is a team in the middle of that first round, possibly Detroit, Cincinnati or New England, that would jump at the opportunity of
having a guy like this on their roster.

Gilmore ran a 4.4 40-yard dash at the combine, which answered any questions anyone had about his speed. He has been a starter for SEC powerhouse South Carolina since the second he arrived on campus his freshman season. And most importantly, he is a smart player. Not only does Gilmore understand zone concepts and the little details that come with playing the cornerback position in the NFL, but he is also a level-headed kid.

LSU's Morris Claiborne is hands-down the top cornerback in the draft, but after that, Gilmore is competing with Janoris Jenkins and Dre Kirkpatrick for that No. 2 spot, two guys who don't exactly have the cleanest track record off the field. Teams will certainly take that into consideration when deciding who their cornerback of the future will be.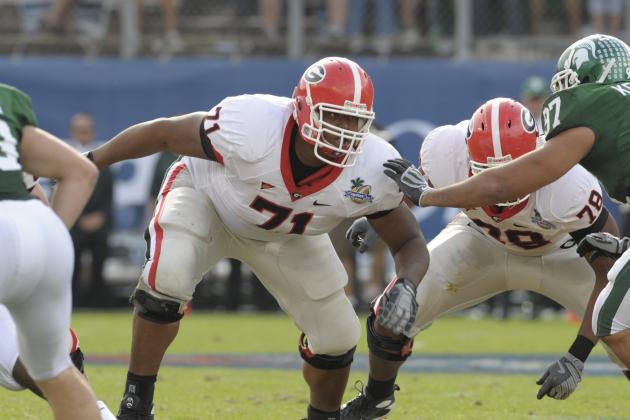 Al Messerschmidt/Getty Images

Cordy Glenn has been a borderline first-round draft selection throughout the mock draft process, but my question is, who wouldn't want a great sized offensive linemen who can play both the guard and tackle position? Not to mention he did it while playing against the top competition in college football in the SEC.

Standing at 6'5", 345 pounds, Glenn already has an NFL ready body for his position. The question about him, though, was always, is he too slow to be effective at the next level?

Well, Glenn had a solid showing at this year's NFL combine, being timed at 5.1 in the 40-yard dash, which is good for his size, as well as impressing in the cone and shuttle drills.

But what makes Glenn so valuable is his experience and versatility. Glenn was a starter since the second he put on a Georgia Bulldogs uniform. He played primarily guard early on in his college career before being moved to tackle after several injuries hit the Bulldogs' offensive line. He is a powerful run-blocker who has shown steady improvement with his pass-blocking skills as well.

Any team selecting in the middle-to-late first round who needs help on the offensive line would be silly not to look at selecting Cordy Glenn.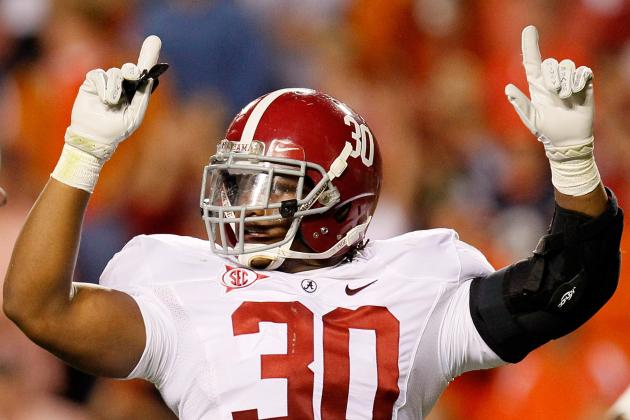 Kevin C. Cox/Getty Images

Hightower was one of the best linebackers in the country two seasons ago when Alabama won that memorable BCS National Championship game over Texas.

Now, two years later, it blows my mind that several mock drafts have this guy going in the later end of the first round.

Hightower has everything a team could possibly want in a linebacker. Has has great size, standing at 6'2", 265 pounds. He has great versatility, with experience and ability to play both outside and inside linebacker positions.
And most importantly, he has a natural knack for making plays, posting 85 tackles, 11 of which were for a loss, four sacks and an interception this past season.

I would be shocked to see Hightower slip past the Eagles and Jets with those Nos. 15 and 16 selections in the first round.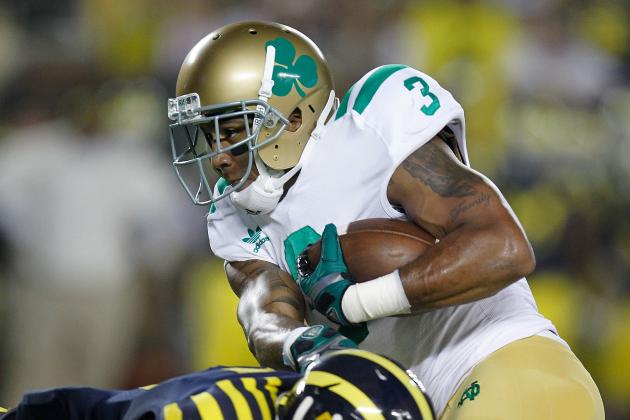 Gregory Shamus/Getty Images

With Justin Blackmon having cemented his name in as being the top wide receiver in this year's NFL draft, it has been an ongoing debate as to who the No. 2 receiver is?

We have heard names like Kendal Wright of Baylor, Rueben Randle of LSU and Alshon Jeffery of South Carolina.

But now, just a month away from the draft, it looks like Notre Dame WR Michael Floyd should be the clear-cut answer to that question.

Floyd had a tremendous combine showing, running the 40-yard dash in 4.47 seconds, which was among the top-15 performers at his position. His speed was the only true question that scouts had about Floyd, and now that has been answered without any doubts remaining.

What stands out most about Floyd is his exceptional size, 6'3", 220 pounds, and his body of work at the college level.

Floyd was an exceptional receiver for the Irish over the past four seasons. In each season at Notre Dame, Floyd caught at least 44 passes for 700-plus yards, including his outstanding senior campaign, which resulted in 100 catches for 1,147 yards and nine touchdowns.

Don't be surprised to see a team like Chicago or Cleveland jump at taking Floyd in the mid-to-late first-round range.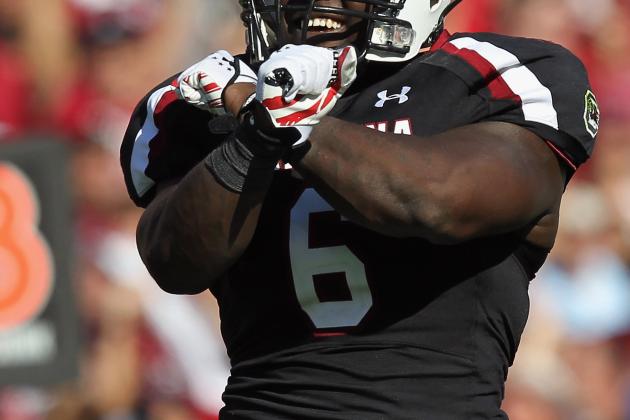 Streeter Lecka/Getty Images

Melvin Ingram is a guy who also has seen his stock rise and fall throughout the NFL draft process, but after a great showing at the combine, it should be fair to say that this former South Carolina defensive end standout is a lock to be a first-round selection.

The knock on Ingram has always been his size, standing at 6"1, 260 pounds, with noticeably short arms for his position. But when you can run a sub 4.8 40-yard dash and get after the quarterback like Ingram
does, that should become a non-factor.

One of the main aspects that scouts have come to love about Ingram is his versatility. He was recruited by South Carolina as an inside linebacker, but finally settled in at the defensive end position. The beauty here is that Ingram can play defensive end in a 4-3 scheme, or possibly move to outside linebacker in a 3-4 scheme, both of which he would succeed in because of his speed and strength combination. He is extremely quick off the snap and is the type of player who simply has a knack for finding the ball and making impact plays.

Right now, I would tag Ingram as being selected somewhere in the 15-25 range, but don't be surprised if his stock continues to rise as the draft approaches and he winds up being a surprise top-15 selection in this April's draft.