NCAA Bracket 2012 Predictions: 8 Teams That Will Likely Stumble Early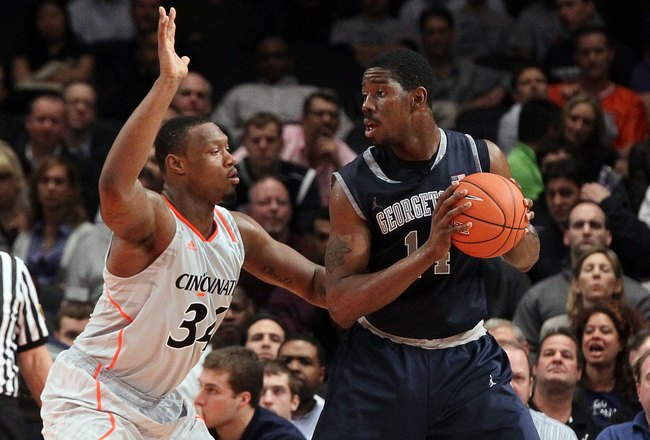 Jim McIsaac/Getty Images
Obviously if you're choosing teams in a bracket, you cannot afford to pick a Final Four team who loses in the first round. Even a loss in the round of 32 would be pretty destructive to your bracket. Most people are good at picking the teams that get to the Final Four.
But not many people have learned the art of predicting the upsets. There are two ways to do it: A) pick the lower-seeded teams who proved throughout the year to be underrated and/or B) pick against higher seeds that are clearly overrated.
If you're able to combine the two, you almost assuredly have an upset in the making. Here are eight teams that could easily stumble in one of the first two rounds.
For a printable 2012 NCAA tournament bracket, click here.
No. 3 Georgetown Hoyas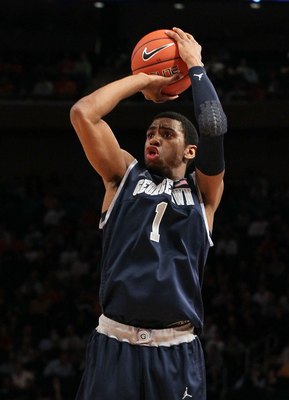 Jim McIsaac/Getty Images
Despite Ken Pomeroy's rankings proclaiming Georgetown the 12th-best team in the country, I watch Georgetown and wonder how they could possibly win a tournament game. Then you realize they're playing a Belmont team Pomeroy has ranked 23rd and an upset becomes more than possible.
Additionally, the Hoyas have mostly struggled in the tournament under John Thompson III. Only with the ultra-talented Jeff Green leading the way did the Hoyas get to the Final Four in 2007.
Other than Kansas, no team has been more apt to lose early in the tournament than Georgetown. With Belmont coming in nearly their equal, Georgetown figures to be a victim once again.
No. 4 Indiana Hoosiers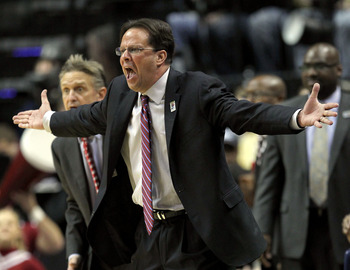 Andy Lyons/Getty Images
With Verdell Jones III lost to a torn ACL in the Big Ten tournament, Pomeroy's No. 11 team lost its leader and most influential player.
It was a Hoosiers team likely to struggle even with him, but without Jones the Hoosiers will be relying on a freshman to win NCAA tournament games. Few freshman have carried that cross successfully. Carmelo Anthony is the last to take a team to a championship, but even he had tremendous veteran leadership around him.
But even winning a tournament game as a freshman by himself is something few, if any freshmen, have accomplished. No offense, but I don't see Cody Zeller being the exception to that rule.
No. 3 Baylor Bears
Jamie Squire/Getty Images
Of the three teams I've listed so far, Baylor is actually the lowest in Pomeroy's rankings. I'm starting to feel more comfortable calling these things. Just as important, if not more: South Dakota State is a very underrated team that will at least make Baylor work very hard for a first-round win.
Even if the Jackrabbits are unable to knock the Bears out, look for the winner of the UNLV-Colorado game to do the trick. Both are physical teams who match up very well with Baylor.
Earlier this year I thought Baylor was a Final Four team. That was until the Bears were exposed by the best of the Big 12. Any of their possible matchups in Albuquerque figure to challenge them beyond a point they can handle.
No. 3 Marquette Golden Eagles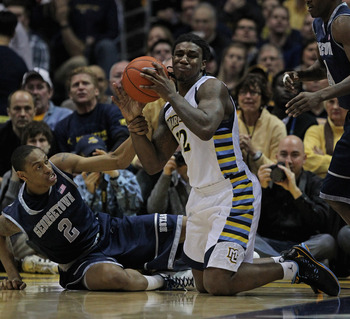 Jonathan Daniel/Getty Images
Marquette is a team I honestly expected to be hailing as a Final Four team prior to the bracket announcements. Now, it wouldn't shock me if it was knocked out in the first round.
Both BYU and Iona are teams that can play at the level of this Marquette team. And remember this Golden Eagles team is one that has struggled some in recent years against teams they were supposed to beat.
One last note, Pomeroy has Marquette 18th, meaning the further along I go, the more likely one of these teams is to actually falling early.
No. 3 Florida State Seminoles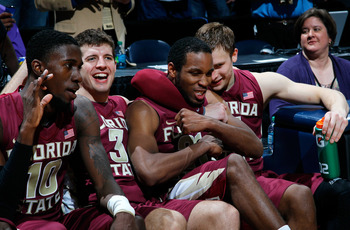 Kevin C. Cox/Getty Images
Florida State looked great this weekend in the ACC tournament, knocking off two perennial powers—Duke and North Carolina. But there are really three factors at play here making them ripe for an early upset.
First, few teams are able to perform exceedingly well in an encore presentation. Though coaches try their hardest to instill a "24-hour rule" whereby players and coaches are allowed to enjoy the sweet success of victory for 24 hours, few teams are able to actually relish in that successfully.
Second, the Seminoles are the lowest-ranked team yet in Pomeroy's rankings at No. 21. Their adjusted offense puts them 63rd in the country. Only their defense, which is 14th, saves them from falling deep into the statistical oblivion of college basketball.
Third, they are facing a team coming off similar circumstances. Sure, it would be reasonable to say Florida State is more likely to continue in its successes since it's been to the tourney consistently and have been the consistent team this season. But St. Bonaventure clearly has the best player on the court in the person of Andrew Nicholson.
Those three factors make Florida State a team to stay away from long term in my bracket.
No. 5 Temple Owls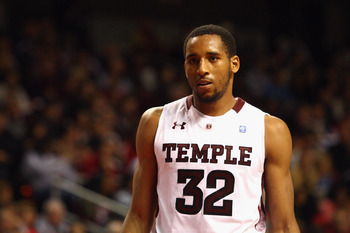 Chris Chambers/Getty Images
I'm practically going off the grid to find Temple. According to Pomeroy, the Owls are the 36th-best team in the country. In other words, they are statistically on the wrong half of the 32 games being played in the NCAA's first round.
They're going to be playing either against California, a team who can really score the basketball when it's right, or South Florida, a team who absolutely takes the air out of the ball.
And they will not have the same amount of time to fix in one opponent as most teams are allowed. Of course, they are preparing for both, but their final game plan cannot be installed until late Wednesday evening (and that's going by Pacific time).
In other words they'll have one full day to hone in on a game plan before playing on Friday. Temple is not talented enough to simply play and beat either team.
No. 5 Wichita State Shockers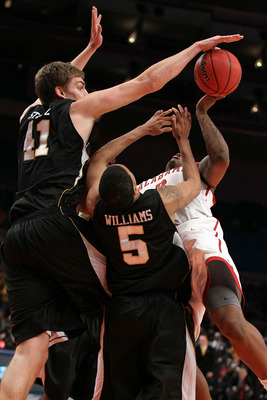 Jim McIsaac/Getty Images
I'm going backwards in Pomeroy's rankings now as I've listed the No. 10 team (10th offensively, 18th defensively). In theory I like Wichita State a lot.
They have just about everything you'd want: offensive efficiency, better-than-average defense and at least one great player Garrett Stutz (listed 34th in my studs column).
In fact, if their opponent were just about anyone else, I'd have them winning their first game and likely a few more after that. But they're playing Virginia Commonwealth. And if there's any rule more important than the above prerequisites, it's this: you must have a great coach.
VCU has that, and like Butler a year ago, they expect to advance not just past round one, but all the way to New Orleans.
One saving grace for the Shockers could be their similarly impressive run to the NIT Final Four a season ago.
No. 6 Cincinnati Bearcats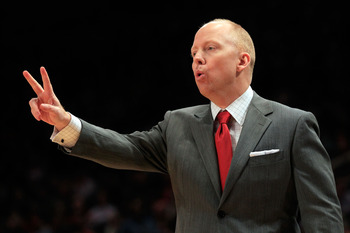 Chris Trotman/Getty Images
It's really easy to expect a team that went to its conference tournament final to have great NCAA tournament success. But historically the results are mostly mixed. Some absolutely continue along (UConn a year ago) but many do not (Georgia three or four years ago).
After Temple, Cincinnati is the lowest team on the totem pole according to Pomeroy's data analysis. At No. 31 the Bearcats are barely on the right half (of 64). Enter their opponent, the Texas Longhorns, who are actually No. 27 and have the best player on the floor (J'Covan Brown).
It's not hard to pick a Texas upset, if that word is even appropriate in this matchup.
Keep Reading