Brad Richards: The New York Rangers Forward May Have Finally Arrived
March 12, 2012

Chris Chambers/Getty Images
Brad Richards is a recognized leader. He is a former All-Star, a gifted puck carrier and playmaker, a winner of the Stanley Cup and an extremely well-respected man within the NHL and beyond. It is for these reasons and more that Glen Sather pursued him so enthusiastically this past offseason, and it's because of these reasons as well that a large portion of the Rangers' payroll is committed to him.
You'd have to look hard and long to find anyone who disagreed with the free-agent signing of Richards. Hockey commentators and fans alike expressed what seemed to be universal approval of the acquisition at the time, and there really were no apparent reasons why this shouldn't have been the case.
Entering the 2011-2012 campaign, the Rangers were in desperate need of a front-line pivot, a power-play quarterback and a player that could consistently get the puck to Marian Gaborik to help Gaborik return to his pre-2010-2011 season form.
That was Brad Richards in a nutshell, and in signing him the Rangers got what they wanted and needed and did so with an intelligently structured contract that wouldn't choke off funds that could be used for other needs.
As the 2011-2012 NHL season enters its fifth full month, the Brad Richards acquisition has thus far fallen into that dreaded category reserved for other best-laid plans that went awry. As a case in point, Richards' point totals, and more specifically his assist totals, are trending well below his career averages. Through play on March 11, Richards had recorded just 29 assists through 68 games played.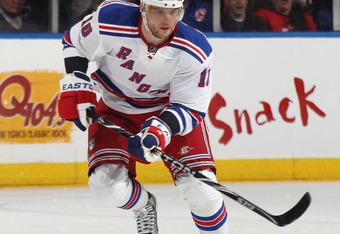 Bruce Bennett/Getty Images
Considering that Richards' previous season low for assists was 32—in a season where he played just 56 games, mind you—and that he has averaged .63 assists per game (which averages out to roughly 52 assists per 82 games) over the course of his 10-plus-year career, and you begin to understand just how underwhelming his Ranger performance has been to date.
That Richards' arrival in N.Y. was lauded as the modern-day equivalent to the arrival of Mark Messier some 20 years prior, in this space and elsewhere, it is perhaps an understatement to say that what the Rangers thought they were getting in Richards is significantly different than what they have actually been getting.
Said another way, the numbers projected for Richards' first year on Broadway—again, based on his totals to date—show him to be on a pace for 60 total points. That's not 60 assists, the total the Rangers could have reasonably anticipated considering that Richards was to be paired with Gaborik and/or the top offensive assets on the team, that's 60 points. Again, underwhelming to say the least.
With all this in mind, Richards' two-goal, three-point performance in Sunday's 4-3 OT victory over the New York Islanders was nothing less than stunning. That it came at a time when the Rangers have been struggling as a team, and putting their almost season-long hold on sole position in the Eastern Conference in jeopardy, makes the events of Sunday evening that much more remarkable.
Brad Richards, in other words, may have finally arrived. 
Most interesting of all, it could be said that Richards, in one game, delivered on all of the variables expected of him. Specifically, his efforts resulted in the Ranger's power play scoring three goals in a game for the first time in what seems like a decade. Additionally, his helper in OT was for none other than Marian Gaborik, the same Marian Gaborik that was supposed to benefit the most from Richards' presence.
And finally, Brad Richards led. He led the team via his performance, yes, but more importantly by the message he sent to his teammates on a night when strange bounces weren't so strange and when a loss would have reduced the team's lead over Pittsburgh for the division and conference titles to just two points.
With 14 games remaining in the Rangers' season, Brad Richards will in all likelihood still fall below his career averages in points and assists. To avoid this fate, he would have to produce at a rate that would dwarf his performance to date—not impossible, but not likely, either.
At this stage of the Rangers' season, though, it's not about individual point totals, but rather team point totals. If you were to project the team's performance thus far over the remaining 14 games, the Rangers would produce somewhere in the range of 20 additional points for a season total of 113.
This is not November, though, and the compete levels of all the teams the Rangers will face will be off the charts. This is especially so for those teams currently on the playoff bubble and those fighting for division and conference positioning. In other words, every game will be a dogfight, and putting up 20 points over the next 14 games will be a truly difficult task.
Somehow, though, a Rangers season that appeared to be coming off the rails in recent days appears to be capable of being righted. Yes, Sunday's victory was over the Islanders, a team 28 points behind them in the standings. And yes, it took a power-play goal in OT for the Rangers to earn that victory.
In the end, though, it was the possible awakening of Brad Richards that overshadows the score and the opponent and all the other not-so-appealing aspects of how things played out on Sunday night. He scored on an end-to-end rush, dominated on the power play and made others around him better.
Richards may not be the second coming of Mark Messier after all, but he may just be everything that this Rangers team needs him to be.