NCAA Bracket 2012: 10 Teams Most Likely to Be Upset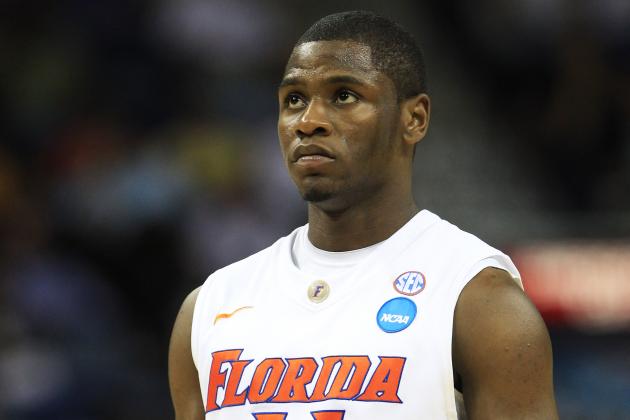 Streeter Lecka/Getty Images

Though favorites are expected to win, the NCAA tournament always features a few first-round matchups that could go either way. This year is no different.
If you're still filling out your bracket and you need help picking upsets, here's a list of the 10 most vulnerable favorites.
For your printable bracket for the 2012 NCAA tournament, click here.
Begin Slideshow

»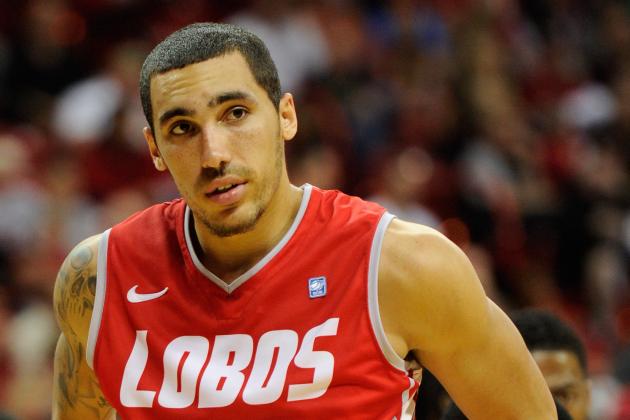 Ethan Miller/Getty Images

New Mexico boasts one of the country's best defenses, but the Lobos will face an experienced, disciplined Long Beach State team in the Round of 64.
With the exception of Mike Caffey—a freshman with upperclassmen maturity—every key 49er is either a junior or senior. Combine that with the tests Long Beach State had in non-conference play—Pitt, Louisville, Kansas, UNC, Xavier, Kansas State and Creighton—and the 49ers are more than ready to upset the Lobos.
Drew Gordon against T.J. Robinson will be the key matchup in this game. If Gordon can dominate offensively and limit Robinson, New Mexico will probably win.
However, the Lobos will also need to lock up Casper Ware and Larry Anderson on the perimeter and in the lane. New Mexico's defense has held opponents to a 38 percent field-goal percentage and 30.7 percent three-point percentage.
In order to win, the Lobos will need to limit their opponent's shooters as they have done all season.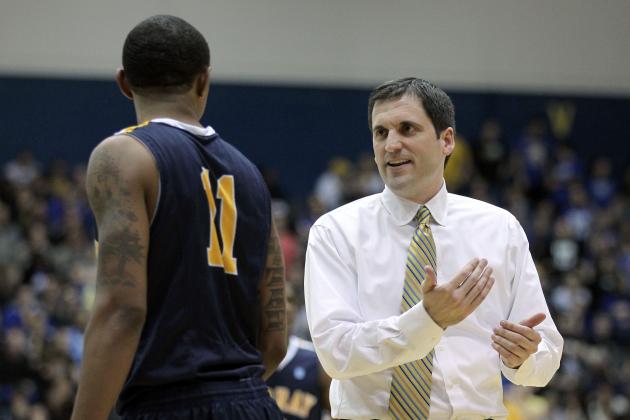 Andy Lyons/Getty Images

Colorado State went 7-11 away from home this year, and the Rams will essentially be on the road in the Round of 64, facing Murray State in Louisville. However, they still pose a threat to the Racers.
Colorado State has one of the best offenses you don't know, shooting 47.6 percent from the floor and 40.5 percent from deep. According to KenPom.com, the Rams also rank No. 27 in adjusted offensive efficiency
Colorado State doesn't have an elite player like Isaiah Canaan, but the Rams do have several reliable scorers.
Defensively, the Racers are superior. However, Murray State's defense isn't dominant.
The Racers, who limited opponents to a 29.5 percent three-point percentage, will need to lock down the perimeter to beat the Rams. If they allow the game to become a shooting exhibition, Colorado State could pull off the upset.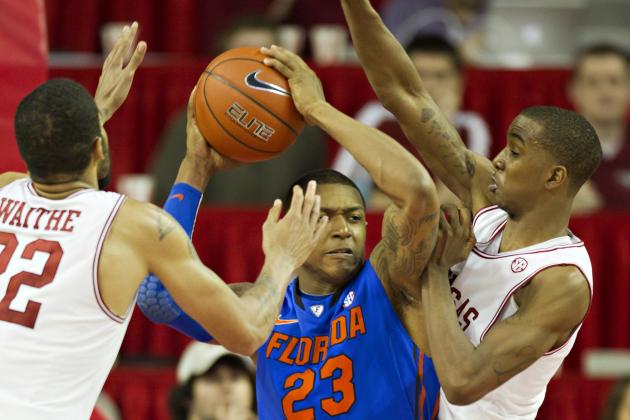 Wesley Hitt/Getty Images

Virginia is offensively challenged, but Florida is mediocre defensively—the Gators ranked No. 142 in scoring defense, so the Cavaliers should be able to put points on the board.
In order to avoid an upset, Florida must contain Mike Scott and convert its three pointers.
Scott accounts for nearly 30 percent of Virginia's scoring, so Patric Young will need to keep him at bay.
On the perimeter, Florida shoots 39 percent from three while Virginia defends it at a 29.5 percent clip. The Gators have several shooters, which means they will find open looks as long as they work for them. If Florida can't convert its open threes, however, Virginia should be more than capable of advancing.
Ethan Miller/Getty Images

Though Saint Mary's is expected to be at full strength for the Big Dance and Purdue dismissed Kelsey Barlow in February, the Boilermakers could upset the Gaels in the Round of 64.
Both teams are experienced, but Purdue has two things in its favor.
First, the Boilermakers have Robbie Hummel, one of the hardest workers in college basketball. The fifth-year senior showed his resiliency by bouncing back from two ACL tears to average 16.3 points and 7.1 rebounds per game.
Hummel is a natural leader, kind of like the Gaels' Matthew Dellavedova. However, most people would take Hummel over Dellavedova any day.
Secondly, Purdue is as close to immaculate as a team can be with the basketball. The Boilermakers led the country with just 8.7 turnovers per game while forcing 12.8.
Saint Mary's takes good care of the ball as well, but Purdue has the ingredients for a Round of 64 upset.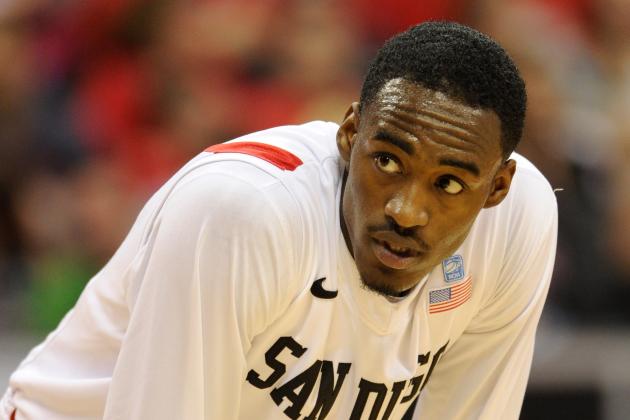 Ethan Miller/Getty Images

The numbers don't substantiate an NC State over San Diego State upset quite like they do for the other matchups. However, the Aztecs could certainly fall to the Wolfpack on Friday.
San Diego State hasn't fared well against good non-conference opponents, losing to Creighton and Baylor. The Aztecs did beat Long Beach State in overtime and Cal by one, but in conference they went just 3-4 against UNLV, New Mexico and Colorado State.
Yes, you can say the same about NC State. But the Wolfpack have several athletes and a more efficient offense than the Aztecs.
It's not as likely as some of the other upset picks, but be wary of sending San Diego State deep in your bracket.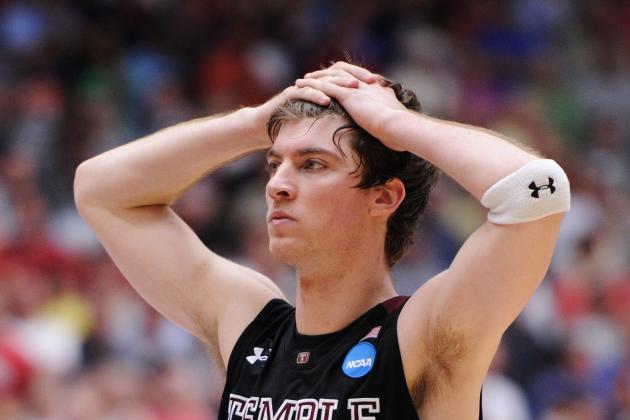 Harry How/Getty Images

Over its last five games, Temple has struggled immensely. The Owls lost to Saint Joseph's and UMass and needed overtime to beat La Salle and the Minutemen (in the regular season). During that stretch, they only beat a woeful Fordham team.
You should always be wary of picking a slumping team, and adding reason to pick against Temple, Cal and South Florida are both very capable of winning.
The Golden Bears and Bulls are both defensive-minded teams, ranking in the top 25 of KenPom's adjusted defensive efficiency ratings. Temple can put up points, but both Cal and South Florida make it hard to score.
Cal would be more of a challenge than South Florida simply because the Golden Bears could also score with Temple if their defense doesn't get the job done.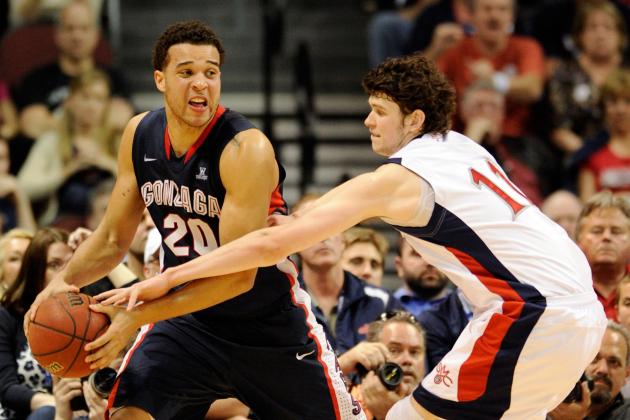 Ethan Miller/Getty Images

West Virginia isn't as good defensively as Gonzaga, but the Mountaineers can take away the three and use their size advantage to knock off the No. 7 seeded Bulldogs. Kevin Jones and Deniz Kilicli will cause trouble for Gonzaga's bigs, who aren't as strong.
Additionally, Gonzaga's fans will have to travel across the country to Pittsburgh while the West Virginia campus is just an hour-and-a-half away.
Gonzaga will need Robert Sacre, Sam Dower and Elias Harris to play big and Kevin Pangos and Gary Bell to shoot well in order to avoid an upset.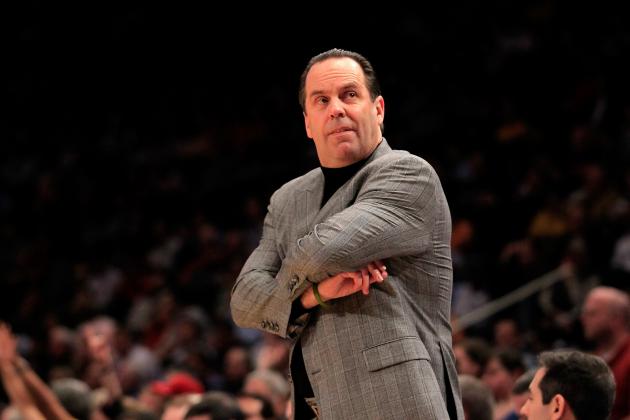 Chris Trotman/Getty Images

Notre Dame has been offensively challenged this year. The Fighting Irish shoot just 43.2 percent from the floor and 32.9 percent from deep, and they rank No. 201 nationally with 66.5 points per game.
In the Round of 64, they'll face a Xavier team that is very capable defensively, holding opponents to 39.8 percent field-goal shooting and 30.6 percent three-point shooting. The Musketeers also have potent scorers Tu Holloway and Mark Lyons, who could overwhelm the Notre Dame defense.
In order to avoid an upset, Notre Dame needs Jack Cooley to out-hustle Kenny Frease—which shouldn't be hard—but the Fighting Irish also need to slow the game down and put points on the board.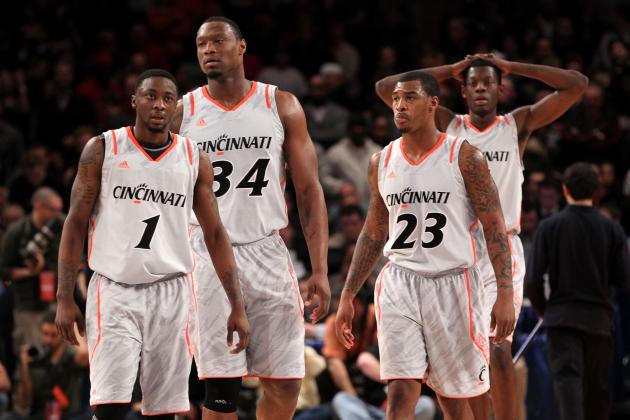 Michael Heiman/Getty Images

When scoring fewer than 60 points, Cincinnati is 3-7 this season. Texas, on the other hand, has beaten all 10 opponents it has kept under 60 points.
So, chances are that the Longhorns will beat the Bearcats if Cincy finds itself mired in a shooting slump. Texas' defense is decent while Cincinnati's offense is inconsistent—the Bearcats won't lose if they shoot like they did against Syracuse, but they'll be in trouble if their offense struggles as it did against Georgetown.
The Bearcats will also need to keep the Longhorns off the glass, making Yancy Gates a key player. Texas out-rebounded opponents by three this season while Cincinnati was only plus-0.3 on the rebounding margin.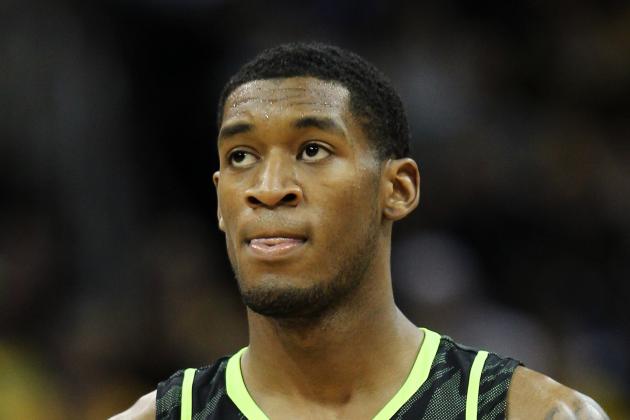 Jamie Squire/Getty Images

Baylor might be the longest team in the country, but the Bears have often been accused of playing soft and not capitalizing on their size.
They're bigger than and athletically superior to South Dakota State, their opponent in the Round of 64. However, they will need to come out with the passion they haven't displayed at times this season.
If Baylor isn't motivated, Nate Wolters and the Jackrabbits have the offensive firepower to win. They won't beat the Bears in a defensive battle, but they could pull off the upset if Baylor isn't ready.