2012 NFL Mock Draft: Underrated Prospects You Can Count on to Dominate in NFL
March 13, 2012

Ronald Martinez/Getty Images
The beauty of the NFL Draft is that there are always diamonds in the rough. Teams just never know what they will find, and how much of an impact that player will have on their future.
Past underrated prospects like Tom Brady and Marques Colston have proved the naysayers wrong over the years, showing that even though they were taken incredibly late, they still can become dominate NFL players.
The following prospects should follow in the same suit, as they have a chance to rise from nothing to become something special.
Russell Wilson, QB (Wisconsin)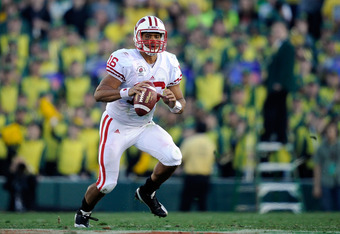 Kevork Djansezian/Getty Images
While it remains to be seen if the elusive Wisconsin Badgers quarterback will get taken in this year's NFL Draft, he definitely possesses all the skills to make a great pro QB.
This past season, the 5'11" passer threw for 3,175 yard while completing 33 touchdowns and just four interceptions. He wasn't bad on the ground either, as he ran for 338 yards and six touchdowns on 79 carries.
Wilson has a chance to shock many, and likely won't even get a real chance until someone goes down during the season. If Wilson is given that opportunity, he should run away with it to impress people.
His height is definitely his biggest weakness, but he has the ability to electrify those who watch him at work.
Donald Stephenson, OT (Oklahoma)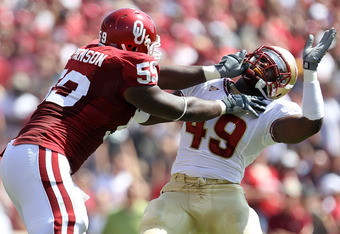 Ronald Martinez/Getty Images
Stephenson isn't getting a whole lot of love as he is currently ranked No. 17 amongst all offensive lineman, but he lit things up at this year's combine as he led the pact in many of the different categories.
Teams are always looking for a strong lineman, and there is no doubt that is what the Sooners' OT provides. We have seen time and time again that the dominant players at this position can come from anywhere in the draft, and Stephenson won't be any different.
Stephenson is currently looking like a late-round pick, but he will likely satisfy any team that finds him sitting around late in the draft.
Gerell Robinson, WR (Arizona State)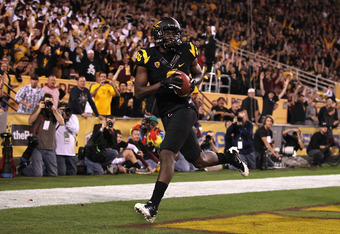 Christian Petersen/Getty Images
At 6'3" and 227 lbs., Robinson is one of the bigger receivers available in this draft. This past season with the Sun Devils, he had 77 receptions for 1,397 yards and seven TDs. Not to discredit quarterback Brock Osweiler, but just imagine what this kid could do with a consistent passer throwing the ball to him.
Robinson will have to battle his way into the talk of teams, but there is no doubt that this kid could be a real threat on any team's offense for years to come.
His size is there, and he has the ability to make big time plays. It is just a matter of him getting a shot. Height is a huge plus in this league, and any team would likely be happy to give a guy like Robinson a shot to shine.
George Iloka, FS (Boise State)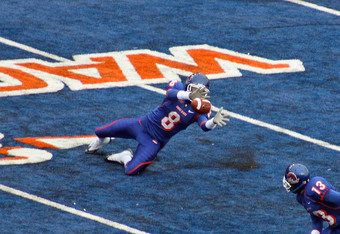 Despite being one of the higher ranked safeties in the draft, Iloka is still projected to fall to the late second, early third round.
For a player at his caliber, that is quite a drop which would make him a steal for any team looking for some additional help in their secondary.
Iloka stands at 6'4" and 222 lbs, which makes him one big man for opposing teams to get by. With the Broncos, Iloka proved to be a solid contributor week-in and week-out, so one should expect the same from him at the next level.
Jeff Chase's Full First-Round Mock Draft:
1. Indianapolis Colts (2-14): Andrew Luck, QB, Stanford
2. *Washington Redskins (5-11): Robert Griffin III, QB, Baylor
3. Minnesota Vikings (3-13): Matt Kalil, OT, USC
4. Cleveland Browns (4-12): Trent Richardson, RB, Alabama
5. Tampa Bay Buccaneers (4-12): Morris Claiborne, CB, LSU
6. *St. Louis Rams (2-14): Justin Blackmon, WR, Oklahoma State
7. Jacksonville Jaguars (5-11): Quinton Coples, DE, UNC
8. Miami Dolphins (6-10): Ryan Tannehill, QB, Texas A&M
9. Carolina Panthers (6-10): Melvin Ingram, DE, South Carolina
10. Buffalo Bills (6-10): Riley Reiff, OT, Iowa
11. Kansas City Chiefs (7-9): Dontari Poe, DT, Memphis
12. Seattle Seahawks (7-9): Courtney Upshaw, DE/OLB, Alabama
13. Arizona Cardinals (8-8): Jonathan Martin, OT, Stanford
14. Dallas Cowboys (8-7): David DeCastro, OG, Stanford
15. Philadelphia Eagles (8-8): Luke Kuechly, LB, Boston College
16. New York Jets (8-8): Cordy Glenn, OG, Georgia
17. Cincinnati Bengals (via OAK 8-8): Dre Kirkpatrick, CB, Alabama
18. San Diego Chargers (8-8) Alshon Jeffery, WR, South Carolina
19. Chicago Bears (8-8): Michael Floyd, WR, Notre Dame
20. Tennessee Titans (9-7): Fletcher Cox, DT, Mississippi State
21. Cincinnati Bengals (9-7): Lamar Miller, RB, Miami
22. Cleveland Browns (via ATL 10-6): Kendall Wright, WR, Baylor
23. Detroit Lions (10-6): Peter Konz, C, Wisconsin
24. Pittsburgh Steelers (12-4): Dont'a Hightower, ILB, Alabama
25. Denver Broncos (8-8): Devon Still, DT, Penn State
26. Houston Texans (10-6): Mark Barron, S, Alabama
27. New England Patriots (via NO 13-3): Michael Brockers, DT, LSU
28. Green Bay Packers (15-1): Stephon Gilmore, CB, South Carolina
29. Baltimore Ravens (12-4): Janoris Jenkins, CB, North Alabama
30. San Francisco 49ers (13-3): Rueben Randle, WR (LSU)
31. New England Patriots (13-3): Kendall Reyes, DT, Connecticut
32. New York Giants (9-7): Dwayne Allen, TE, Clemson
*Rams trade No. 2 overall pick to Redskins for 2012, 2013, 2014 first round picks and 2012 second round pick.