March Madness 2012 Predictions: Long Shots That Could Win It All
March 12, 2012

Jamie Squire/Getty Images
With March Madness sweeping through our country like a college basketball plague, it's time to start making predictions on which long shots could win it all during the 2012 NCAA tournament.
Teams like Florida State, NC State and Iona may all be in very different boats coming into this event, but they are all being pushed aside for bigger names.
All of the following teams will perform well and may be able to make a shocking run towards the Final Four and beyond.
Florida State
Don't get me wrong, I understand that Florida State is far from what most fans would consider a conventional long shot, but they are one of the top 10 teams in the country and they could easily win it all.
The problem is that no one is giving them the credit they deserve. The Seminoles aren't worried, though, they'll let their playing speak volumes.
With their stellar defensive game plan and the offensive gifts carried by guard Michael Snaer, Florida State will be a mismatch for every team they play in the tourney. If they continue the hot streak started during the ACC tournament, they could win it all.
North Carolina State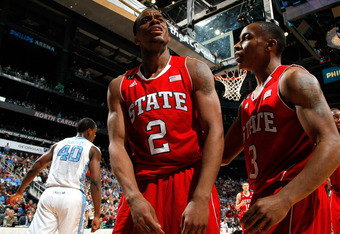 Kevin C. Cox/Getty Images
While the North Carolina Wolfpack isn't the best in any one category, they are a stellar in every single aspect of the game. It's that kind of well-rounded play that almost beat North Carolina in the ACC tourney.
If the Wolfpack can stick to their strong defensive principles and play with grit, their role players and shooters will put the ball in the hoop on a consistent basis. Their defense breeds offense, so they can't forget that.
There is no doubt that NC State is a long shot, but with the right matchups and the right mentality, there is nothing to say that the Wolfpack can't make an unlikely run towards a title.
Iona
Chris Chambers/Getty Images
Don't sleep on the Iona Gaels who could very easily be this year's version of the 2011 VCU Rams. Just like how VCU rode the momentum of the play-in game to a stellar NCAA run, Iona has the talent to do the same.
Despite losing the Metro Atlantic Athletic Conference title, the Gaels have the offensive weapons to go shot-for-shot with any team in the tournament.
Not only is Iona second in the entire country with a very impressive .504 shooting percentage, they lead the country with 83.3 points and 19.3 assists per game. All of that offense will make teams' lives very hard.
Check back for more on the NCAA Basketball as it comes, and check out Bleacher Report's College Basketball Page to get your fill of college basketball.