2012 NFL Draft: Breaking Down the Best/Worst of Latest Mel Kiper Jr. Mock
March 12, 2012

Mel Kiper Jr. has been ESPN's draft analyst since 1984. His draft coverage each year is both the most recognized and the most criticized.
With that said, let's take a look at some of Kiper's picks and separate the best from the worst.
First, here's what I think he has right:
No. 8 Miami Dolphins: Riley Reiff, Offensive Tackle, Iowa
Reiff would help improve the team's offensive line greatly.
As the second-best offensive tackle behind USC's Matt Kalil, he possesses both the size and athleticism to be a starter in the NFL. Alongside guys like Jake Long and Mike Pouncey, two former first-round picks, they would provide a lot of relief for whoever is at quarterback in 2012.
For Miami, it comes down to Peyton Manning, Matt Flynn or continuing with Matt Moore. I don't see them taking a quarterback in this year's draft, not even if they can get Ryan Tannehill.
Speaking of Tannehill...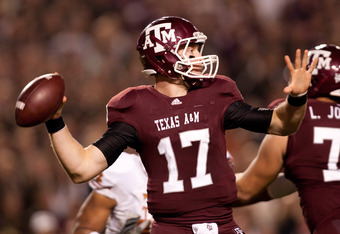 Darren Carroll/Getty Images
No. 12 Seattle Seahawks: Ryan Tannehill, Quarterback, Texas A&M
I think this pick is perfect.
The Seattle Seahawks do not have a shot at Manning, and I don't think they'll get Matt Flynn either. So that means they'll look toward the draft.
With Andrew Luck and Robert Griffin III likely to go out as the first two picks of the draft, Tannehill is the next best quarterback available.
He's smart and has a strong arm to boot. While he might not be an instant starter, the Seahawks need a guy on a long-term basis, and Tannehill would fit there.
Plus, Seahawks general manager John Schneider thinks highly of him. During the combine, he said this via ESPN.com:
"The guy was a quarterback in high school, just a football player. First and foremost, that's what we're looking for. Especially at that position. Guys that have always been in the quarterback schools, the special camps, and all that kind of stuff, they make me a little nervous to a certain extent. This guy is a real football player. He played defense. You could see him last year when he stepped in, he just went out and played. He had like this natural toughness about him that the players really rallied around and went on a winning streak and he did a great job. I felt like this year, he had well over 60 drops. He did a nice job."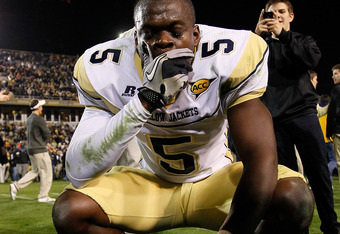 Kevin C. Cox/Getty Images
No. 30 San Francisco 49ers: Stephen Hill, Wide Receiver, Georgia Tech
The 49ers don't have a lot of holes, but one problem they do have is at the wide receiver position, especially since they might lose Josh Morgan and Ted Ginn Jr.
Hill is definitely a guy the 49ers need. LSU's Rueben Randle is also a possibility, but I like Hill more.
He's a big guy with huge hands, but he's got good top speed as well.
What I like about him is that as a product of Georgia Tech's triple-option offense, he can block. He can handle himself against opposing defensive backs and linebackers, which would be good when you have Frank Gore and/or Kendall Hunter rushing toward the outside.
And now let's take a look at a couple of Kiper's more questionable picks.
No. 13 Arizona Cardinals: Michael Floyd, Wide Receiver, Notre Dame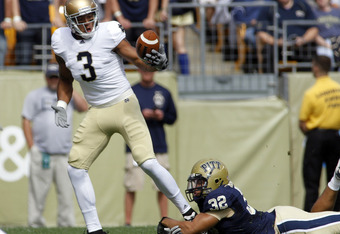 Justin K. Aller/Getty Images
While he would be a nice complement to Larry Fitzgerald, the Cardinals' most pressing matter is the offensive line, specifically at left tackle.
Levi Brown was one of the worst offensive tackles in the NFL last year. Taking Stanford's Jonathan Martin would be a much better idea and would improve the offense considerably, especially if they can nab Peyton Manning.
No. 32 New York Giants: Coby Fleener, Tight End, Stanford
It's not that I don't like Coby Fleener. It's just I don't see him getting picked as the last pick of the first round.
Originally, Kiper had another tight end—Clemson's Dwayne Allen—as his pick, but his stock his risen since.
Granted, tight end is a concern with Jake Ballard and Travis Beckum suffering from ACL injuries, but I think fixing the offensive line is a concern that needs to be addressed, specifically at right tackle.
Mike Adams or even Zebrie Sanders would be good fits for the team, and then the Giants go for a tight end in the second round—specifically Orson Charles.