What the Favorites in the Peyton Manning Sweepstakes Can (and Can't) Offer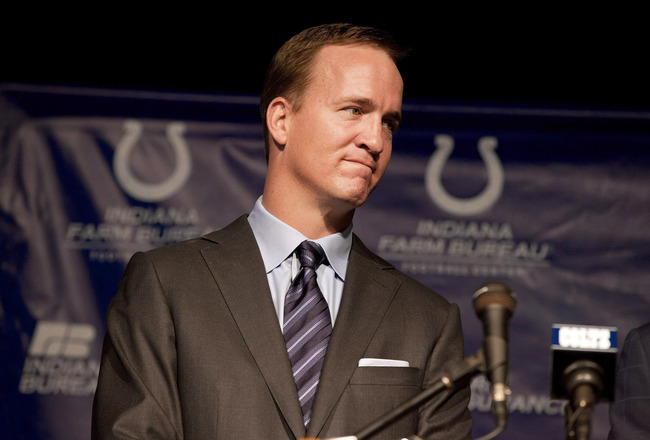 Joey Foley/Getty Images
In his record-setting career, Peyton Manning has earned a number of labels, including future Hall of Famer, four-time league MVP and Super Bowl champion. He can now lay claim to being the highest-profile free agent in league history as well.
Upon his release from the Indianapolis Colts, about a dozen teams had serious interest in procuring the quarterback's services. In less than a week, three favorites have emerged: the Denver Broncos, Arizona Cardinals and Miami Dolphins.
Manning has been linked to Miami throughout this process, and has already had high profile meetings in Denver and Arizona.
While a sleeper team (perhaps Tennessee?) could be waiting in the wings, it would be a significant surprise if he does not go to one of these three teams.
Here is a look at the factors that make these squads attractive, in addition to what could be stumbling blocks in their attempts to sign Manning.
Denver: Pros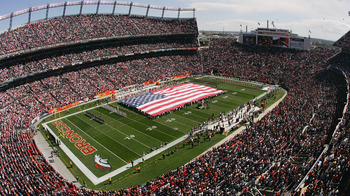 Doug Pensinger/Getty Images
Denver was the first team Manning had serious discussions with as a free agent, meeting with them at length over the weekend.
While the emergence of Tim Tebow was one of the major storylines of the 2011 season, if Manning is close to being 100 percent healthy, Denver would be hard pressed not to put "Tebow Time" on hold.
The key selling point for the Broncos is their quality offensive line and strong running game—factors Manning generally lacked in Indianapolis for the past half-decade. Denver led the league in rushing last year, and while they did allow the ninth-most sacks in the NFL, how much blame the offensive line deserves here is up for debate.
According to a ProFootballFocus study, Tebow was one of the worst quarterbacks in the league last year while facing pressure from the defense. Manning, by contrast, is famous for his quick release and had been able to thrive in Indianapolis despite subpar protection.
Denver also plays in the very-winnable AFC West, which must be viewed as a plus as well.
Denver: Cons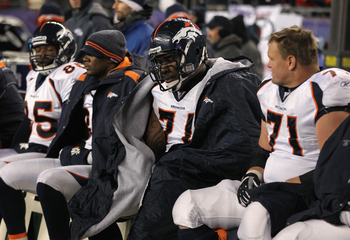 Jim Rogash/Getty Images
Having played his entire career with the Colts, a dome team, there has been media speculation that Manning would prefer another indoor team, or at least one that plays in a warm-weather climate. Denver is obviously neither of these things.
While this could be a factor in Manning's decision, whether this would be a major stumbling block that would counteract all the positives is questionable.
Also, although the Denver receiving corps is far from poor, it is also probably inferior to that of Miami and Arizona.
Arizona: Pros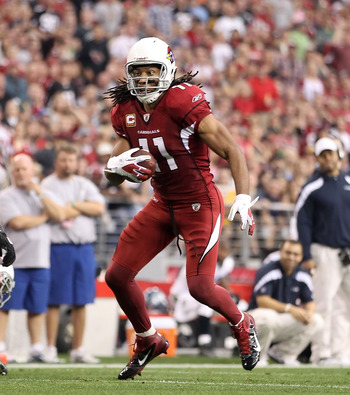 Christian Petersen/Getty Images
The second stop on the "Peyton Manning tour" was Arizona, and there is a lot the Cardinals bring to the table.
First of all, the Cardinals play in what might be the NFL's worst division, putting Manning in prime position to make a run at a second Super Bowl ring.
Second, there is Arizona's receiving corps, led by the all-pro Larry Fitzgerald, who is one of the game's best. The combination of Manning and Fitzgerald has the potential to be dynamic, and given reports that former teammates Reggie Wayne and Dallas Clark may look to follow Manning to his new home, this could become a special unit.
As mentioned in the previous slide, the extent weather will factor into Manning's decision is questionable. If that is, however, something significant in this process, Arizona does offer a warm climate and retractable-roof stadium that negates even the slightest chance of the elements affecting a game.
Arizona: Cons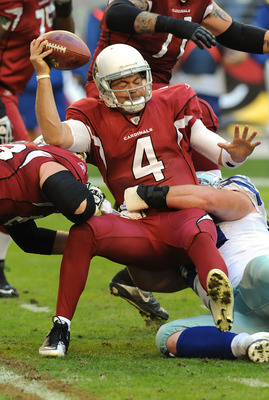 Norm Hall/Getty Images
As for the negatives of a Manning arrival in the desert, offensive line issues are the primary concern. The Cardinals gave up 54 sacks in 2011, which was the second most in the league. Again, some of this can be attributed to the quarterbacks that played for Arizona, and having Manning would almost certainly lower this total, but it is nevertheless troublesome.
ESPN's Adam Schefter is reporting that Cardinals left tackle Levi Brown will be released. Though Brown's play had been inconsistent and the termination of his substantial contract will free up precious cap space, the burden remains on Arizona to find a capable replacement to protect Manning's blind side.
The situation may be worse at right tackle, where Brandon Keith and Jeremy Bridges both started games with neither playing particularly well.
Another potential obstacle is the amount of money the Cardinals invested in quarterback Kevin Kolb last offseason. According to Spotrac, Kolb's salary cap figure for 2012 is $10 million. This could be a hindrance towards acquiring Manning and additional supporting talent.
Additionally, there has been discussion that Manning would rather not play in the NFC. Reluctance to block brother Eli Manning's path to the Super Bowl is often cited as support for this, but ESPN's Paul Kuharsky offers an alternative explanation, saying it is because Manning would rather play against defenses he is more familiar with, and most of these are naturally in the AFC.
Given the future Hall of Famer's studious reputation, this certainly seems valid, and if these concerns are true, it is obviously a strike against Arizona.
Miami: Pros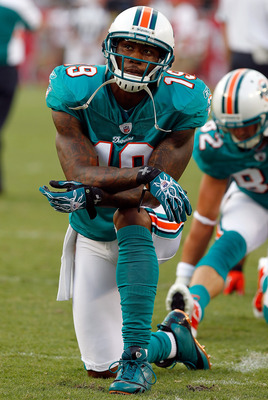 J. Meric/Getty Images
Miami is believed to be the next team Manning will speak with, and Chris Mortensen of ESPN reports this meeting will occur within the next three days.
In addition to a warm climate, the Dolphins offer Manning a quality supporting cast.
Pro Bowl receiver Brandon Marshall leads the team's receiving corps, which also includes Davone Bess and tight end Anthony Fasano. And again, if Reggie Wayne follows Manning to South Beach and returns to the city where he played his college football, Miami would boast an exceptional group of pass-catchers.
In the backfield, there is Reggie Bush, who had his best season as a rusher in 2011, eclipsing the 1,000-yard mark for the first time as a professional. Bush is also an excellent receiver out of the backfield and would provide Manning with a unique offensive weapon.
Miami: Cons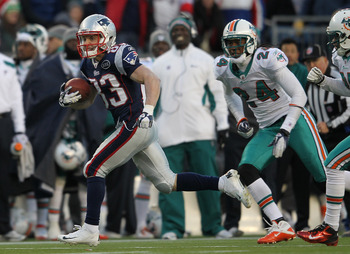 Jim Rogash/Getty Images
The most glaring negative in Miami's bid to acquire Manning would be that, of the three teams mentioned, Miami is in by far the most challenging division. As opposed to the AFC and NFC West, two of pro football's weaker divisions, the Dolphins compete in the AFC East, which entails facing New England and the Jets twice a year.
While the continuation of the Manning vs. Tom Brady showdowns would be a positive for the neutral fan—it would mean arguably the most compelling rivalry of the past decade would survive—the prospects of late-season games in Foxboro, the Meadowlands and Buffalo would certainly provide a distinct challenge not present in the other divisions at hand.
Also, Miami was another team that struggled with pass protection in 2011, as it gave up the third-most sacks in the NFL with 52.
Keep Reading