NCAA Bracket 2012: 10 Under-the-Radar Players Set to Shine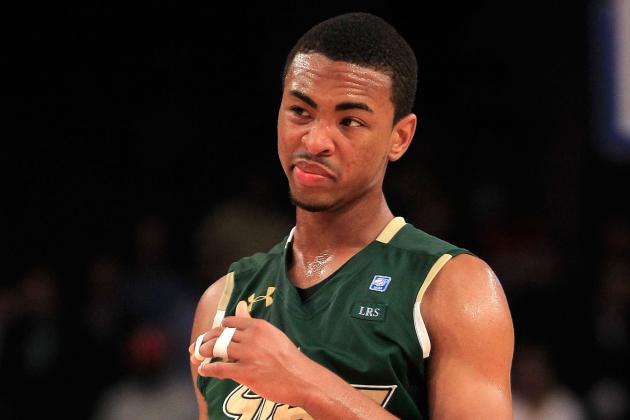 Chris Trotman/Getty Images

Back in 1993, Santa Clara University was given no chance to upset second-seeded Arizona. Backcourt studs Damon Stoudemire and Khalid Reeves and 20-point scorer Chris Mills had little to fear from the Broncos and their gawky Canadian freshman point guard, Steve Nash.
Santa Clara 64, Arizona 61.
In 1998, Valparaiso was a nice, quaint Indiana team with the coach's son playing the starring role. No one expected that Bryce Drew would stage a moment right out of Hoosiers.
Valpo 70, Ole Miss 69.
There's not much to suggest that any of these players will go on to NBA careers, whether as Hall of Famers like Nash or skilled journeymen like Drew. Still, the potential exists for some of these players to have themselves a moment.
A moment that will be captured on camera and placed in a montage for future generations to observe.
A moment to shine.
Begin Slideshow

»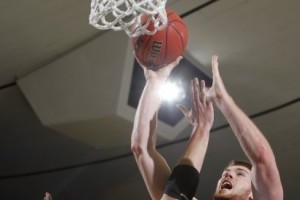 Brian Conklin has been a survivor for the Saint Louis Billikens. When leading scorer Kwamain Mitchell was suspended for the entire 2010-11 season, Conklin and his teammates scuffled through a disappointing 12-19 season.
This year, Mitchell is back, and so are the Billikens. Conklin has taken advantage of the attention that Mitchell draws and has quietly taken over as the team's scoring leader. From 15 feet in, Conklin has the ability to score efficiently in Rick Majerus's methodical offense.
Saint Louis will face Memphis in the second round of the NCAA Tournament. Conklin has the patience to draw Tiger shot blocker Tarik Black into some foul trouble. He's also tough enough to push around athletic, but skinny, Wesley Witherspoon.
If Black is on the bench and "Spoon" is being pushed around, it's that much harder for Memphis to crash the glass, block shots and get out in transition. They're not comfortable in the half-court game, and St. Louis may just be able to lull them to sleep.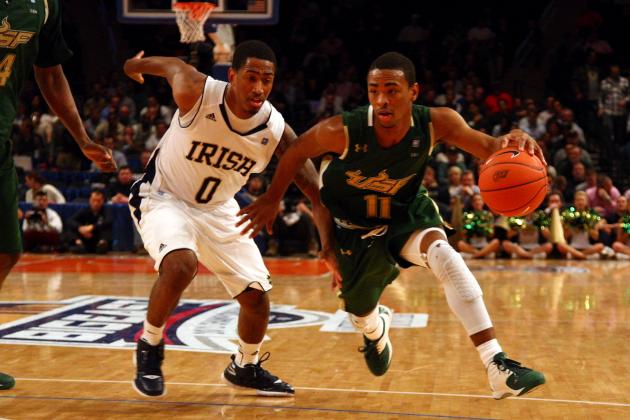 Mike Lawrie/Getty Images

The South Florida offense redefines the word balance. Seven Bulls average between 6.8 and 9.6 points per game. With the fourth-slowest pace in America according to Ken Pomeroy, one would think it would be difficult for a player to draw individual accolades on a team like USF's.
Anthony Collins managed the feat this season, being named to the Big East's All-Rookie Team. He finished sixth in the conference in assists and eighth in steals.
For USF to defeat Cal in its first-round game, Collins must provide a steady hand and maximize his team's possessions. He has to do this with noted ballhawk Jorge Gutierrez likely shadowing his every move.
Cal did not win a single game this year when the opponent shot for a higher percentage than the Bears did. As long as Collins doesn't give in to a tendency to cough up the ball (3.5 turnovers per game, most in the Big East), the Bulls have the capability to get good shots, and if they get good shots, there's a chance for the win.
It'll surely be an ugly win, but even the ugliest win is a beauty in March.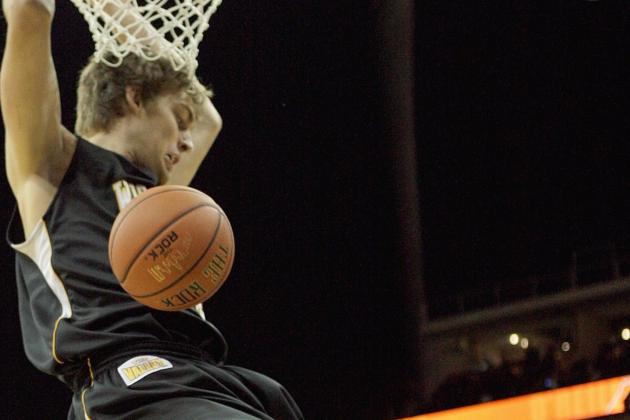 Jamie Squire/Getty Images

Not every "under-the-radar" player has to come from a plucky underdog. Sometimes, the player can be a late bloomer who comes into his own as a senior, like Garrett Stutz of Wichita State.
Stutz more than doubled his rebounding average this season, and almost did the same with his scoring average. He had 12 double-digit rebounding games, and will need to have another if the Shockers are to escape the second-round upset bid of last year's Final Four crashers, VCU.
VCU is known for a pressing defense and transition-based offense, but they do have a bruiser under the glass in Juvonte Reddic and a seven-footer in D.J. Haley. The two will likely take turns banging on Stutz, but the Shockers can take advantage by finding ways to feed the post and turn those collisions into fouls. Stutz is an 82 percent free throw shooter, and could make the Rams pay dearly for any defensive lapses.
Potentially awaiting Stutz and the Shockers could be a high-profile tilt with Cody Zeller and Indiana, and a win there could lead to a date with Kentucky's Anthony Davis.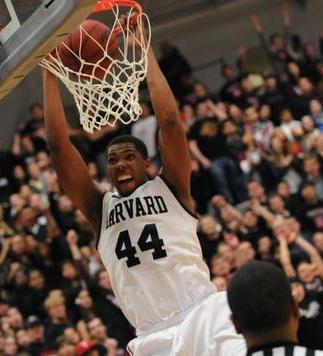 Harvard is a team that makes its living from the inside out. Keith Wright, along with fellow Crimson forward Kyle Casey, is a prime beneficiary of this scheme.
Wright led the Ivy League in field-goal percentage, was second in rebounding, and finished third in blocks. It would be easier to get excited about Wright's chances if he was taking on an opponent smaller and less athletic than Vanderbilt's Festus Ezeli, but there's also reason for optimism here.
Even though Harvard hasn't been in the NCAA Tournament since the end of World War II, it's been almost that long since Vanderbilt made it out of the first round. At least, it seems that way to Vanderbilt fans. Vandy has made a habit of tripping up against 12-or 13-seeds.
Harvard's offense doesn't really cater to one particular go-to guy, but it all starts with Wright and Casey in the post. Vanderbilt's thin rotation can't handle much foul trouble, so if Ezeli is forced to the bench for any length of time, then Harvard may continue the Commodores' tournament misery.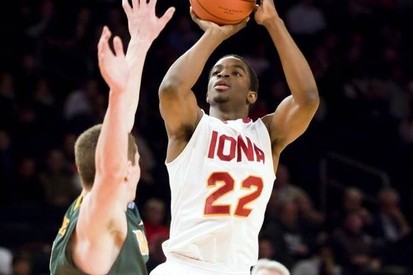 Sean Armand became a starter for Iona midway through this season, shortly after drilling 10 three-pointers in a drubbing of Siena at Madison Square Garden. He personifies the term "role player," as he's in the lineup to do one thing: chuck shots from deep.
Armand makes 75 percent of his points from beyond the arc, which fits him in perfectly with the Gaels' frenetic offense. Mike Glover is the inside bruiser, MoMo Jones is the slasher, Armand is the gunner, and Scott Machado's court vision keeps everyone fed.
In their play-in game, Iona faces BYU, a stern defensive team. The Cougars normally run a lot of man-to-man, but forward Noah Hartsock is dealing with a knee injury. To compensate for his hindered mobility, BYU may try to show some 2-3 zone.
Facing a zone, it's important to have a player who can shoot over the top, and Armand is that man. Far from being a mere volume shooter, Armand knocks down his threes at a 46.7 percent clip.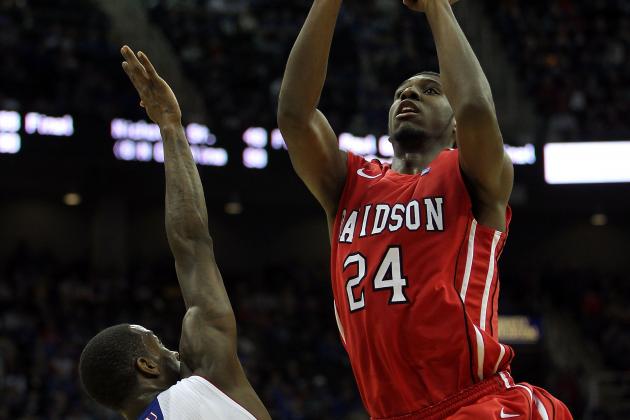 Jamie Squire/Getty Images

Davidson, like Iona, is another team that likes to outscore its opponents. The Wildcats don't play defense particularly well, preferring to wear the opponent out with a frantic offensive tempo.
Southern Conference Player of the Year De'Mon Brooks is a major beneficiary of that style, finishing third in the league in scoring and tenth in rebounding.
Davidson faces Louisville in their opening game of the tournament, and the Cardinals may be the perfect opponent for the 'Cats. Rick Pitino's club often struggles to find its offensive rhythm, coming into the Big East Tournament with four losses in its last six games. In five of those six games, the Cards failed to score 60 points.
Davidson averages 78 points per game, ranking 12th in the nation. Brooks, guard Nik Cochran or center Jake Cohen could all be the catalyst for a potential upset, but Brooks gets the nod here because he may be matched up with Louisville sniper Kyle Kuric.
Brooks will need to make Kuric work on both ends of the court to keep him out of the game, but if he does, Louisville could suffer its second straight upset at the hands of a 13 seed.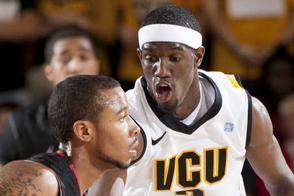 Briante Weber wasn't on the VCU team that crashed the Final Four last season. After all, this is his freshman year.
While playing in all 34 of the Rams' games, he only started four. So why is he being tabbed as a player to watch in the NCAA Tournament?
Two numbers: 2.2 and 7.1. The former is Weber's average number of steals per game. The latter is his steal percentage, the proportion of possessions on which he produces a steal. In only 19.3 minutes per game, Weber ranks in the nation's top 20 in steals.
VCU's second round opponent, Wichita State, has a heady senior point guard named Joe Ragland. It will be imperative for the Shockers that Ragland keep his wits about him in the face of constant on-ball pressure from both Weber and VCU starter Darius Theus.
Weber has only four double-figure scoring games this season, so he's not a big threat offensively. What he can do, however, is ignite some quick transition opportunities with his lightning hands. If VCU is celebrating at the end of their game with Wichita State, it's likely that Joe Ragland will wear a dazed look after being subjected to the Rams' "Havoc" defense.
That defense will start with Theus and only get more aggravating when Weber enters the game.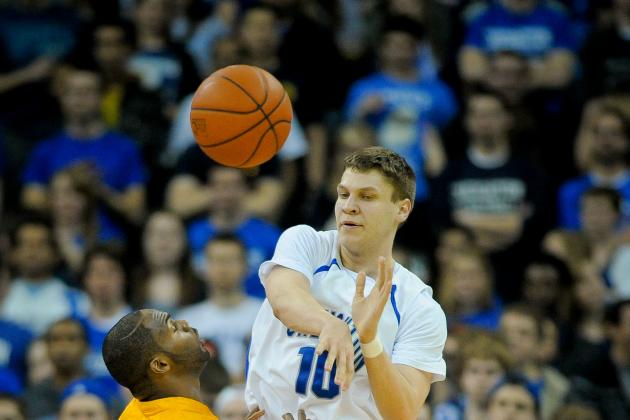 Eric Francis/Getty Images

The Creighton Bluejays have the fifth most efficient offense in America, according to the Pomeroy ratings. While most of the credit for their execution goes to All-America candidate Doug McDermott, point guard Grant Gibbs must not be ignored.
A transfer from Gonzaga, Gibbs is the fourth scoring option on a good night. He won't be heard complaining, though, as he's allowed to be the distributor in Creighton's unique two-point-guard set. Senior Antoine Young can do the scoring, and he'll often be on the receiving end of Gibbs' passes.
Creighton's first opponent will be Alabama, which ranks ninth in the nation in defensive efficiency. For the Bluejays, having two willing and capable passers will be an invaluable asset against Alabama's pressure.
Gibbs threw out a 20-point performance in the Missouri Valley final as one more reminder that Creighton's offense can produce points from anywhere. Still, he's more likely to fill the other columns on the stat sheet, breaking six rebounds 11 times this year and six assists on 15 occasions.
McDermott will get the headlines that accompany a Creighton win, but Gibbs could easily produce the team's best all-around results.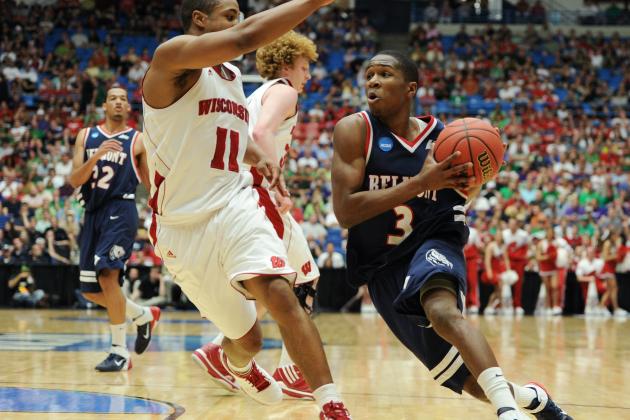 Harry How/Getty Images

Coming into the NCAA Tournament selection show, it was likely that Belmont would be drawn against a bigger, more athletic opponent. The committee duly obliged, handing the Bruins a matchup with the Georgetown Hoyas.
Georgetown is likely to field a huge starting lineup, with only point guard Jason Clark standing shorter than 6'8". Belmont's ball movement will be critical to their chances of pulling off an upset, and that starts with junior Kerron Johnson.
Johnson finished in the Atlantic Sun's top 10 in scoring, assists and steals, but was also one of the most consistent shooters in the league, making 52.6 percent of his shots.
The Bruins are a team that thrives on the perimeter shot, but the Hoyas are one of the best teams in America at limiting those opportunities. Johnson and his teammates will need to make perfect passes to find open looks.
Johnson strapped the team to his back with a 14-point, 11-rebound performance in the Atlantic Sun final, but that's lightyears away from Big East-caliber competition. The Bruins have the experience and depth to make Georgetown sweat, and their playmaker will need to be the one leading the way.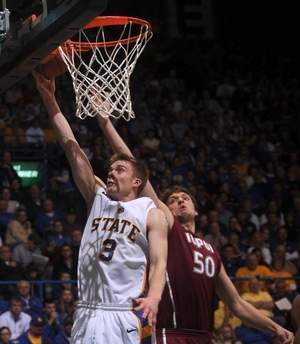 Surely there are many great things in South Dakota of which the American public at large remains unaware. There have to be, otherwise no one would live in South Dakota, right?
South Dakota State's basketball team is about to unleash one of those great things on the world, that being junior guard Nate Wolters.
Just like North Dakota State's Ben Woodside was in 2009, Wolters is the best player that you've never heard of because he toils in the Dakotas. Wolters announced himself on the West Coast scene this season by dropping 34 on the heads of the Washington Huskies, crushing a Pac-12 opponent by 19 on its own home court.
While Wolters has struggled from beyond the arc this season (24 percent, down from 41 last season), he does travel with backup. Four teammates have made more threes than Wolters this season, and three of them shoot better than 46 percent from deep. They've helped Wolters roll up a Summit League-best six assists per game.
The Jackrabbits have a tough test in their first matchup, taking on Baylor, a team that was briefly ranked in the nation's top three. If there was a team that could reasonably be expected to take a Summit League opponent lightly, though, it would be the Bears.
Scott Drew's team has suffered from repeated lapses in focus over the second half of the season, even against high-level opposition like Kansas and Missouri. It isn't inconceivable that Baylor could expect to win just by showing up, and if they do, Nate Wolters could easily have the game of his life.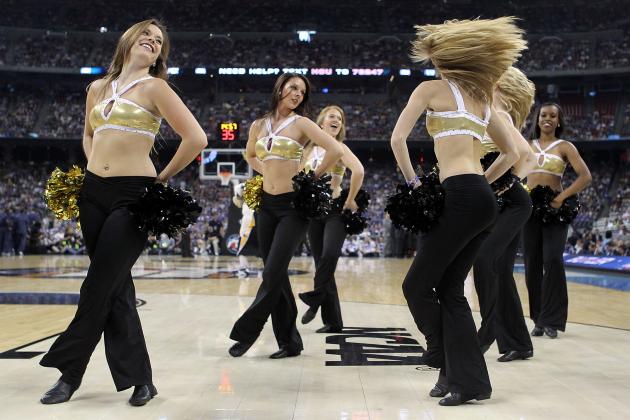 Andy Lyons/Getty Images

For your printable bracket for the 2012 NCAA tournament, click here.
For more from Scott Henry:
--Check out The Back Iron for a different slant on college basketball.
--Like Scott's radio show, 4 Quarters, on Facebook.
--Follow Scott on Twitter.
--Click on Starr*Rated for 4 Quarters podcasts, or search "4 Quarters Radio" on iTunes.