Hokies in the NFL: Two Hokies Quietly Playing at Elite Levels
March 12, 2012

Rob Carr/Getty Images
Drafted: 26th selection in the 2008 NFL Draft. 
Considered a reach when the Texans selected him in the first round four years ago, Brown has quickly climbed up the ranks to become one of the most dominant left tackles in the league. 
Brown allowed just 2.5 sacks last season, hasn't been flagged for holding since his rookie season, and has just 14 false starts in his entire career. He was named to the 2011 All-Pro second team by the Associated Press and helped lead the way for the NFL's second ranked rushing attack in 2011. 
The one black mark on Brown's record is the positive PED test that kept him out of four games last season; otherwise, he's had an exemplary career thus far with 2012 marking his biggest step towards stardom. 
His agility on the line is what makes him such a fantastic offensive lineman. His ability to get to the corner and move well in space makes him a perfect fit in the Houston Texans' zone rush attack. While he doesn't have prototypical elite tackle size, his speed off the line makes him excellent at either getting out in front as a lead blocker or dropping back to seal off edge rushers. 
There's no doubt the Texans will want to lock up Brown before he hits the free agent market in 2013, and his play in recent years will no doubt earn the former Hokie one of the biggest contracts at his position in the league. 
Kam Chancellor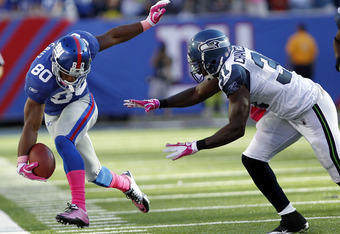 Jeff Zelevansky/Getty Images
Drafted: 133rd selection in the 2010 NFL Draft. 
When Kam was coming out of college, teams questioned the big safety's speed and ability to play in space. When the Seahawks took him in the same draft as Texas standout Earl Tomas, they had no idea they'd locked up one of the best one-two safety punches in the league. 
He didn't start a single game his rookie season, but cut his teeth as a key reserve and on special teams. When the Seahawks brought in Atari Bigby to compete with Chancellor for the starting free safety job, the former Hokie made short work of his competition and seized control of the starting job for what looks like years to come. 
In his first season as a starter, all Kam did was lead the team in solo tackles, place third on the Seahawks in total tackles, second in interceptions and fumbles forced, and make the 2012 Pro Bowl. Advanced NFL Stats had the 23-year-old Chancellor as the best safety in the league last year, with a Win Probability Added of 2.30, a full 0.40 higher then perennial All-Pro player Tory Polamalu.
Fellow teammate Earl Thomas ranks third on the list with a WPA of 1.63. 
The bruiser plays exceptionally well around in the middle and around the line of scrimmage, and has largely exceeded expectations in pass coverage. His play has garnered attention from coaches an analysts alike, even being named to Peter King's midseason All Pro team. 
But Chancellor's biggest advantage is also his biggest obstacle right now. A big hitter, Kam is developing a reputation as a head hunter and that draws the occasional quick flag from an official. Still, as a second-year player we can expect him to get smarter on the field and cut back on the penalties. As it stands, Kam looks to be heading towards a career similar to former Redskins great Sean Taylor.