NCAA Bracket 2012: Which One Seed Has the Easiest Path?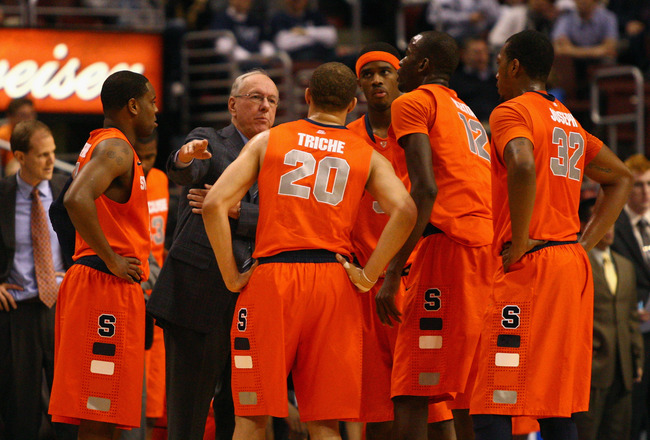 Chris Chambers/Getty Images
When it all comes down to it, the seeding process is one of the most complicated systems in all of sports. Placing teams fairly based on record, conference, RPI and multiple other factors seems to get more difficult with every passing season.
The one seed is the most coveted position to claim stake of. While there are four of them, a one-seed has never lost in the First Round (now called the Second Round) and usually maintains at least one of the Final Four slots every single March Madness.
Predicting which one of them falls early and which one gets to make a run at the National Title, however, is particularly tough. The road to New Orleans is lined with four games that each one-seed must win, making the possible combinations almost infinite.
The top seeds' success all depends on who each of their opponents are in the four games leading to the Final Four, which is a gigantic indicator of who pulled the short straw and who got the easiest path.
We take a look at the easiest path of all the one seeds, allowing our sights to fall upon Syracuse.
Second Round: UNC Asheville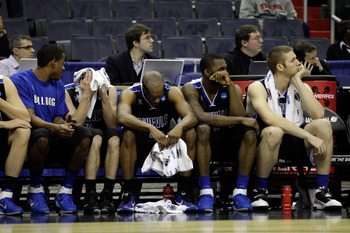 Rob Carr/Getty Images
As far as 16 seeds go, UNC Asheville is certainly one of the worst in the spread. Their first- place finish in the Big South is not that impressive being that it still got them just a bottom seed and a shot at the overall No. 2 seed.
Led by senior guard Matt Dickey, the Bulldogs are 1-6 against the RPI Top 150. They were probably saved from another First Four competition by Western Kentucky and their surprise Sun Belt Conference Tournament Championship.
'Cuse will roll over them with ease.
Third Round: Kansas State or Southern Miss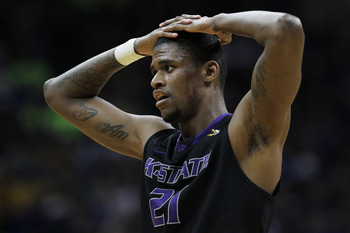 Jamie Squire/Getty Images
Southern Miss
Taking second place in Conference USA to Memphis, the Golden Eagles have just been decent all season. Their best wins have been over Colorado State, Ole Miss, USF, and Memphis at home which, to me, is not much of a resume.
An impressive 9-5 record against the RPI Top 100 is their only saving grace, but I personally am weary of how good Southern Miss really is. Led by a sophomore guard in Neil Watson, the Golden Eagles are inexperienced and present a no-contest to the Orange.
Kansas State
Playing in one of the better conferences this season, the Wildcats impressed some days, while falling apart on others. Two strong victories over Missouri is what stands out on their overall record, but that's honestly about it.
Two losses to Kansas and Iowa State, along with their Big 12 Quarterfinals exit to Baylor, has K-State sitting with a 6-8 record against the RPI Top 100. Junior guard Rodney McGruder and senior forward Jamar Samuels are better than many people give credit, but against Fab Melo, Dion Waiters, and Kris Joseph, they stand no chance.
Sweet Sixteen: Vanderbilt or Wisconsin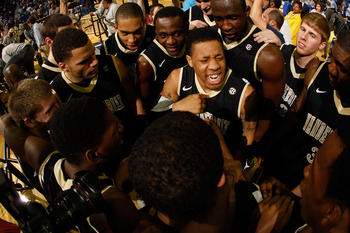 Chris Graythen/Getty Images
Wisconsin
This is the level when things actually start to become a challenge for the Orange. The Badgers out of the Big Ten have been impressive all season, competing right up there with Michigan State, Ohio State, and Michigan.
Led by senior guard Jordan Taylor, Wisconsin is no team to be overlooked. Their potent shooting has them at 11-7 against the RPI Top 100 with big-time victories over Ohio State and Indiana twice, giving them a resume that certainly should not be ignored.
However, those three wins are isolated, giving me the idea that Syracuse should easily control any game against the Badgers. Another "no problem" kind team for the Orange.
Vanderbilt
Of all the teams up until now, this would be the toughest. Vanderbilt just recently took down the No. 1 team in the land, Kentucky, for claim of the SEC Tournament Title in a stunning upset. Their year has taken a turn for the fantastic as they enter the Dance with momentum and a thirst for more takedowns of top seeds.
Run by junior guard John Jenkins, the Commodores have a substantial 13-8 record against the RPI Top 100. Giant wins over Marquette, North Carolina State, and Florida speckle their schedule, giving Vandy the aura of the next Butler. Syracuse has to be on the lookout for this squad out of the SEC.
Elite Eight: Ohio State or Florida State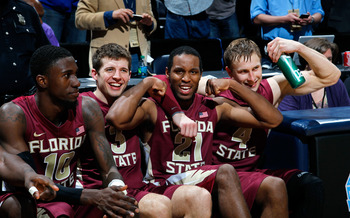 Kevin C. Cox/Getty Images
Ohio State
Making their way out of the Big Ten Tournament Title with a saddening loss, the Buckeyes still own more than enough talent to walk out of the Dance with a Championship. A run at the Elite Eight would give them momentum, confidence, and a little bit of cockiness in a year when all three have been dangerous for OSU.
Led by the sophomore sensation Jared Sullinger, Ohio State has defeated Florida, Duke, Indiana, and Michigan State as well as countless others. Their 14-7 record against the RPI Top 100 can't be ignored, but I personally see the downfall of the Buckeyes written all over their team.
Reliance on star power will destroy them later on, especially if Sullinger has top-notch games early on. Syracuse and their zone should slow him down, especially if Melo can get a few blocks in the beginning of the game. The Orange are almost the perfect team to take down Ohio State, so watch for them to do just that if the time comes.
Florida State
Truly coming into their own this season, the Seminoles have done what many think to be impossible. Stealing away the ACC Tournament Title from both UNC and Duke has to be the most impressive feat they've done all season, and that includes a 33-point win over the Tar Heels.
Florida State is a strong all-around squad, yet they only own an 11-7 record against the RPI Top 100. While they may be on a roll coming into the Dance, they certainly have a tough road ahead of them and a lack of experience outside of Bernard James will make the pressure tough to handle.
Facing the overall No. 2 seed Syracuse may be the straw that breaks the camel's back for this top-notch team.
Final Four: North Carolina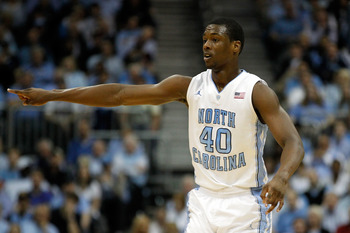 Streeter Lecka/Getty Images
Once 'Cuse reaches the Final Four, their most likely opponent will the top seed out of their opposing region. The Tar Heels are one of the few universities where basketball isn't just a sport, but a way of life. Head coach Roy Williams and his band of talented young men are one of the greatest threats in this tourney for the Orange.
Under the tutelage of sophomore forward Harrison Barnes and senior forward Tyler Zeller, UNC has done extremely well. Taking home the ACC regular season title as well as losing to FSU in the Tournament Championship are both impressive and, by this point, Syracuse should understand things won't be so easy.
Finishing off the Tar Heels to make their way into the Championship will be difficult, but you have to consider it would be much easier than facing Kentucky or even Michigan State. As far as the Orange should be concerned, they have the best way to the National Title, and that's the way they like it.
Keep Reading