March Madness 2012 Picks: Analyzing 3 Potential Nail-Biters in Round of 64
March 12, 2012

Chris Trotman/Getty Images
There's nothing like a nail-biter to kick things off in style during March Madness.
And there are always nail-biters in the NCAA tournament.
This year, there's a whole new crop of aspiring teams looking to go on a run in the tournament.
Here's a look at three potential nail-biters in the Round of 64.
West Region: No. 4 Louisville vs. No. 13 Davidson
Remember when Davidson advanced to the Elite Eight in 2008 behind Stephen Curry, becoming everybody's favorite Cinderella story?
Well, the Wildcats are at it again this year, scoring and rebounding at a high rate.
Louisville, of course, is no slouch. Rick Pitino's Cardinals have won their last four games, including against Marquette and Notre Dame, and appear primed to do some damage.
Louisville does not have a lot of firepower offensively, though, so the Cardinals can't get in a high-scoring game with Davidson or they'll get burned.
This is my Cinderella special. Davidson knocks off Louisville and advances.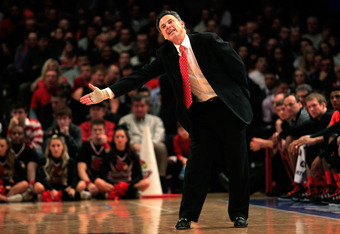 Chris Trotman/Getty Images
Midwest Region: No. 6 San Diego State vs. No. 11 NC State
San Diego State lost four of its starters after reaching the Sweet 16 last year, but the Aztecs still have a solid team, led by head coach Steve Fisher.
Chase Tapley and Jamaal Franklin are the stars for the Aztecs. Tapley is one of the team's few dangerous three-point shooters. Franklin has the kind of explosiveness to carry a team with his scoring and rebounding.
As for NC State, the Wolfpack are coming off an inspiring game against No. 4 North Carolina. They lost by just two points in the semifinals of the ACC tournament.
Like the Aztecs, the Wolfpack have few outside threats, but they do have Scott Wood, who can be dangerous.
The Aztecs are the better team here, but it all depends on which team shows up to play. The Aztecs just lost an ugly game to New Mexico.
I'm giving Fisher's team the benefit of the doubt here, though, and giving San Diego State the victory.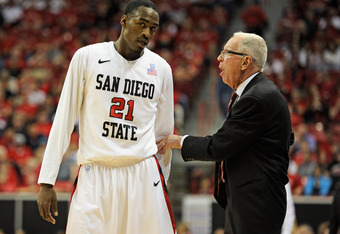 Ethan Miller/Getty Images
West Region: No. 7 Florida vs. No. 10 Virginia
Virginia has lost three of its last four games. Florida has lost four of its last five games.
To put it simply, both teams aren't exactly sky-high entering the tournament.
But it is worth noting that all three of Virginia's losses came by three points or fewer, including to North Carolina, Florida State and NC State.
As for the Gators, they just lost by three points to No. 1 Kentucky.
The problem for the Gators is they can't stop a lot of opponents. Their defense is certainly not one of their strong points.
Virginia, on the other hand, can't rebound beyond Mike Scott. That puts a lot of pressure on the Cavaliers' offense, which, well, isn't much without Mike Scott. In short, Mike Scott is important to this team.
Florida has a much more balanced team in the end, though, and will advance.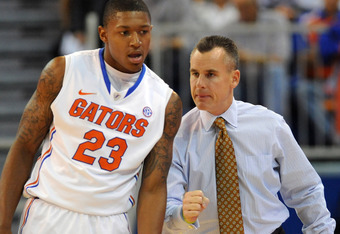 Al Messerschmidt/Getty Images
Follow me on Twitter. We can talk about potential nail-biters.