Lakers Rumors: How L.A. Can Get Kobe Bryant Help Without Dealing Pau Gasol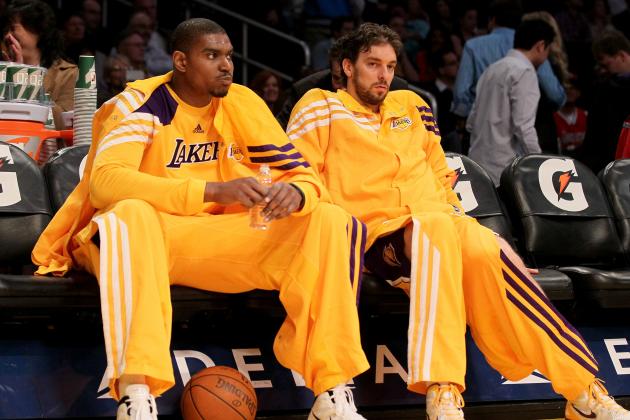 Stephen Dunn/Getty Images
Pau Gasol is the most frequently discussed trade component but perhaps there's another path?
When you delve into the morass of NBA trade rumors that are popping up like so many bubbles in a pot of boiling water, the most frequently mentioned name on the Los Angeles Lakers is that of Pau Gasol.
Why Pau Gasol? Well for one he's a very good basketball player.
A versatile seven-foot tall veteran with a solid mid-range jumper and who averages a double-double. Gasol won't be mistaken for a dominant center; his game is more power forward than center, but he's solid defensively and known as a good teammate.
Gasol isn't young, but at 31 years old, he's not over the hill and his contract isn't cheap, but at around $19 million per season through the end of the 2013-2014 season, it will expire right around the time one would think his age would start to really impact his play.
In other words, he's pretty tempting.
All of those qualities make dealing him no minor decision for the Lakers. To deal Gasol the Lakers are going to want to acquire a major asset. That's what they thought they had back in early December when they put a package together that was centered around sending Gasol to Houston in a three-way trade and receiving point guard Chris Paul in exchange.
There was a lot more to that deal which was eventually vetoed by the league front office.
As the clock ticks down on the March 15 trade deadline, Gasol's name is once again at the forefront, but what if the Lakers decide to make a deal but retain Gasol?
Begin Slideshow

»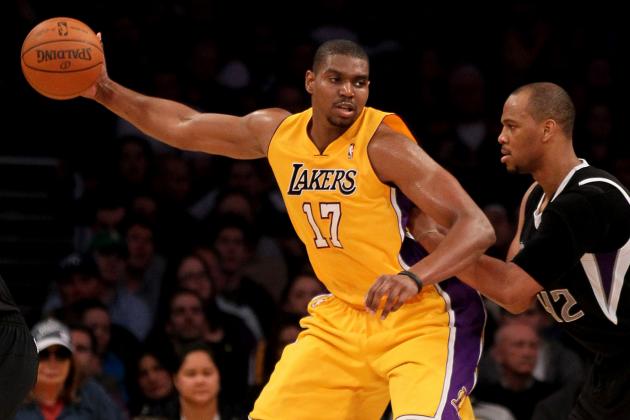 Stephen Dunn/Getty Images
Would the Lakers trade Andrew Bynum?
As good an asset as Pau Gasol is, the Lakers actually have two players on the roster who would be considered "more valuable."
One is of course Kobe Bryant, but it's a safe bet that he's not being traded barring the most extenuating of circumstances.
Then there's Andrew Bynum.
Andrew Bynum represents a major asset to the Lakers. He could fetch more than Pau Gasol from a number of teams. There's good reason for that too.
Bynum is only 24, he's seven feet tall but with a broader and bigger build than Gasol. He's built to battle down low in a league that has very few players who can compete with him in that area. Dwight Howard is the best big man in the league, but Bynum is probably second, and at only 24, there's reason to believe he can improve.
He's not bad right now though. Bynum is the second-leading scorer on the Lakers. He leads the team in blocked shots, rebounding and field-goal percentage.
Bynum also makes $16 million next season and then can enter free agency.
A Bynum deal would likely bring back what the Lakers most desperately need: a point guard or a more offensively-skilled small forward. The question is whether or not the Lakers, who currently lead the league in rebounding, could compensate for Bynum's departure.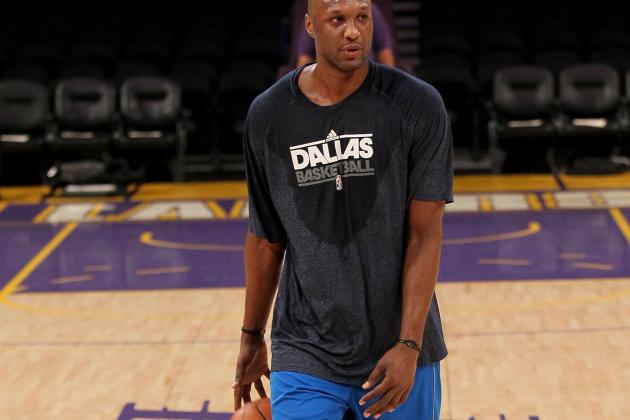 Stephen Dunn/Getty Images
The money saved by dealing Lamar Odom could be used to acquire a key player this week.
When the Lakers dealt Lamar Odom to the Dallas Mavericks, they managed to retain a trade exception that will allow them to take on salary via trade later in the season.
It's now officially "later in the season."
The Lakers could package a few young players such as Andrew Goudelock and Devin Ebanks and try to acquire one of the available point guards such as Ramon Sessions or Raymond Felton.
That's not the type of splashy deal that makes headlines, but on a team that really needs a point guard (and even without one is currently sporting the third-best record in the Western Conference), it might be enough help to take the Lakers to the finals.
The team would still need some more offense, but adding a point guard could result in a few easier baskets over the course of a game. Making veterans such as Kobe Bryant and Pau Gasol work a little less to generate offense might really pay dividends late in close playoff games.
It's important for Lakers fans to remember that even with the ugly losses to Washington and some turmoil, the Lakers are having a pretty good season. They're not that far from being a serious contender for a title, so maybe a big deal isn't the right deal.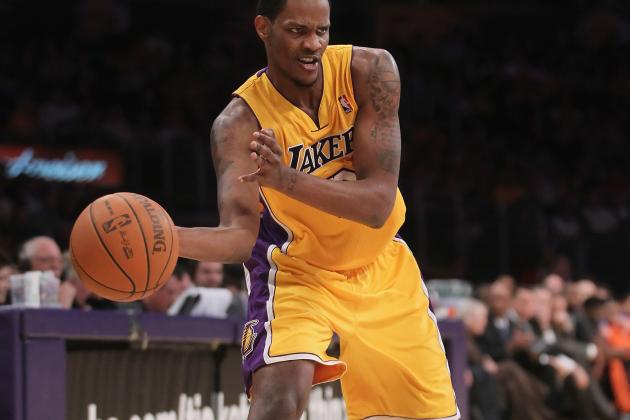 Jeff Gross/Getty Images
Devin Ebanks would be one inexpensive young player that could be dealt.
When the Lakers dealt Lamar Odom, they didn't just get the trade exception—they also got a protected first-round pick.
That's basically a first round pick "unless." "Unless" in this case means unless Dallas is a lottery team. There's no guarantee that the Mavericks avoid the lottery, but they certainly look like a team headed to the postseason.
That means the Lakers would have an extra non-lottery first-round draft pick this June. Normally a lower first-round draft pick has limited value, but this June's NBA draft is being hyped as one of the deeper ones in recent memory.
For teams trying to rebuild with young inexpensive players, an extra draft pick could be very tempting. It won't get the Lakers a star player, but if packaged with a few of the Lakers' current bench players, that pick could generate some trade value.
From the Lakers' perspective, there's some risk here, because the team that does have two aging stars in Kobe Bryant and Pau Gasol needs to start thinking about the long-term viability of the roster. Adding in some first-round picks is a nice start to a long term rebuilding process, especially if those young players are given exposure to veterans such as Gasol or Bryant while learning the ins and outs of the league.