Minnesota Vikings: Released Hutchinson and Two Others, Now Can Be a Major Player
March 12, 2012
Kevin C. Cox/Getty Images
The Minnesota Vikings released their veteran left guard, Steve Hutchinson, Saturday. Vikings guard Anthony Herrera and cornerback Cedric Griffin were cap casualties as well to create more room under the cap in order to be a major player in the free agent market, beginning March 13, to improve from their 3-13 2011 campaign.
"It was a tough decision as we move forward and prepare for the upcoming season and the future of our organization," said Vikings' head coach Leslie Frazier in a statement, via team's press release. "All three individuals have meant a great deal to the Vikings organization both on and off field over the years. We wish all of them the best and thank them for their service to the Minnesota Vikings."
Hutchinson was one of the NFL's best offensive lineman during the 2000s, and is sure to be a Hall of Famer.  However, the 34-year old lineman from the University of Michigan sustained multiple injuries, which sidelined him for the past two seasons on injured reserve.
Hutchinson was selected in the first round (17th overall) by the Seattle Seahawks in the 2001 NFL draft.  After five productive seasons in Seattle, the 6-5, 313-pound Florida native signed a controversial offer sheet with the Vikings worth $49 million spanning seven years in 2006. 
The offer sheet had what was called a "poison pill" provision.  This provision guaranteed a player his entire contract if he was not the highest-paid lineman on the squad.  Since former great left tackle Walter Jones received a deal higher than Hutchinson shortly before, the Seahawks could not match the Vikings' offer, understanding their salary cap would have been shot with that one signing.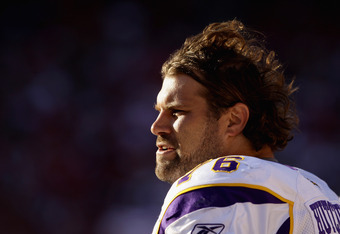 Ezra Shaw/Getty Images
With the Seahawks not placing the franchise tag on Hutchinson, the Vikings were able to get the star lineman with no problem.
Hutchinson paved the road for thousands of yards for former Seahawks running back Shaun Alexander and Vikings All-Pro ball carrier Adrian Peterson, and provided solid protection for two highly productive quarterbacks in Matt Hasselbeck (now with the Tennessee Titans) and future Hall of Famer Brett Favre.
The seven-time All-Pro was set to make $6.95 million for the 2012 season.  There is no word about Hutchinson retiring after his expected release.
There is a possibility that Herrera and Griffin will return, if both players are willing to restructure their deals.  Nonetheless, the chances of Herrera and Griffin re-signing with the Vikings are highly unlikely due to the recent injuries they sustained.
Herrera had a torn anterior cruciate ligament (ACL) in 2010 and returned last season to start in 12 contests.  Griffin had two ACL tears and was benched in the team's matchup against the Detroit Lions on Dec. 11.
Herrera was scheduled to make $2.65 million, while Griffin was due $4.1 million in 2012.
By releasing Hutchinson, Herrera and Griffin, the Vikings have shed nearly $14 million in salary, after being $9 million under the salary cap. 
The Vikings could use help in their passing game.  Wide receiver Mike Wallace (Pittsburgh Steelers) may be the biggest name among pass catchers, along with Vincent Jackson ( San Diego Chargers) and Robert Meachem (New Orleans Saints), that are available. 
Former Indianapolis Colts wideouts Pierre Garcon and Reggie Wayne may wait to see where their old quarterback, Peyton Manning, lands before they sign with a club.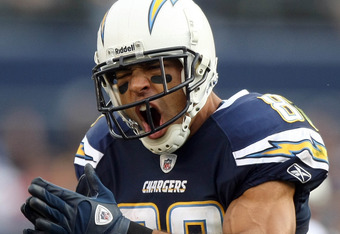 Donald Miralle/Getty Images
With a little more than $23 million available now for the Vikings, expect them to sign at least three offensive players to help make them competitive offensively, similar to how they were about three seasons ago.  The Twin City can not afford to finish last in the NFC North for three consecutive seasons.
Barry Barnes is a featured columnist for Bleacher Report. Unless otherwise noted, all quotes were obtained first-hand.