NCAA Tournament 2012 Bracket: Syracuse Orange Will Roll into Final Four
March 12, 2012

Chris Trotman/Getty Images
With March Madness set to begin within the week, fans from across the country are left to fill out their brackets. The smart ones will all have Syracuse winning the East and solidifying a spot for themselves in the Final Four.
The Eastern bracket is arguably the most intriguing in the tournament this year, and features numerous compelling storylines. Including the likes of an elite academic institution underdog hopeful hoping to channel the likeness of Jeremy Lin and provide this year with a fascinating Cinderella story (Harvard), a team from Ohio with a future NBA star on their roster (Ohio State), and two football schools slowly developing their basketball pedigree (Wisconsin, Florida St.), this year there is much to watch in the Eastern division.
Nothing, however, is going to be more interesting for fans of college basketball and postseason play to watch then just how dominant the Syracuse Orange will be in the upcoming tournament.
This season, the No. 1 seeds all have undeniable talent. The parity between the No. 1 and the No. 2 seed, however, is most notable between Syracuse and Ohio State. With an undeniably impressive record this year, their record (31-2) still proves that they're a legitimate contender.
Kentucky, this year's top overall seed, is the only other team that enters the tournament with only two losses.
The bracket won't be easy for Syracuse. They'll have to beat out Florida St., a team that went 4-1 against Duke and North Carolina this year, but no team in the NCAA has as many weapons on their roster as the Syracuse Orange. They have seven legitimate scoring threats (Joseph, Waiters, Triche, Fair, Jardine, Melo and Southerland) and score a whopping 75 PPG.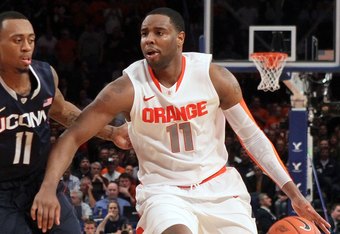 Jim McIsaac/Getty Images
Under the leadership of senior Scoop Jardine, the Orange has been very talented at distributing the ball this season. Perhaps his most impressive performance was an early season victory over No. 9 Florida, where he added sixteen points to seven assists. At 15.9 assists per game, Syracuse is 15th overall in the NCAA.
Syracuse is ranked No. 2 overall in both the AP and the USA Today polls, and with a diverse array of talent, players like Fab Melo become increasingly important. Melo is a unique talent form Brazil, and is a constant threat that needs to be contained. At 7'0" tall, the sophomore is averaging 5.8 rebounds a game.
Senior Kris Joseph and sophomore Dion Waiters will be able to score against the best in the country, and will look to continue their winning ways via their unique 2-3 zone offense that has kept them a viable elite threat all season long. Off of the bench, Waiters scored 28 points against Cincinnati in their loss in the Big East tournament.
Unfortunately for Syracuse, they could also face Cincinnati in a potential Elite Eight matchup. If I had to speculate, I would be tremendously surprised to see Cincinnati beat Syracuse twice this season. But as we know in March Madness, anything is possible.
As is the potential of Syracuse getting out of their tough bracket and pulling off another incredible end-of-the-season run at the title.
For those keeping track at home, the last time that the Syracuse Orange won a national title was in 2003. Led by another player named that went by the name of "Melo" (Carmelo Anthony 20 points, 10 rebounds and seven assists in their victory), the Orange played the Final Four in New Orleans. This year, the Final Four returns to New Orleans as the Syracuse Orange hope to repeat the fate of their old successes.
The Syracuse Orange open their tournament on Thursday against North Carolina-Asheville and Jim Boeheim will offer his services as a proven winner to take this talent to a championship game.
After overcoming a season of off-court distractions, they will keep that same poise and make another impressive run at the Final Four this year.
Click here to Follow @BryanKalbrosky.