NCAA Bracket 2012: 10 Reasons Syracuse Is a Lock to Win NCAA Championship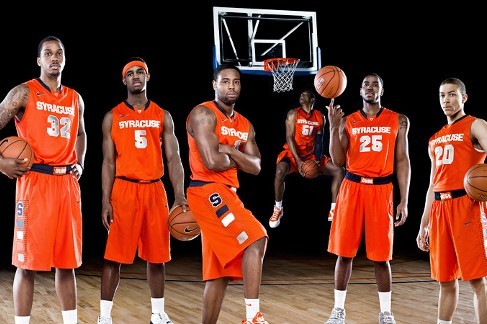 Would you call a team that won 94 percent of their games overrated?
Not me.
I would be called a fool for saying that Kentucky, who has a 32-2 record (.941 winning percentage) is overrated.
But ask anyone who follows college basketball, read what any of the pundits, the "experts" have to say about this year's Syracuse team—who have a record of 31-2 (.939 winning percentage)—and they will tell you that Syracuse simply is not in Kentucky's class.
This is not some new phenomenon that just started this year. On a yearly basis, Syracuse is dismissed by most for one reason or another. In some cases, the criticism is warranted and fairly accurate—the Orange have faltered in the NCAA tournament before.
In others, the criticism is baseless.
But through it all, one thing has remained constant—generally speaking, Syracuse gets no respect, even when they are a No. 1 seed in the NCAA tournament.
And that's just the way they like it.
Those who have followed the Orange understand why this team is different than those that have come before them—including the 2002-03 National Champions.
Those who have not are in for a surprise.
Your 2011-12 NCAA Men's Division I Basketball Tournament Champions will be the Syracuse Orange.
For your printable bracket for the 2012 NCAA tournament, click here.
Photo courtesy of ESPN.com

Begin Slideshow

»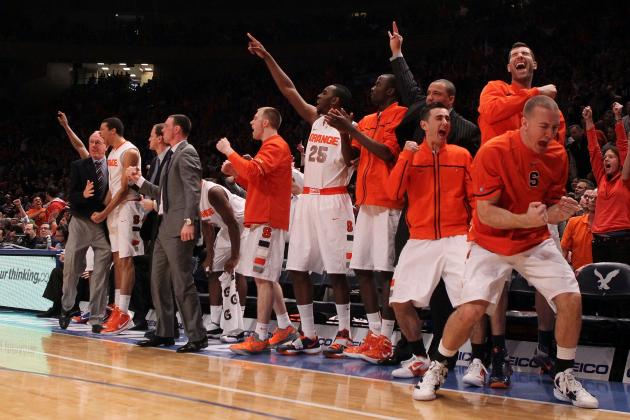 Jim McIsaac/Getty Images

Ideally, a team has a seven- or eight-man rotation that it uses on a nightly basis. For the most part, every team in this year's field-of-68 relied on that depth to help get them to this point.
But none of the other teams in this year's tournament are as deep as Syracuse.
Syracuse has a 10-man rotation—a rotation so talented that nearly every reserve could start for other tournament teams.
Not only are they deep, but each of these 10 players is a superb athlete and effective at both ends of the floor.
Essentially, Syracuse has two starting lineups at their disposal and the ability to mix and match as they see fit.
This is the deepest Syracuse squad that Jim Boeheim has ever had at his disposal, and that depth will be a major advantage over the rest of the field as the Orange make their way to the final game.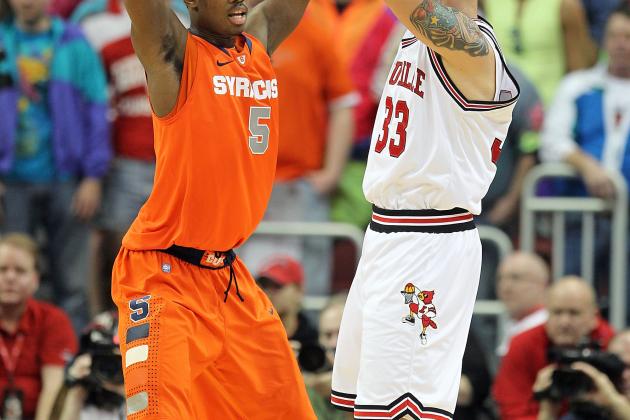 Andy Lyons/Getty Images

Syracuse's depth allows them to always put a fresh set of legs on the floor, and to play his patented 2-3 zone defense with the intensity and aggressiveness that this year's squad is playing with, keeping everyone fresh is essential.
I say "patented 2-3 zone defense" because Syracuse does not play a traditional 2-3 zone.
Darius Miller, the lone senior and sixth man for the Kentucky WIldcats agrees:
I feel (Syracuse has) a different type of zone. I mean, that's what they do. They're so long. They're so athletic. And their zone is so impressive, in my opinion. I mean, that's not a regular zone.
Former Villanova head coach Steve Lappas explains the difference:
It's a straight 2-3 zone, but they're playing slides and areas, not matching up. Let's say you're looking at it from the angle of the camera that television sometimes puts above the basket. If you're a guard bringing the ball up the floor, you literally see no holes, nothing but arms and legs. The length of their players, the space that they take up in that zone, makes it so hard to move the ball.
This year, Jim Boeheim has the perfect mix in his rotation—eight players that are long, athletic and capable of covering the wings and two players who are long, athletic and capable of altering and blocking shots in the middle.
Fran Fraschilla, ESPN analyst and former St. John's head coach thinks that, indeed, Syracuse has found the right formula:
...(Jim Boeheim) has seen through the years that having length at all five positions is a difference-maker, and he uses it as well as anyone in college basketball. They recruit to it now. They tend to attract long perimeter players and a guy like (7-footer) Fab Melo, who can protect the rim, anchor the middle and make up for any mistakes.
Which brings me to my next point.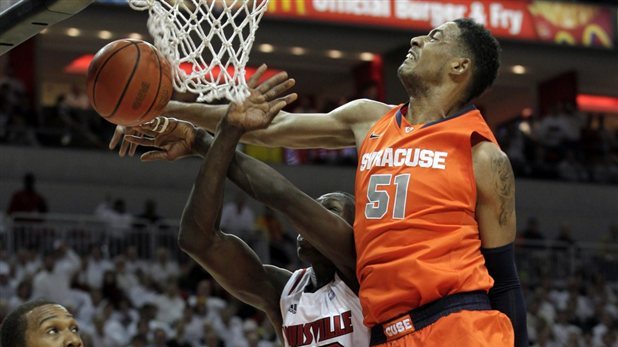 That formula for success lends itself to forcing turnovers, especially when the opposition finds themselves trapped between multiple defenders.
Syracuse is forcing turnovers on 25.6 percent of possessions this season, a number that lands them fifth in the country. VCU leads the country, forcing turnovers on 27.4 percent of possessions.
Syracuse averages 9.61 steals per game, a number which puts them third in the country and second among tournament teams. VCU, who leads the country with 10.68 steals per game, is the only team ahead of them.
If the wings aren't stealing the ball, the big men down low are blocking shots. Syracuse swats 7.09 shots per game, only trailing Kentucky, who leads the country with 8.79 blocks per game.
Syracuse turns those turnovers into points, 20.4 per game that largely come off of a potent fast break attack and is tied for best in the nation alongside, you guessed it—VCU. Of the six major conferences (Big East, Big Ten, Big 12, SEC, ACC and Pac-12), Syracuse leads all teams.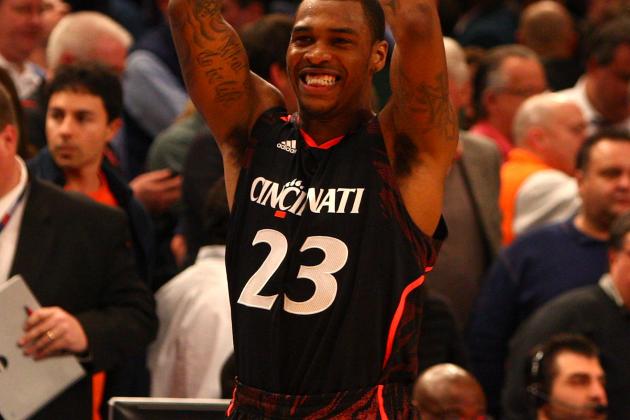 Mike Lawrie/Getty Images

Syracuse packs the zone in tightly, daring teams to shoot from downtown. But they have the length and athleticism to push out on the wings and take away the perimeter game.
This year, opponents are shooting 30.6 percent from downtown against the zone, tied for 19th in the country. Of the Top 50 defenses against three-pointers, only Florida State has had more attempts taken on them than the Orange.
Like I said, they dare teams to shoot from downtown.
In their most recent loss—only their second of the season, I remind you—Cincinnati was able to do damage from outside. But was it a weakness in the zone, or were the Bearcats just on fire?
Take it for what it's worth. Entering that game, Cincinnati was shooting 33.7 percent from three-point range. In that game, they hit 45.5 percent of their threes. Sean Kilpatrick hit 6-of-9 from behind the arc, a 66.6 percent clip. Entering the game, he was hitting 35.8 percent of his threes on the season.
Bob Huggins' Bearcats were hot all game—nothing more.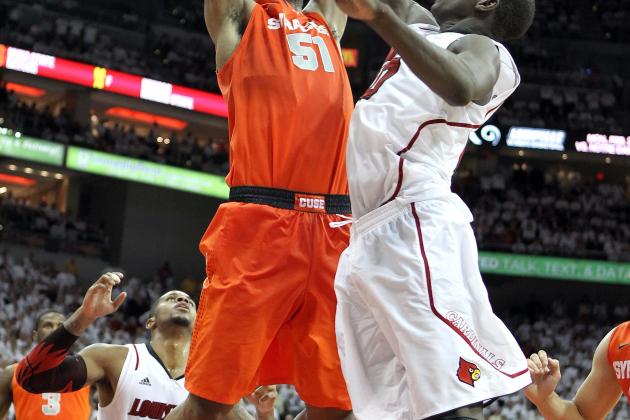 Andy Lyons/Getty Images

Yes, Syracuse is a lousy rebounding team. On the season opponents are out-rebounding the Orange by 1.3 boards per game, 36.7 to 35.3.
In their first loss of the season to Notre Dame, Syracuse was dominated on the boards, 37-24. But Syracuse was also playing without their 7' starting center, who has since returned to the lineup.
Up until now, Syracuse has played against six of the Top 40 rebounding teams in the country, some on more then one occasion: Marshall (39.8 rebounds per game/8th in the country), Villanova (39.1/16th), West Virginia (38.4/22nd), Louisville (38.2/26th), UConn (37.8/31st) and Fordham (37.8/31st).
In those games, Syracuse is 9-0, winning each game by an average of 8.8 points.
While that is a lower margin of victory than the 13.6 points that they average in their wins on the season, a win is still a win.
In this tournament, Syracuse will need six of those.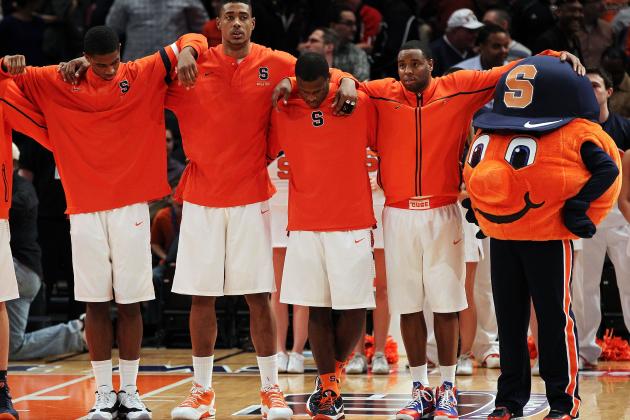 Michael Heiman/Getty Images

I don't know if you have noticed, but up until this point I have not named one player on Syracuse's roster.
Seriously, I haven't. Go ahead, click back in the story to check...I'll wait.
Satisfied? Good.
I purposely let the players remain nameless to prove a point.
Over the course of the 33 games that the Orange have played this year, seven different players have led the team in scoring.
We've already talked about the incredible depth that Syracuse has, and this only strengthens that fact.
Who exactly are teams going to key upon to try and contain or take out of the game completely?
It doesn't matter who they key on—Syracuse has too many players who can serve as the first option on offense for teams to adequately prepare for.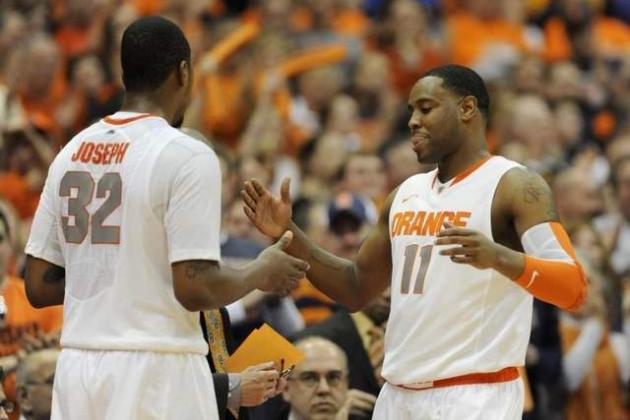 Two seniors lead the Orange—starting point guard Scoop Jardine and starting small forward Kris Joseph.
Kris Joseph, a four-year senior, has won 114 games to date as a member of the Orange, the most in school history. He leads Syracuse in scoring this season with 13.8 points per game. While that is not a gaudy number by any means, Joseph couldn't be happier:
With the team that we have, I don't have to come out here and average 20 points a game because we have scoring coming from so many different places. I'm doing well, I think, in my eyes. It's been working out for the team's sake.
Syracuse assistant Adrian Autry knows just how important Joseph is to reaching their goal:
He's really the key to us taking it to that elite level. When he's really good, we're very tough to beat. He just adds that other dimension that a lot of teams don't have. He's just really kind of going about his business and being that quiet leader and being someone that you depend on. He's done a good job of making big shots when we've needed them.
Scoop Jardine, a fifth-year senior in graduate school is averaging 8.9 points and five assists per game and is the vocal floor leader for the Orange. Not surprisingly, Jim Boeheim doesn't believe that Scoop has ever gotten the accolades that he deserves:
Over the last two years, he's probably leading the league in assist-to-turnover ratio, and people are still talking about turnovers. That's not factual. The word should be out there. The facts are he's one of the best guards in the league, in the country, in assist-to-turnover ratio. He's the best 3-point shooting guy on our team in the Big East. Nobody even knows that.
Photo courtesy of Democratandchronicle.com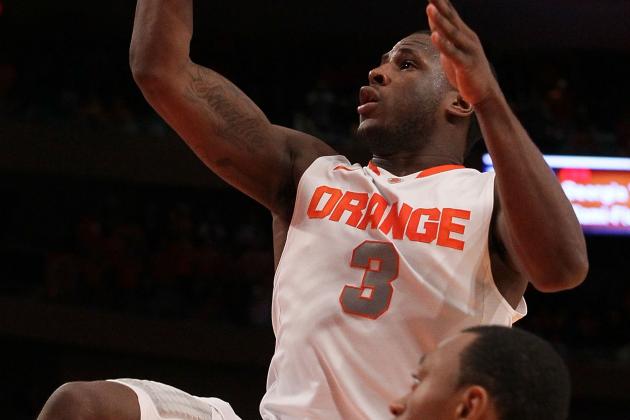 Jim McIsaac/Getty Images

Dion Waiters and C.J. Fair would not only start for most teams in college, they would be legitimate All-American candidates.
They are that good.
Yet the sophomore duo do not start for Syracuse; they come off the bench.
Waiters, a 6'4" guard, is averaging 12.6 points a game to go along with two rebounds, three assists and two steals a game and is unquestionably the nation's most explosive sixth man.
Fair, a 6'8" forward, is averaging 8.6 points a game along with nearly six rebounds, an assist and a steal a game.
They play starter-type minutes. That means less playing time for the starters, including upperclassmen Jardine, Joseph and Brandon Triche.
Clearly, ego is not an issue with this team.
And therein lies the magic word—TEAM.
This group of players plays like a well-oiled machine, one with interchangeable parts that all function at the same level, something that is not lost on Syracuse assistant Mike Hopkins: "That's what makes us such a good team. When their sixth or seventh man comes in and we bring in Dion or C.J. (Fair) or James, and they're better than the other team's two, three and four."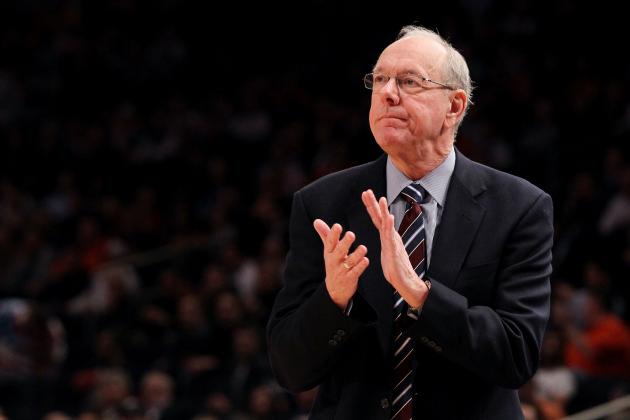 Jim McIsaac/Getty Images

Jim Boeheim has been here before.
He knows what it takes to win a National Championship.
At the same time, he knows what it takes to fall flat on your face and lose to a lower-seeded opponent early in the tournament.
Distractions don't phase Boeheim, and as a result, they don't phase his team.
Case in point, the allegations against and subsequent dismissal of longtime Syracuse assistant coach Bernie Fine earlier this season, and the recent reports of drug abuse on past Syracuse teams.
Neither issue has ever become that—an issue for the team.
And that may be his biggest strength as a coach—the ability to keep his players focused on the goal at hand.
Jim Boeheim has his team ready to go.
Syracuse has all the necessary pieces to make it to the promised land.
Only one question remains: Is their competition ready?
Ready or not, here they come.
For your printable bracket for the 2012 NCAA tournament, click here.